Reading time is around minutes.
The Box and Goodies –
The box that the EEE Slate EP 121 arrived in was much smaller than I thought it would be. However, that did not mean that the box was not good looking. As this was a purchase I was very excited to get my hands on it. I have to admit that I tore into the box and powered on the EEE Slate before I shot these images, but I quickly put everything back in the box the way it was so I could get this done.


Getting back to the box we find a large image of the EEE Slate in all of its glory on the front. The back is a little more subtle with the slate displayed and the shadow image of a hand visible along with a large Intel Logo. The box also has a carrying handle, just to make it easier for you to carry to the checkout counter.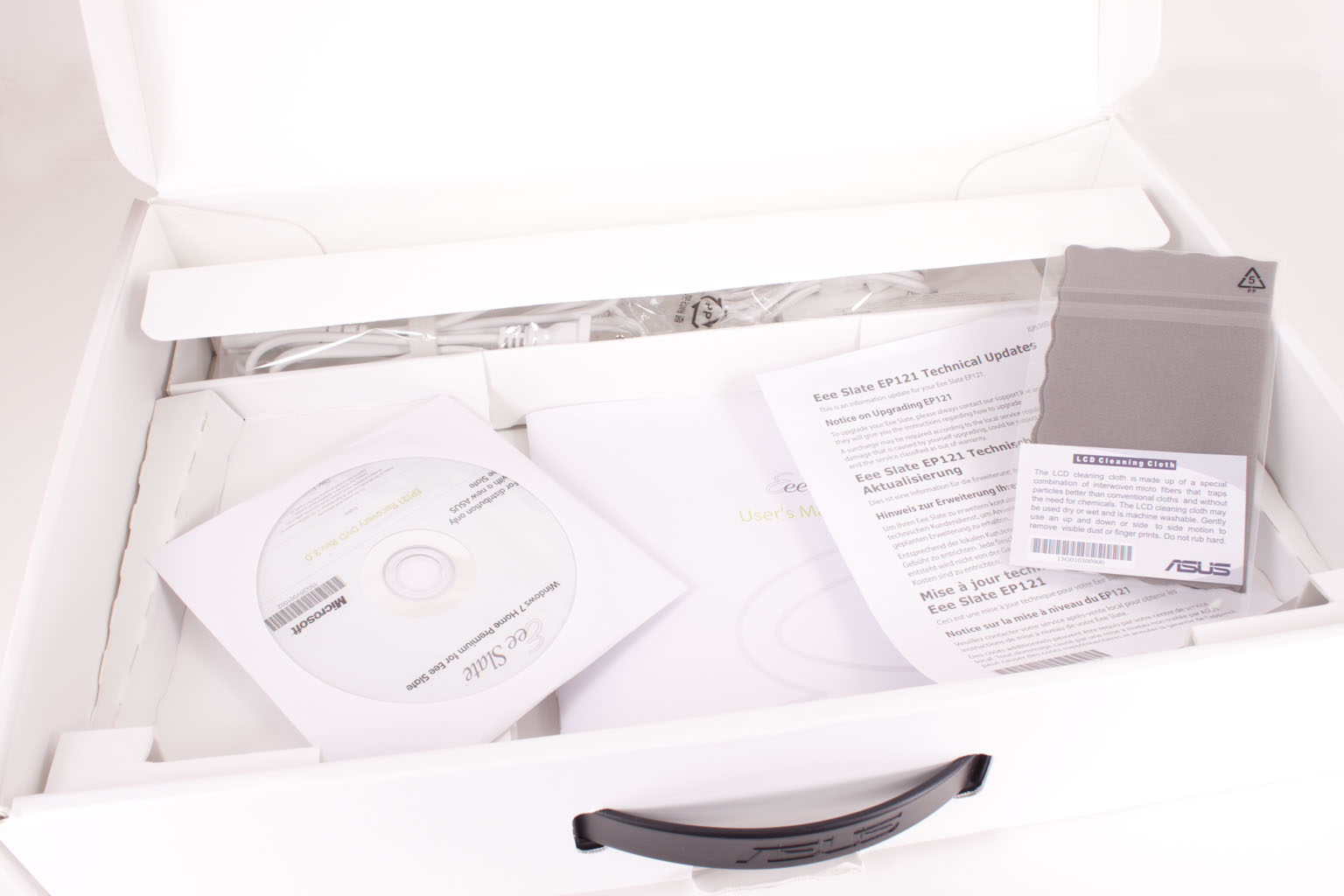 Once you get the box open is when the fun begins. The top layer is a nice leather(ish) case for the EP121. This sits right on top of the EP121 itself (which is why you are here). Under that is something else that is a VERY nice touch (and one that Apple makes you pay for). You get a slim and ergonomic Bluetooth keyboard. Of course you have the usual power supply, etc. along with a restore DVD… now wait a minute. How can you restore from a DVD when there is no DVD drive and only two USB ports? This is one place that I think Asus messed up with this tablet. The restore "disk" should have been a protected USB thumb drive. This would have made more sense than a DVD that is pretty much unusable without buying another item (which could cost you another $100.00 or more). You could use the USB recovery disk creator, but again you need another system and a USB key that is larger than 16GB. Don't think about using a bigger drive as it would be a huge waste; once you start the process everything on the drive will be erased.




Other than this one issue Asus manages to load you up with some nice gear. The cleaning cloth actually cleans the screen well, while the slim power pack has a built in USB charging port. The leather case is also a nice touch and has built in stands to angle the EP121 in portrait or landscape. It also has tacky edges that allow you to stand the EP121 up and use it like a laptop… just not on your lap. In addition to the other goodies you also get a stylus complete with replacement nibs.