The Box and Goodies –
The box that the EEE Slate EP 121 arrived in was much smaller than I thought it would be. However, that did not mean that the box was not good looking. As this was a purchase I was very excited to get my hands on it. I have to admit that I tore into the box and powered on the EEE Slate before I shot these images, but I quickly put everything back in the box the way it was so I could get this done.


Getting back to the box we find a large image of the EEE Slate in all of its glory on the front. The back is a little more subtle with the slate displayed and the shadow image of a hand visible along with a large Intel Logo. The box also has a carrying handle, just to make it easier for you to carry to the checkout counter.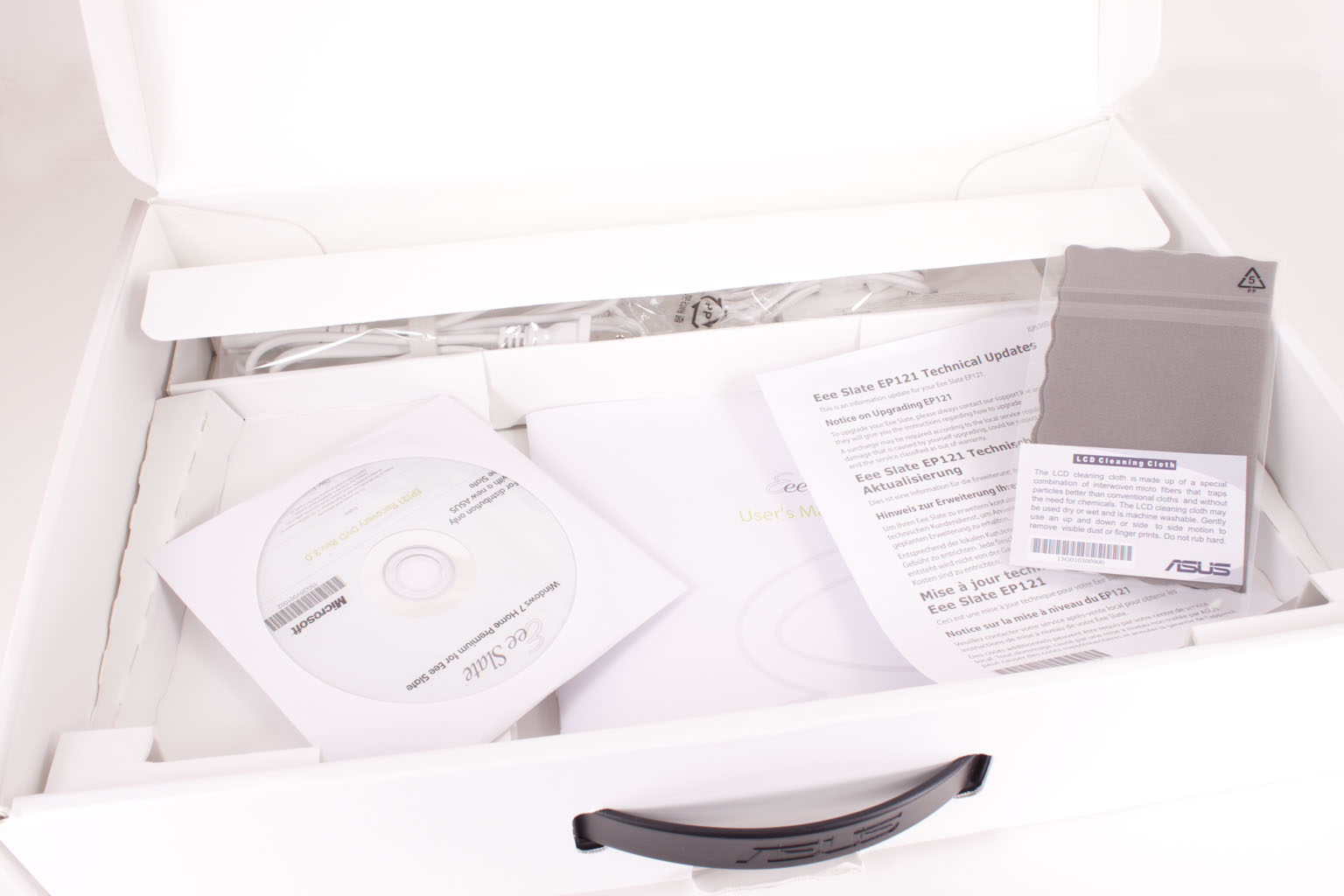 Once you get the box open is when the fun begins. The top layer is a nice leather(ish) case for the EP121. This sits right on top of the EP121 itself (which is why you are here). Under that is something else that is a VERY nice touch (and one that Apple makes you pay for). You get a slim and ergonomic Bluetooth keyboard. Of course you have the usual power supply, etc. along with a restore DVD… now wait a minute. How can you restore from a DVD when there is no DVD drive and only two USB ports? This is one place that I think Asus messed up with this tablet. The restore "disk" should have been a protected USB thumb drive. This would have made more sense than a DVD that is pretty much unusable without buying another item (which could cost you another $100.00 or more). You could use the USB recovery disk creator, but again you need another system and a USB key that is larger than 16GB. Don't think about using a bigger drive as it would be a huge waste; once you start the process everything on the drive will be erased.




Other than this one issue Asus manages to load you up with some nice gear. The cleaning cloth actually cleans the screen well, while the slim power pack has a built in USB charging port. The leather case is also a nice touch and has built in stands to angle the EP121 in portrait or landscape. It also has tacky edges that allow you to stand the EP121 up and use it like a laptop… just not on your lap. In addition to the other goodies you also get a stylus complete with replacement nibs.


The EEE Slate EP121 -
Asus is not sure what to call this as of this writing. I have read EEE Slate, EEE Pad, EPad and EP121. Of course you could go by one of the two available model numbers. You have the EP121-1A011M which has 2GB of RAM and 32GB of SSD storage and the EP121 1A010M which comes with 4GB of RAM and a whopping 64GB of SSD storage space. We wanted to go for the 1A010M but could not find this in stock anywhere, as a result (and thinking we could upgrade later) we grabbed the 1A011M for this review.


| | |
| --- | --- |
| | |


The actual device is 312 x 207.2 x 16.95 mm (or 12.3 x 8.16 x 0.67 Inches). It is not as thin or small as an iPad, but it is a 16:9 Vs. a 4:3 aspect ratio. Apple has argued that 4:3 give you more room to work, but to those of us that really do work (and that includes many MacBook Pro owners) the longer wide screen display is more comfortable. The weight of the EP121 is only 2.6 Pounds this is about a pound heavier than the iPad 2 and only .7 pounds heavier than the first generation iPad.



Getting more into the details the EP121 has a 12.1 inch LED backlit capacitive multi-touch panel that can also use electromagnetic input from a stylus (thanks to WACOM) with 1280x800 resolution. The panel uses AFFS technology which scores over the IPS panel in the iPad but offering a wider viewing angle (180 degrees Vs, higher contrast and white levels. AFFS also has more authentic color reproduction which makes the EP121 a possible dream for a photographer on the go. AFFS has a few more advantages up its sleeve; you have a much faster response time, low power and guaranteed color and readability in bright lights. Of course the IPS screen is simpler to make and cheaper…. But I guess you get what you pay for.


| | |
| --- | --- |
| | |

At the base of the EP121 is what looks like a home button; well it is, but it is also more than the typical home button. When booting (or not in Windows) is acts like an "enter" key. When on your desktop it lets you cycle through you open applications (with the cool 3D visual). The third function comes when you press and hold the button for 2 seconds, then it acts like pressing CTRL+ALT+DELETE. There is also a 2.0MP web cam that is at the upper edge of the screen when in landscape mode.



The home button is just the tip of the iceberg when it comes to the EP121. With iPad once you are past the home button there is very little to look at, you get a few minor controls, a headphone jack, speaker, and a charging port (on the iPad2 you get a mic and camera). On the EEE Slate EP121 you get the same basic controls; power, volume, rotation lock, head phone jack and a charging port, but also two USB 2.0 ports, a multi card reader (SD/SDHC/SDXC/MMC), a mini HDMI out port and stereo speakers. Plus you get a button to enable a large on screen keyboard.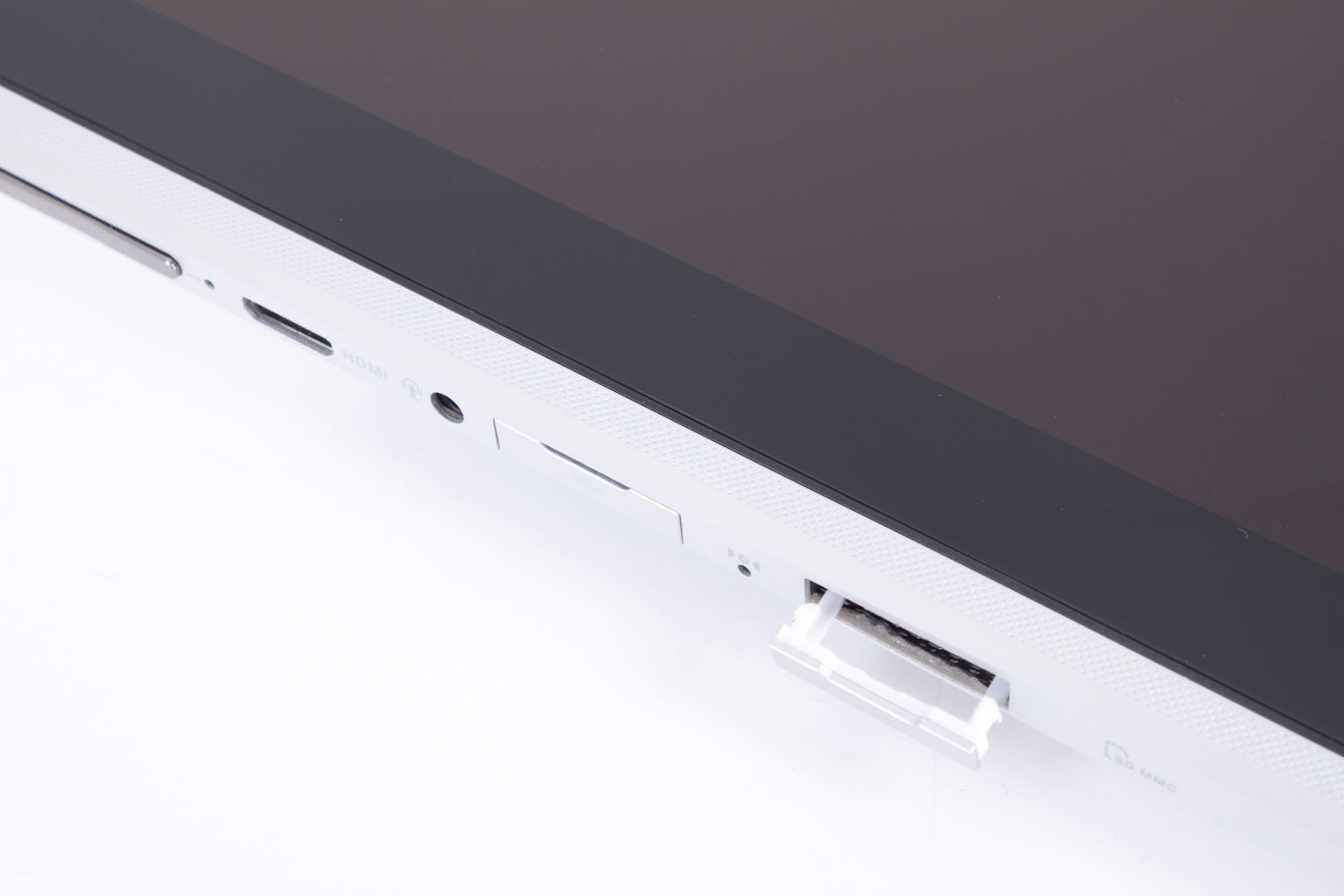 The USB ports are covered when not in use. This helps keep dust and other items out of them. After flipping the EP121 over you will see a white plastic case. This is pressed on but still secure and well ventilated. In all honesty, aluminum would have been nicer as would have been covers allowing easy access to both the memory and HDD slots. I think that this was a big error on Asus' part as being able to upgrade this slate would add more interest and perceived value. At the upper left hand corner (right if you are looking at the screen) is a small opening. This is storage for the included magnetic stylus.


Internally the EEE Slate is pretty impressive. You get a dual core Intel Core i5 470um CPU (complete with hyper-threading). This is based on the Clarkdale CPU design complete with HD graphics (with dynamic frequency). The motherboard chipset is the Intel HM55 and includes a single SODIMM slot and a mini-PCIe slot (for the SSD that comes with it).For video you get the CPU bound Intel HD GMA. The cooling is also well done, during my testing I did not have any issues with heat including the EEE Slate getting too warm to hold or have on my lap.
Features -
The EEE Slate has more than a few features wrapped up into that 2.6 pound package. The nice thing is that most of these have real use for the consumer. Normally we would rate these Vs other products in the same line/Market, so why not with this? So our comparison is based on other tablets on the market right now. As with our other reviews we will break these down by Excellent, In the Middle and of course Floor Mats.

Excellent –
Dual Core CPU (With Hyper Threading)
Dual Input Touch Screen (Multi Touch and Electromagnetic Stylus)
Dual USB Ports
SD Card Slot
Mini HDMI Port
Windows 7 x64
Included Bluetooth Keyboard

Yup just the basic specs are part of an excellent feature set. After all I could not find another tablet this size with the same specifications or price.

Good -
500GB of Web Storage (free for one year)
Office 2010 Free Edition (Word and Excel)
Asus Cinema (Roxio Player)
Asus Pre-Installed Software ( Art Range, Kindle)
Leather Carrying Case
Stylus
USB Charging Port on the Power Supply

Even the Good features are pretty impressive.

Floor Mats -
I really tried to find a feature that was useless on this product; after a week of working with it the only thing I could come up with was the Asus Vibe software that we will talk about a little later. It seems interesting, but there are better options out there for this type of service.


BIOS -
BIOS is an acronym that stands for Basic Input/Output System. It is meant to control your product at a very low level. As of right now there are three regularly used BIOS formats (there are actually more than that but there are three common ones). These are the AMI (American Megatrends Incorporated), Award, and Phoenix.

The BIOS on the EEE Slate is very simple with a limited amount of options. In fact you are not even going to see the option to get into the BIOS when booting up; the EEE Slate sort of skips over that. We ended up plugging in a USB keyboard and started hitting the Delete Key as soon as we powered on the device just to get into it and get you the shots below.


Setup and Stock Performance –
Right out of the box our EEE Slate came with 2GB of RAM, a 32GB mini SSD and Windows 7 Home Premium 64-bit edition. While getting this version will save you about $100 you are going to be facing some issues. The biggest one is space; even with only Windows, Office 2010 Professional, Photoshop and the Asus preinstalled applications you are stuck with only 3-4GB of space left on the drive! This is a huge problem even if you are using the Asus Web Storage (which we will talk about later). In fact it became such a problem that to get through the tests that we did I had to uninstall each test after I was done. There was no room for games with the exception of Plants and Zombies (which is great on this thing). We do have some tests below and can say that even lacking storage space it was very quick and fast. More than one Apple fan I know was impressed and at least one is considering getting one for themselves.

The Test System and Comments -
Normally in this section we talk about the fact that we use an open test bench and the effects that has on testing. However the Asus EEE Slate EP121 is a full system so there is no need to cover that, our cooling results will be right around what you will see in real-world usage as are the power draw numbers. Instead here we are going to talk about the system as a whole and what you get from Asus when you power this system on.


It's all about the bundle –
We told you that the EEE Slate is hobbled by a lack of direct storage space that even adding an extra SD card in will not correct. To combat this and in what we can only guess is an attempt to combat Apple on some sort of common ground Asus has put together a pretty decent software bundle. Let's take a look at this and see just how it stands up.

Asus Vibe -
Vibe is … well it is interesting. It is a media congregator. It allows you to browse through different web based video, music, applications and games. Some are available for free and others are not. We found it easy to navigate through, but hard to get back to the default home screens. After our two weeks with the EEE Slate we also had not used it more than the first few times. It is a piece of software that seems great for a non-windows system but had very little use here.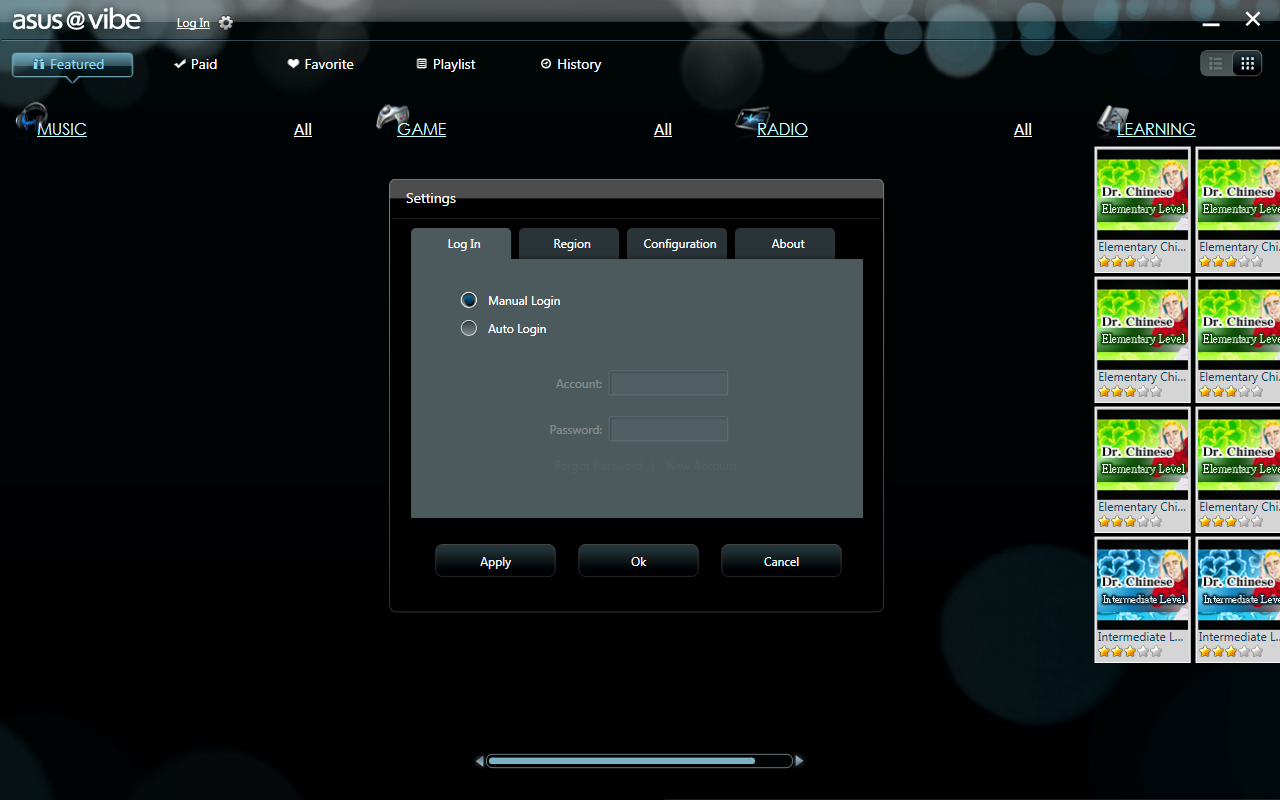 Asus Media Sharing -
This application allows you to stream media directly from your system to another system on the network. For many this will be a pretty cool application and one that makes it easy to share pictures, music, and videos with other people on your home network. To the IT guys out there this app is a potential security mess. I will say that it is pretty cool though when you use it, but it is not something that I would ever leave on for an extended period of time.


Art Range and Kindle –
These two apps are for entertainment (obviously). Art Range is a fun app that is very much like an advanced form of Paint. I had the chance to tinker with it and will be shooting a short video to show you what it is capable of. I could try and explain it but the video will do so much better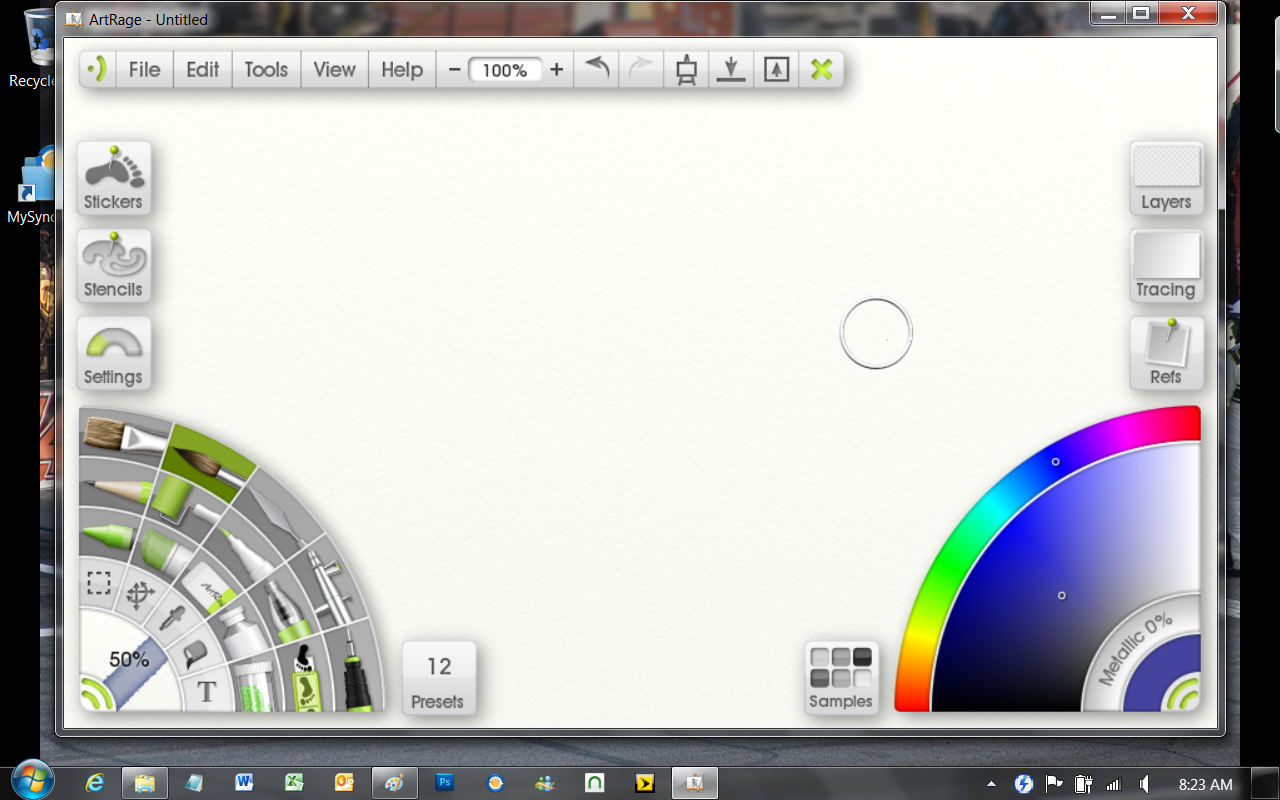 You already know what Kindle is so I won't go into any details except to mention that Asus bundled it for you.

Asus WebStorage -
To combat the lack of direct storage space Asus has given you a cloud based drive called the Asus WebStorage. When you buy either model of EP121 you get 500GB of web based storage free for one year. This app is more than just storage space; it is Asus' response to MobileMe.



The WebStorage app is fairly nice; the UI is a little cheesy, but overall it looks like it could be a handy little utility. This application is setup so that you can access your storage on any computer that has the software installed. You can also download a client for the iPhone of any Android Phone.



One of the first things that jumps out at you is the option to back up your files. This is easy to set up and can be scheduled to run either continuously or on certain days. You can pull up your backed up data from any system that you have the WebStorage app installed on.



Next up is a sync application that lets you maintain an up-to-date copy of any folder on multiple devices.
This adds a little bit to your home office and keeps you from needing to maintain multiple copies of the same document.



Next up is a calendar sync app, nothing special here really… You have a centralized Calendar that you can access from any WebStorage enabled device (meaning where you installed the software). You can also import any Calendar that is in the .ics format.

There are a couple of other items that are of note; The Control Deck and the Customized Asus properties page, nothing big, but still noteworthy.


| | |
| --- | --- |
| | |

The Onscreen Keyboard -
This one is not an Asus item, but as it is part of the EEE Slate EP121 we wanted to talk about it. As with most Windows Tablet devices there are two onscreen keyboards. The first is a small "windowed" keyboard that sits on top of what you are typing on (word doc etc…). The other is a tiled version that takes up the lower half of the screen when in landscape mode and the lower third when in portrait. Both can be a little awkward as they include the directional keys; this makes the space bar small. I often found myself hitting the Alt key… as you can imagine when this happened I saw some surprising results.

With the keyboard is also one of the best handwriting recognition utilities you can find. Even my hand writing (all caps and somewhat messy) was recognized without any issues. There were very few mistakes even with this paragraph that was written with my finger tip using the writing tool. I was (and still am) very impressed with this tool. It also played into how accurate the touch screen is even with something as clumsy as a finger. The stylus combined with the electromagnetic input in the screen is an even more formidable combination. We will talk more about this in our Photoshop section. The only thing I would like to see is direct input in Office… but that is also not an Asus problem.


Section 1 Subsystems -
Memory -
Memory performance is very important on a motherboard, especially when you have a CPU with multiple cores and threads. If you have slow memory your cores and threads can become starved for data to execute. To test memory performance we ran Sisoft's SANDRA to gauge the basic bandwidth available.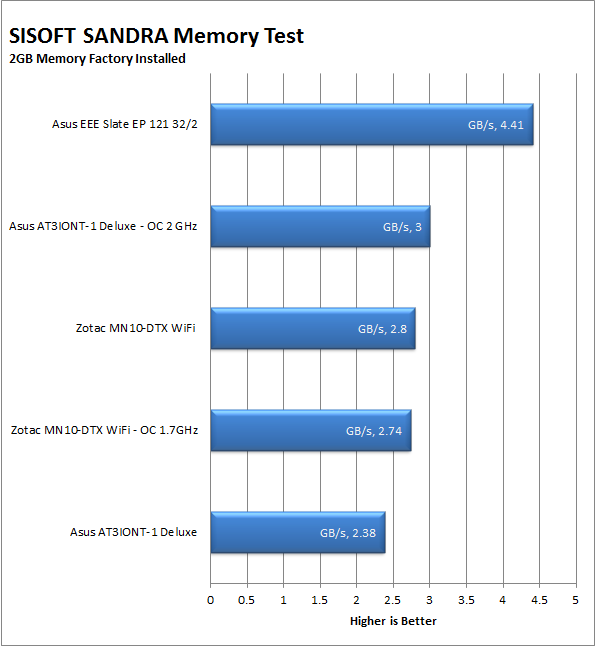 The EEE Slate has the same IMC (Internal Memory Controller) that is found in all Core CPUs. This does give it the upper hand here in our testing group as most of these still rely on the Northbridge of the chipset to handle memory performance. This adds in some automatic latency that drags at the memory speed on many Atom based products. With this extra speed here we should see some decent performance in general computing as well as certain transcoding applications such as iTunes and Zune.


Drive performance -
Drive performance is also one of the major subsystems that goes to make up the performance of a motherboard. For our testing we use Sandra and Everest again.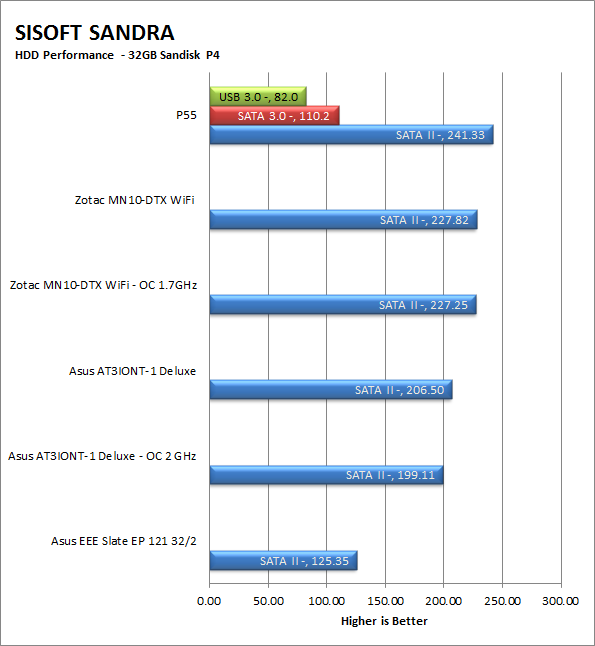 Drive performance suffered a little on the EP121. Much of this is probably due to the Sandisk SSD. Sandisk is honestly not known for its high levels of performance. They are stable and relatively inexpensive compared to other manufacturers out there so this is likely why they are in this product. Applications like file copy, transcoding, photo-manipulation and video playback can be affected by this lack of speed. However, the memory performance will compensate for some of this as well.

Power and Battery Life -
Power efficiency is another of those misnomers that we get caught up in. We hear about idle states and power gates. But what does that mean to you and I? On the surface having power management that reduces idle power sounds great and can be a benefit to someone that leaves their system on for long periods of time (and inactive) but how a system handles power under load and the delta between the two states is often more important than the idle power usage numbers. We use only P3 Kill A Watt instruments for measuring power. Battery Life was measured under normal usage with the Wireless adapter on, an SD card in the system and with the balanced power management setting in use. We ran the system until it shut down a total of five times then chose the median number (the one in the middle) to determine the average battery life on the EEE Slate EP121.

Power draw from the wall was ridiculously minimal. Under idle conditions or when doing simple tasks we pulled a total of 12 Watts from the wall. Even under the most extreme tests we could run (HyperPi 32M on all four "cores" and with our Evo plugged into the charging port) we only pulled a whopping 32 Watts of power from the Wall.

Our Battery Life was a little on the disappointing side at first. It seems that when I was reviewing the numbers I was thinking about the EEE Slate as just another tablet. This is not even close to what it is; the EP121 is more like a small laptop than your typical tablet that is out on the market. Asus did go light on the battery to save on weight but even with the skimpy 4 cell battery we were hitting an average of 4 hours and 23 minutes. This is an improvement to what the internet is generally claiming out there. I have read reports of 3 hours to some that are as bad as 2 hours. It seems that some people are throwing around some less than accurate information. Even watching a 720P HD video (as an MKV file) we were able to pull off about 3 hours of battery life. True it is not the 6 hours that we saw with the iPad, but considering the hardware differences this is not bad at all.


Cooling -
Cooling is an important factor in product performance and longevity. Components like the chipset, VRM modules and even capacitors need to be kept relatively cool to prevent failure. As these parts are made of silicon, they have a thermal breakdown threshold; or melting point. At that temperature the actual transistors built into chip will begin to deform and break down. Granted, the threshold is often very high, but you still need to make sure that components stay away from this level of heat for longer product life.

The EEE Pad uses a fairly typical form of heat-pipe cooling found in most laptops and notebooks today. This is assisted by the dual squirrel cage fans that push the hot air out the top of the device. Again an aluminum back casing would have helped the thermal performance but the plastic one that is currently used. Even under the most stressful conditions the EEE Slate EP121 was still not even warm and more than cool enough to hold in your bare hand or place on your lap without discomfort.

Audio -
Audio is highly subjective. What we find pleasing may sound "off" to you. That is always going to the problem with testing audio; results will vary too widely depending on the tastes of the listener. However, there are ways of measuring the audio output with an objective ear. There is also the issue of audio causing performance issues in gaming and video playback. The reason this is a potential source of concern is that all onboard audio CODECs (Compression/Decompression) are CPU controlled. This means that while the audio chip controls the audio levels and effects of the audio the actual work is done on the CPU. Usually this will not be a problem with today's powerful CPUs. Even the lower and consumer level products can handle high-end audio these days. But again there is the chance that a bad design or software will hinder your system and performance. On the other side the limits of board space, cost, etc will also prevent the level of audio quality you can get from an add-in board. We test all audio parts with three media types, Movie (DVD), MP3 Music, and Gaming. These are pushed to our Tec On model 55 Tube Amp to see if we can detect any signal issues in the reproduction.

The EEE Slate uses one of RealTech Audio's HD CODECs. This gives decent sound for the small stereo speakers but the power behind them is just not enough. We often had to strain to hear the audio from video files and even some MP3/MP4s. The headphone audio was much better and even seemed a little cleaner than the speakers. Perhaps in future revisions Asus can put in a small Amp for the speakers and headphones to give them a little extra punch.

Networking -
This one is something that is a requirement anymore. If you have a computer, the chances are good (like 99%) that you are also connected to high-speed internet. With this you need a good and solid LAN chip to make sure that your data flows properly out and back.

The EP121 has an Atheros AR9002WB-1NG wireless adapter. This does fairly well at keeping you connected but does have a little bit of a range issue. While we typically connected at 150Mbps when within direct line-of-site once we had a couple of walls between us and the access point we lost some of that and saw connection speeds drop to 70 or below. When we put in another adapter (the TRENDNet TEW-664UB) we saw this jump back up to the 150Mbps range. The problem seems to be one of either the antenna or interference by internal components that reduce the effective range. Still it is not as bad as some laptop/netbook adapters that have their performance cut by up to 70% once out of line-of-site.


Section II - Performance Tests, Synthetic
In this section of testing we cover the synthetics. These are tests that run a scripted sequence of internal APIs or that use another installed application to perform a series of scripted events. They are great in that they can provide reproducible results across various platforms. On the down side, synthetic tests can be fooled with driver tweaks and optimizations. In some cases it is necessary to rename the .exe file to something generic to discover if this is the case. In any event when this is needed (when a test shows a drastic difference in performance over the renamed exe) we will note this and show both results for comparison.

PCMark Vantage -
PCMark Vantage is a suite of tests designed to test the power of your computer. It runs task that range from productivity to gaming (DX9 only). It is a great test to identify potential problem areas with general performance on a system. It can also show how well a single component can increase or decrease system-wide performance. We run both the x86 and x64 PCMark Suites for testing.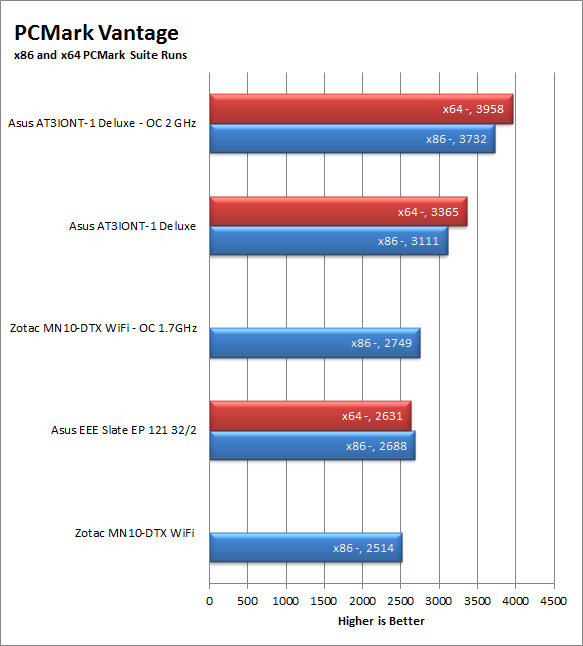 The 2GB version of the EEE Slate does OK with PCMark Vantage but as we mentioned before the HDD performance seems to have had a much greater impact than we thought it would at first. If our suspicion is right kicking up the memory size or replacing the SSD with a better performing one will help to turn this around. Still we cannot make a judgment on one single synthetic test.

3DMark Vantage -
3DMark Vantage is the other FutureMark test that we run on our motherboards. This test simulates the typical tasks that a GPU (and system) would have to perform to provide you with a good gaming experience. It is based on the DX9 and DX10 engines but can only be installed on Windows Vista or later. The suite of tests covers DX9 rendering, DX10 rendering, AI computations and PhysX. The problem with the PhysX calculations is that nVidia owns that technology. This gives them an upper hand in the test runs, for this reason we will always run 3DMark Vantage with GPU PhysX enabled and disabled when we use an nVidia GPU in our testing.
Ok… this was very odd but I suppose not unexpected. The system resolution was not high enough to run even the entry level test.


| | |
| --- | --- |
| | |

We did plug in an HDMI cable and run this test on a full sized monitor to see what speeds we would get and did get the performance results you see below. Let's face it; you are not going to be playing Crysis 2 on this device. The good thing is that this is not marketed to the high-end gamer so Asus is ok there.


HyperPi 0.99b -
HyperPi is a front end application that allows you to easily run multiple instances of the SuperPi application. SuperPi, for those that are not familiar with it, is an application that measures the time it takes to calculate the number Pi out to as many as 32 million places. This calculation is then checked and run multiple times (up to 24 for a 32M run). This test stresses the CPU, Memory and HDD as data is handed off between the three. If there is a weak link, HyperPi will show it. For our testing we run the 32M test on as many cores (and threads) as the CPU has available. The slowest CPU time is then recorded.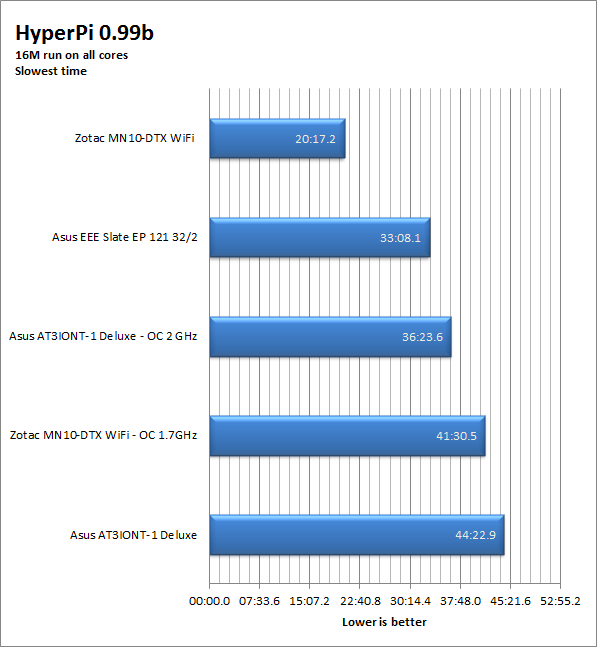 The EEE Slate EP121 did pretty well for our HyperPi testing. Surprisingly it was not the fastest, but it was not too bad.


Section III - Real World Usage
Photoshop CS5 -
Photoshop is an industry standard image manipulation application. It is great for not only editing photographs but also for creating original content. For out testing here we used the Driverheavn Photoshop script. This is a custom built action that puts a stock image through a series of filters and allows you to record the time each takes to run.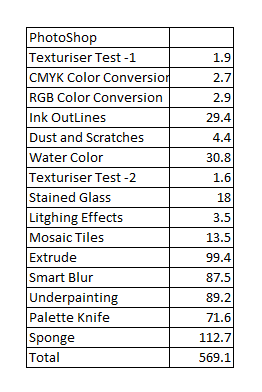 Photoshop on the EP121 was quick for the most part. Opening up the application took no time at all. Even opening up 20MB RAW files was snappy. Most of our normal work (converting RAW files, cleaning up images, resizing them) was more than fast enough. Still when we ran our actual test we can see that under certain filters the EP121 is pretty slow. Don't let that worry you though, for most Photoshop use the EP121 is more than quick enough.

General Performance -
After carrying the EP 121 around for a couple of weeks I got a good feel for how it performs on the go. In a word this slate from Asus is quick and nimble. Everyone that saw it in action was impressed. Even some of my Apple-centric friends admitted they were impressed despite themselves. Their last bastion of defense was to claim that the OS was open to viruses etc.. I honestly did not have the heart to let them know that their OS was as well. But that is for another story. I have found myself using this for more than just this review. I now use to read e-books, watch Netflix, photo editing and some basic manipulation and even to play some of my favorite older games. It runs the HalfLife series very well at 1280x800 as long as I have the Bluetooth mouse and keyboard available. There are a few quirks but then again nothing is perfect.


Value -
When I started writing this the EEE Slate EP121 was $999.99 for the 2GB/32GB EP121-1A011M and $1099.99 for the 4GB/64GB EP121-1A010M. However, as of today these prices have changed; the pricing is now $1049.99 and $1199.99 respectively. Now you will hear many say that these prices put make them far more expensive than the Apple iPad. Let's take a closer look to see if that logic holds up shall we?

We will start off comparing the 32GB WiFi iPad2
Price currently is - $599.99

The EP121-1A011M runs for $1049.99
That makes a difference of $450. Now that is a huge difference. But wait, that is not the whole story.
To truly match up to the EP121 you have to compare Apples to Apple here. That base cost of $599.99 does not include a few items.
So now let's add up the extras you get included with the EP121 that Apple leaves out.
Cover – We will go cheap here and get the base smart cover at $39.99
Bluetooth Keyboard – Buying the Apple approved version will run you another $69.99
HDMI Port – To get this you have to use an adapter which will run you another $39.99
USB Ports – Chock up another $29.99 fortunately you get a USB port and an SD card reader here, but you cannot use them at the same time. This also applies to the HDMI adapter.
So far we have an addition of $179.96 but we are not finished.
To get limited Flash to work on the iPad throw in another $4.99
For the "office" suite on the iPad it is another $30 (roughly) …
This brings the gap down to under $250 and there is more we can add in here. I think you can see that while the entry level cost for the iPad is less you will more than make that up with other pieces. For those of you that talk about iTunes… well at $14.99 per month for unlimited downloaded music I still think the EEE Slate has Apple beat.

Again it is all about the perceived value here. The EEE Slate will cost you money and a lot of it, but you are getting a lot in return and for most professionals the EP121 is a much better fit than the rather limited iPad2.

Conclusions –
When we saw the EEE Slate/Pad EP121 at CES we were intrigued. Later when we had the chance to take a closer look at one in the Microsoft booth we were very interested. Now that we have had a chance to actually tinker with one, we are very impressed. As a tablet device it hits something of a home run here. Apple may have opened the doors with the iPad but they do not have the concept down. There is a demand for a tablet that can do real work. The EEE Slate is this tablet. It is a Windows based product that gives you the performance and speed you need to run some pretty demanding applications. We have only hit the tip of the iceberg here and plan to take an even deeper look into what we can do with this product. We do have to say that if you are looking into one you would be wasting money if you grabbed the 2GB/32GB device. After all there is only a $100 difference and the performance/storage improvement is pretty big. Our next move with the one we have is to pick up some additional RAM and a larger SSD (perhaps the 80GB 310 from Intel) and see what we have after that swap. For now we have to say that Asus has a winning product here, we imagine that for the next few months getting one of these will be about as hard as getting an iPad. After speaking with a few stores we have been told that they cannot keep them in stock; as soon as they get them in, they are out the door. If you are looking for a good solid performing tablet with flexibility and options then you might want to start searching the internet and grab one of the EP121 Slates when you can.