The Box and Goodies -
Oddly enough the box that the Maximus V Gene came in had a vinyl feel to its outer surface. This is very different than the stock printed look that their mainstream and entry level boards have. It also seemed to warp much faster and, while it repelled water, seems to peel away from moisture more. Of course you are not buying this for the box, but if someone saw one of these in the store the peeled edges and odd look might not give the impression of quality.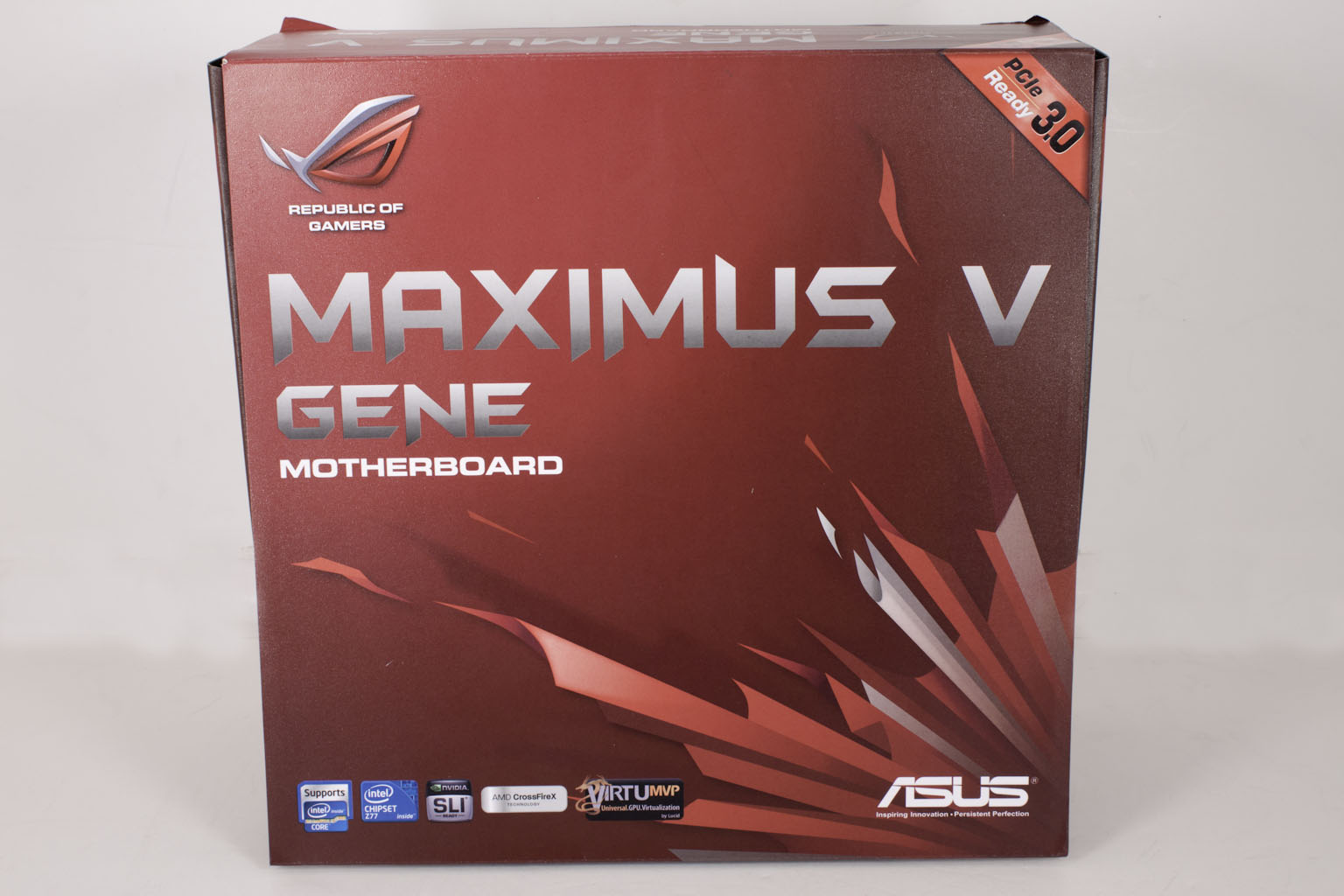 Other than the vinyl coating the Maximus Y Gene (we will just refer to it as the MVG from now on) has a pretty good looking box. It is the ROG red complete with the expected starburst pattern in the corner. There are also the typical marketing logos and badges. Two that stand out are the PCIe 3.0 label and the Lucid Logix VirtuMVP. We will talk more about these later.
| | |
| --- | --- |
| | |

Flipping the front cover up we find some more marketing material this is more aimed at enhanced features than anything else (like the mPCIe Combo card)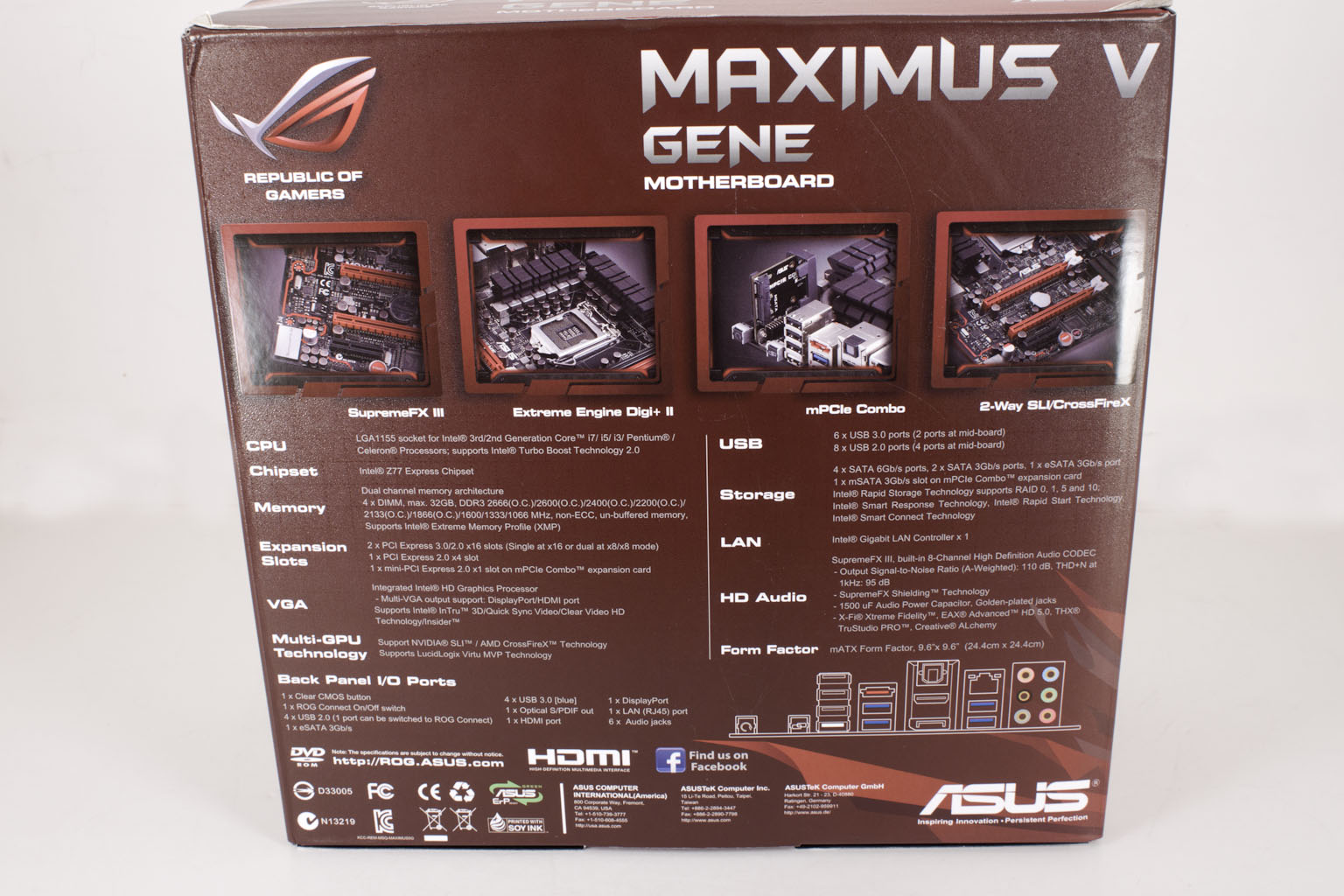 The back is very typical of the ROG line up with a list of specs and images to compliment the listing (remind you of the major features).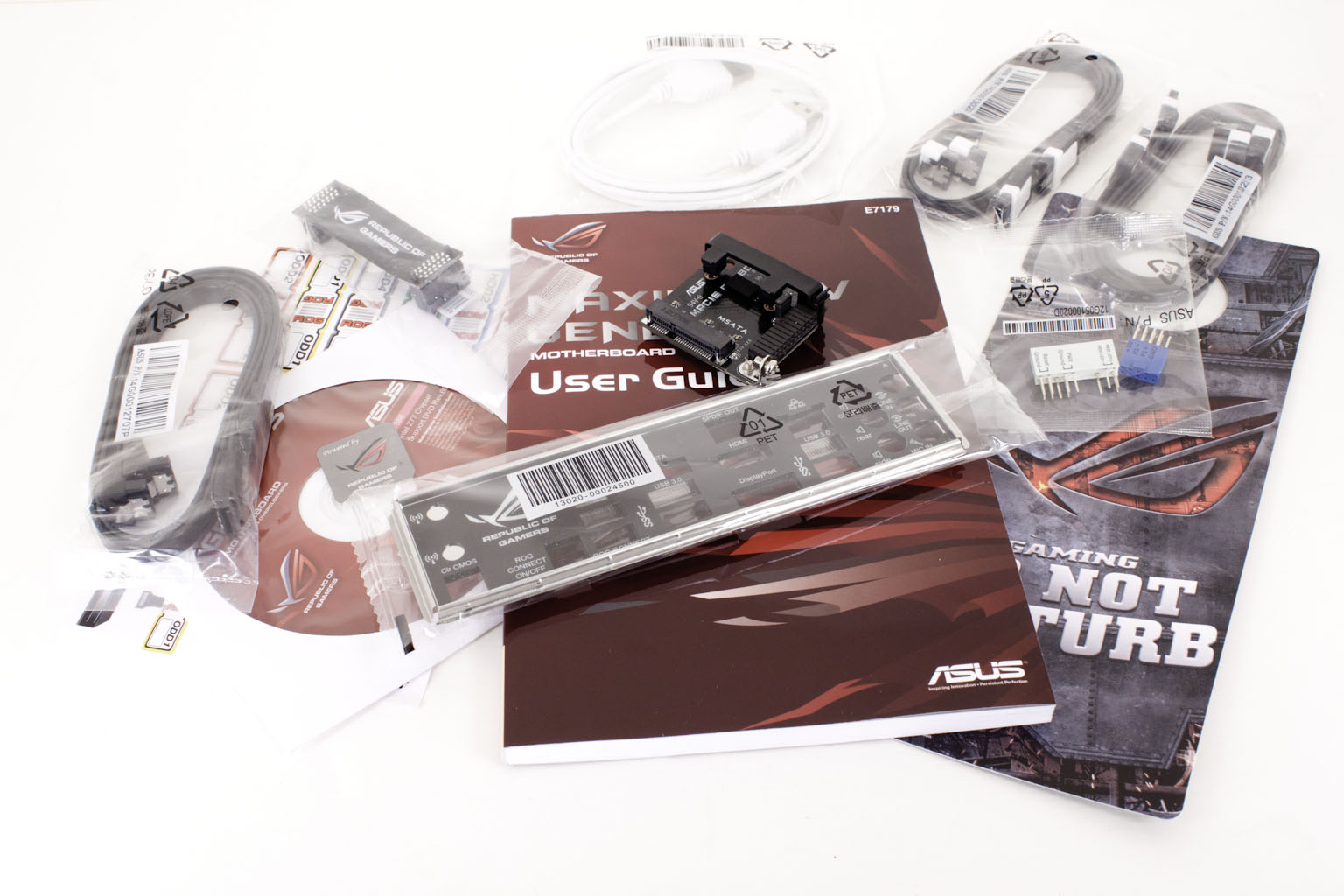 Inside the box, in addition to the MVG, you get a decent amount of loot (as you will see in our video).


The Layout -
The layout of any motherboard is important. Even simple mistakes in component placement or the signal traces can cause major issued in performance and stability. With the ATX form factor we find that this is even truer; the devices we drop onto them demand more and cleaner power while the signal speeds push faster and faster. Asus' Gene series has always been built around a microATX form factor. This is not only to satisfy the small form factor enthusiast market but also as a gateway into the ROG lineup. You are still going to get many of the same high-end features that you find in the ROG line, but there will also be some things that are not going to be present (like three-way SLI advanced cooling etc.). Many of these are only removed due to the size of the board. With this in mind let's start our walk around. The MVG is built around an Intel Z77 chipset; which means it can support any 1155 CPU. With this you also get support for dual channel RAM, SLI and CrossfireX. In the upper left hand corner we find the typical layout for most ATX boards. You have your 24-pin ATX power connector along the leading edge with the RAM slots right behind. On the MVG you also get your Memory GO button, a USB 3.0 header and a line of voltage read points. You will also notice the solid capacitors in use here. These are 10k capacitors and are quite a nice component choice (with the extra headroom for heat and current).

| | |
| --- | --- |
| | |
Moving around we find the cooling on the voltage regulation system to be very similar to what we have seen on the Sabertooth series. The fins of the heatsink are in a zigzag pattern and are coated with the same power coating we saw on the P67 Sabertooth. You will also notice that there are two CPU 4-pin fan headers visible here. This is for the all-in-one water cooling rigs and also for tower air cooler that work in a push-pull configuration. Before we move on I want to talk about something that most will miss here. If you look closely you will see the traces from the CPU socket to the RAM slots. This is one of the places that Asus stands head and shoulders over their competition. You can visibly see the attention to detail they have put into the trace tuning here. Much of this is to support things that will be available once Intel's 3rd Generation Core i7 CPU hits the market, but it will still give you some excellent results with what you have now.


Continuing to move around the board we find the header for that handy little mPCIe combo card. It is right between the BIOS reset and the ROG connect buttons. As we mentioned before the MVG supports dual GPU CrossfireX and SLI. It also has a small x4 slot in case you wanted to add in a better audio card or other add-in card. Looking closer again you will see a very thick trace here. This is actually a segmentation line in the board that lights up and also separates the audio components from the rest of the board. Even though this is a small separation it will still help to keep the audio clean and also to improve stability.
| | |
| --- | --- |
| | |
The Z77 chipset is covered by another well designed heatsink. This also has the same powder coating that we saw on the power system cooling. We hope that this heatsink is up to the task though as we have already found that the Z77 can get pretty warm. The MVG also has four SATA 3.0 ports (two from the PCH and two from an ASMeida Controller. Asus chose to do this so they could use the other two SATA controllers on the PCH for the eSATA ports.


Looking at the I/O panel we find four USB 2.0 ports (the white one is for the ROG connect), four USB 3.0 ports (two are ASMedia and two are Intel), the rest is fairly typical and not that much to talk about.


Now as we walked around you might have noticed all of the 4-Pin fan headers. These are all PWN fan controllers and are supported by Asus' Q-Fan controls; we will tell you more about these and a new feature in the next section. Overall the Asus ROG Maximus V Gene is an impressive motherboard and this is before we have even covered the major features.
Features -
In the current market motherboard (and indeed almost all component) performance is very close. The days of a large performance advantage between boards using the same chipset are long gone. That is unless someone makes a HUGE mistake (like runs traces completely wrong). Now, the thing that differentiates different products is the features. These are things like power management, extra slots, better audio CODECs etc. It is these items that R&D teams work so hard to drop into what are really identical pieces of hardware at their most basic level.

Excellent -
mPCIe Card
USB3.0 Boost
USB BIOS Flashback
GameFirst
T-Topology Trace Tuning
SupremeFX III audio isolation
VirtuMVP
FanXpert2

This list here is pretty long and although many of these might not seem like they belong they actually are very nice features. The mPCIe combo card all on its own is simply amazing; you can drop in a mPCIe card (like a wireless card or similar) on one side and also an mSATA card on the other. The vertical placement of this card means you are not limited by the 55mm restrictions you see on many other boards. Because of this you could drop in a 70mm 128GB card and actually use that for your boot drive if you wanted, it is very cool. The USB 3.0 boost we have already shown off and it is very impressive. With it you can increase the throughput of your USB 3.0 devices very easily.
| | |
| --- | --- |
| | |
Another USB feature is the USB BIOS flashback. This hand little tool allows you to flash your BIOS with nothing more than power and a properly formatted USB key. The T-Topology trace tuning we covered in the layout section and it is more impressive than we can tell you right now.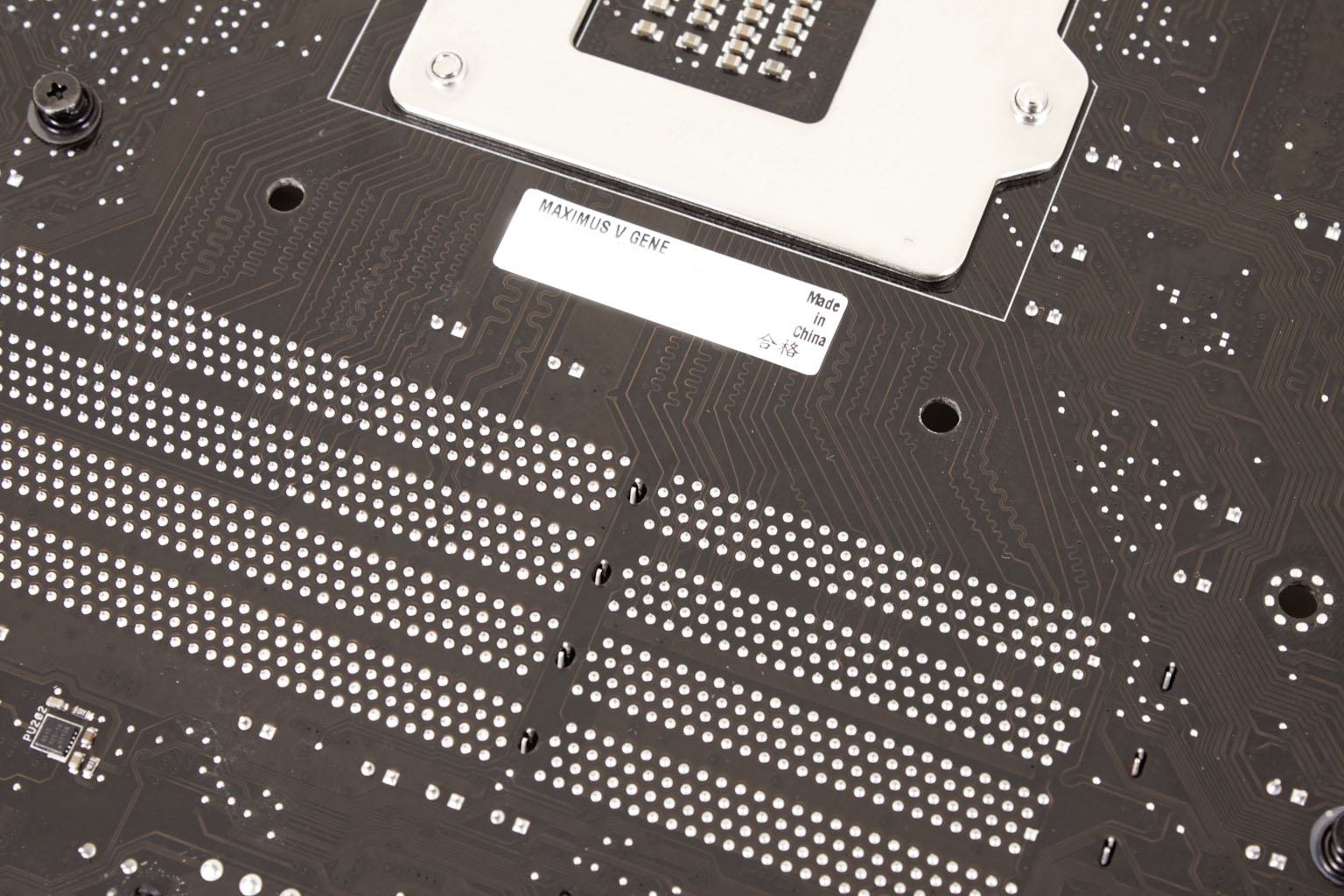 The FanXpert2 features are very cool; before you could control the fans on your board with a great deal of precision and to suit your needs. Now Asus has extended these controls into the AISuite software. IN addition to many of the typical features Asus now allows for Auto Tuning of your fans. When you enable this it finds the minimum and maximum operating speeds of each connected fan. It then creates a profile for silent, standard and turbo. Once you have tuned the fans you can then isolate them in order to map the fans to the headers. This is very cool feature so that you can monitor the exact fan you want by name and location instead of just the header. Often times in a case you might have fans that do not have a named header, with FanExpert2 you can now put a name on the headers.
| | |
| --- | --- |
| | |

We could go on, but as you can see the list of features that we see here are simply impressive.

In the middle (sort of good) -
SupremeFX III Audio (not the isolation)
Four SATA 3.0 ports
SLI and Crossfire support

These do not need much of an explanation as they stand out on their own. We are including the audio component here as a middle of the road feature because it is still an onboard CODEC, but we do feel that isolation of this component is an excellent feature.

Floor Mats -
Q-Connect
Front USB 3.0 Connectors
Voltage Monitor Points


The MVG has more features under its hood than these, but some of these we cannot write about just yet. For now we will say that with the features and components you will not be left wanting.


Conclusion –
As we have said Asus has been working hard to create products that make sense for the market segment they are intended for. The ROG line up is for the enthusiast/gamer. This is the person that wants the best of the best; to them performance is not an option it is a requirement. Having said that, there are many people that want to have hardware that can perform well, but do not want to get in over their head. The ROG Maximus V Gene is the perfect motherboard for this. With support for dual GPU SLI and Crossfire, DDR3 support up to 2600MHz (overclocked and up to 32GB of RAM) SSD caching or booting from an mSATA card, audio isolation, support for current and next generation Intel CPUs and much, much more. At this stage of the game unless the MVG absolutely fails our performance tests we could recommend it to you. However, we are still going to throw it up on the grill and see how it cooks, but that is for part II of this review.

Discuss this in our Forum