Our visit was centered on the usual component parts that we have reviewed from Asus in the past; these are just the newest in their lineup. We kicked things off with Asus' new X79 line up including the Deluxe, Pro and Stock X79 boards. These boards are impressive in the features and components they have. All the way down to the stock X79 you get an Intel LAN controller, Digi+ VRM and many of the features that you have come to expect from the ROG series, these have all filtered down into their mainstream and performance series boards.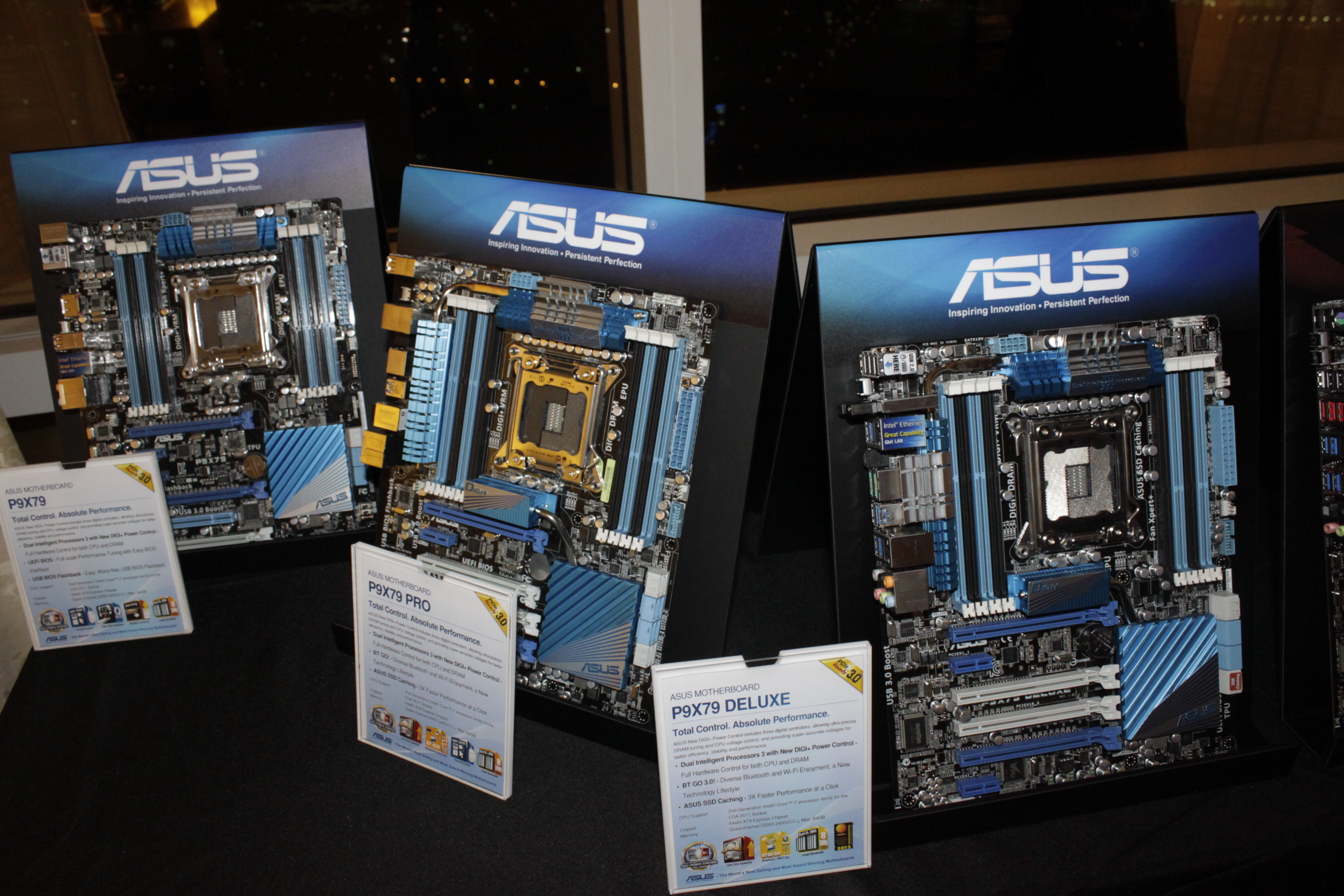 Speaking of ROG, that was what we looked at next. Anyone that has ever used an ROG motherboard knows that Asus puts a lot of time and effort into these boards. We have tested a number of them and have (with very few exceptions) always gotten our highest performance with them. One of the many reasons for this is the component selection. Asus has always made excellent component choices. These might not always be the cheapest, but they bring value to the boards.
One new feature with the ROG line up is a segmented audio section on the board. This is visible by the large trace line that runs along the back of the board to the SupremeFX III. This trace also lights up red when the board is on. By segmenting the audio this way they can reduce the amount of signal noise that comes from the rest of the components. Although the amount of separation is minimal, it does have a big impact on audio quality in the end.


JJ from Asus also showed us their new USB 3.0 Boost controller from asmedia and how they have been able to improve performance across the board for all USB 3.0 (and even 2.0) devices. This is by enabling a new SCSI and UASP mode. In the normal mode (called BOT mode) you get a single command per cycle. In UASP (and even SCSI mode) you get multiple commands. This (as you might have already guessed) improves your performance dramatically.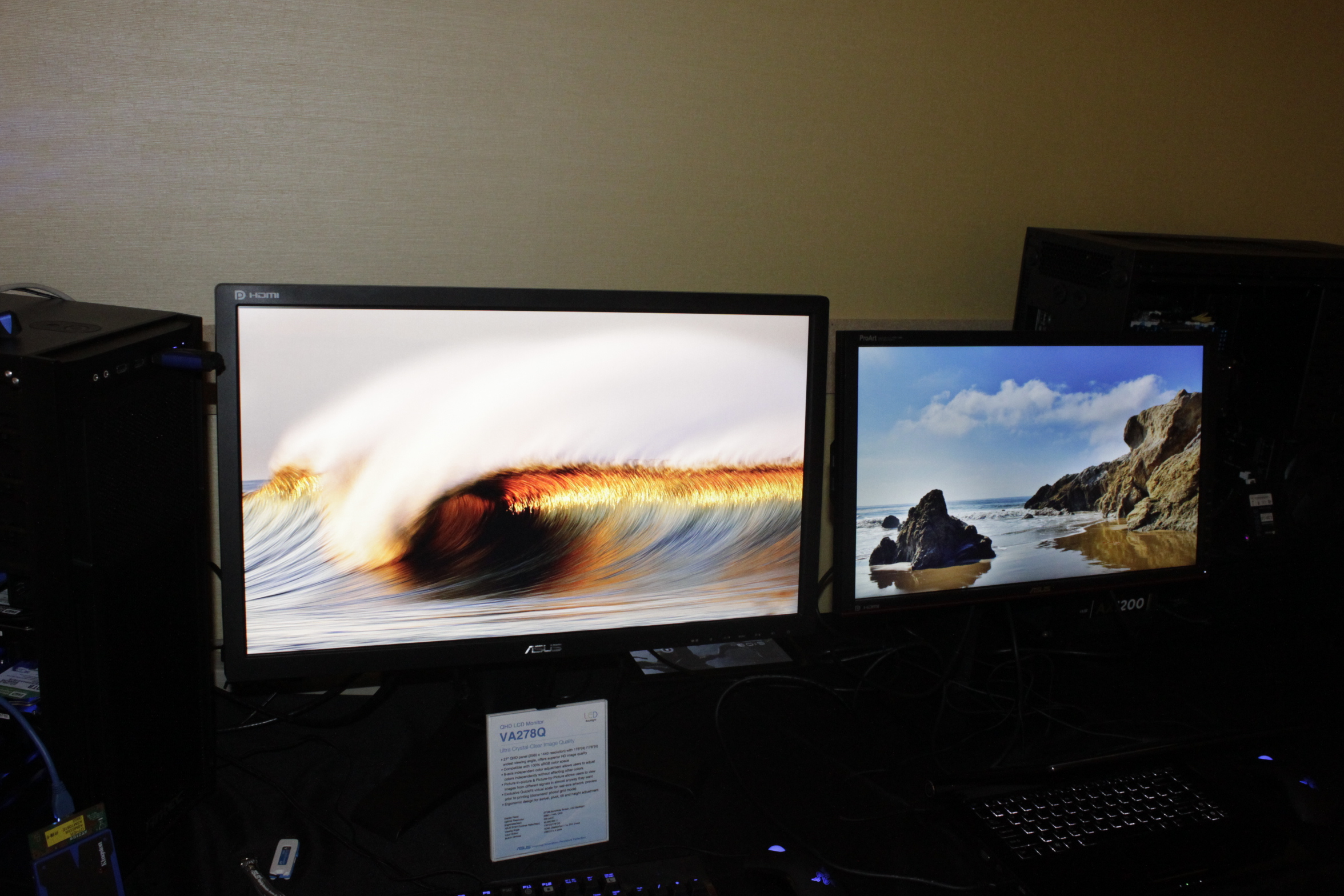 Next Asus showed us some professional series monitors that were simply amazing in terms of image quality and color saturation. They are designed with the content developer in mind as they have more than a few built in features like a grid overlay, output size maps and more.
| | |
| --- | --- |
| | |
While JJ from Asus was showing me these two new products I had a hard time keeping my eyes on the monitors. Instead they were wandering to a small dome shaped device sitting on top of the case. This turned out to be a 450Mbps wireless device that has a very impressive full spectrum antenna inside. This antenna allows you to get great range and performance. It does require more power so you will not get full spectrum over USB 2.0, but it will still operate. The device also uses an Ethernet port to connect to your PC.
Next up on Asus' list of impressive things to see was a dual socket 2011 board meant for the Xeon version of the Sandy Bridge E (the Xeon E7) CPU. With these you can get up to 10 cores and 20 threads per CPU. This board is going to be something to see when it is in action with a pair of these. JJ decided to show off and gave us a look at his rendering system. He not only had two E7 CPUs, but three Tesla cards for some serious performance. … Yes we are still very jealous of that system.


Moving back around to the front of the suite JJ showed us a few new toys that he knew we would be interested in. One of them is the new ThnuberFX external Audio processor. This product connects Via USB and is able to push out a very clean 116db SNR (Signal to Noise Ratio). The cool thing about the ThunderFX (which should be bundled with the Rampage IV Formula) is that it can support more input than just from the computer. You could plug in your Xbox and then connect your favorite headphones… well not exactly. One thing that Asus did leave off is a full ¼ stereo plug. We asked about this and they said that they wanted to keep that in the higher end lineup like the Xense. Still it looks to be an impressive product.
While talking about the new ThunderFX JJ also showed off some of the features of the new AI suite. We have always liked the look of Asus' AI suite and the improvements only make it better. One of the improvements that caught our eye is the ROG Exchange. Here you can upload and download overclocking profiles from (and yes to) your system. If you see an OC that you want to try or have been trying you can download one that succeeded and take a look at all of the settings used. You can then try them or apply that BIOS OC to your system. We will be uploading our overclocks to this in the future so you can grab them if you have an ROG board. JJ had more audio products to show us like the Xonar Phoebus and their gamer's headset all look impressive on paper and we cannot wait to test them out in the real world.
| | |
| --- | --- |
| | |
The last items that JJ showed off were Asus' next gen networking router. One of the RT-N66U "Dark Knight" it is a dual band 450Mbps router that not only has some great specs but looks amazing. This was sitting right next to an RT-N53 which also has some impressive specs and a great look.
That wrapped up our visit to the Asus suite; we did manage to get assurances for reviews of a few of these in addition to something special, but we want to surprise you with that.

One thing that was strangely absent was the Z77. We had sort of expected Asus to be showing them off proudly. When we asked JJ about this he stated that Asus did not want to show them this early to prevent the competition from mimicking their ideas. They also stated that they were still holding to the original NDA and wanted to make sure that when they showed their Z77s off they were a final product. Makes sense, but still odd not to see them when both Gigabyte and MSI had them out.

Discuss this in our Forum