Storage is arguably more important than all of the chip compute power because without it, the chip wouldn't have anything to read and couldn't put stuff away for … later.

Spinning disks and discs have traditionally been the weapon of choice for storage because they hold a lot of stuff and they've always been relatively cheap.

Now there are people who want to change all of that.

It's not that they don't have a big enough stake just focusing on making the consumer device market bigger.

Home Devices
According to IDC, we have:
- 15 devices per home in industrialized countries
- 2B smartphones
- 300M tablets
- 1B network-enabled retail CE devices
- 4B cloud-ready PC/CE devices
- 3B Internet users

With more than 7B people on the planet, there are still a lot of folks the chip people can focus on and connect to the ROW (rest of world).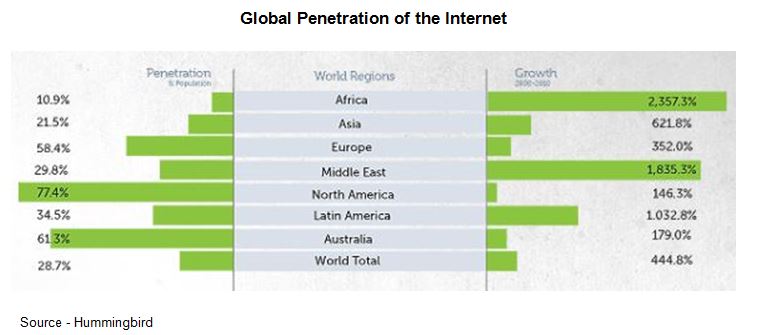 Still Plenty of Growth – We know you think everyone must be on the Internet but except for the few industrial countries, online penetration is only just beginning to become a reality. The big growth will come when low-cost smartphones are widely used as computing/communications devices.

People in emerging countries can't afford the luxury of having a smartphone, tablet and computer; and the new lower-cost smartphones will let even more of them do … more.

Sure, they lust for a tablet and might settle for a computer; but they're doing just fine at creating stuff with the device in their hands.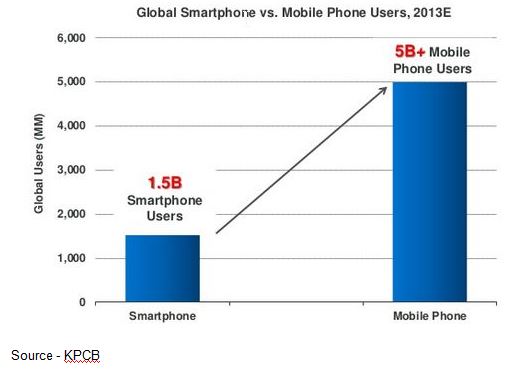 Smartphone Boom – To date, smartphones have been expensive and many consumers have had to "settle" for feature phones. The introduction of lower-cost smartphones in emerging countries will put the voice/data capabilities into more people's hands.

At the rate we're creating content, by 2015, it would take five years to watch all the video going across the network each second.

While all the words, pictures, videos and whatever folks are creating, they are really focused on sharing all of their stuff with everyone else.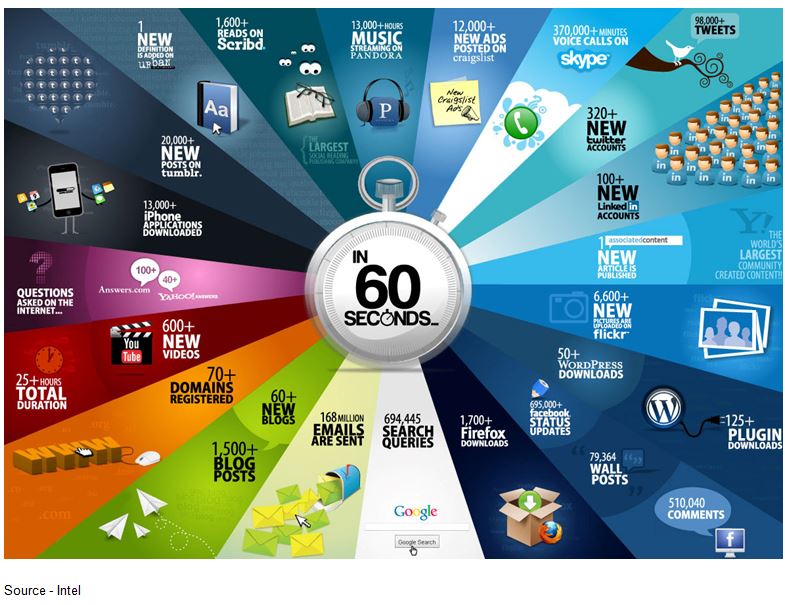 Overload – With two plus billion people on the Internet taking advantage of global and local social media sites, the content that is sent, stored and viewed is mind-boggling.

And that has made organizations like Facebook very big, very fast.

Facebook Stats
Jason Taylor, Facebook's Director of Infrastructure, noted they alone handle:
- 1.5B users
- 700M use their site daily
- 350M+ photos every day
- 4.5B likes, posts, comments daily

To keep up--and keep you from going somewhere else, they spend $1.24B annually on their data centers, networks and storage.

Taylor agreed with EMC, a huge data center storage supplier, that only 5 percent of the stuff stored is active and, in fact, most of the stuff is never looked at but it's kept … just in case.

Saving it for future generations is a whole different issue.

EMC has been very successful (and kept CIOs and CFOs happy) by providing a scaled storage solution that ranges from hot (gotta' have) to cold (it's sitting there).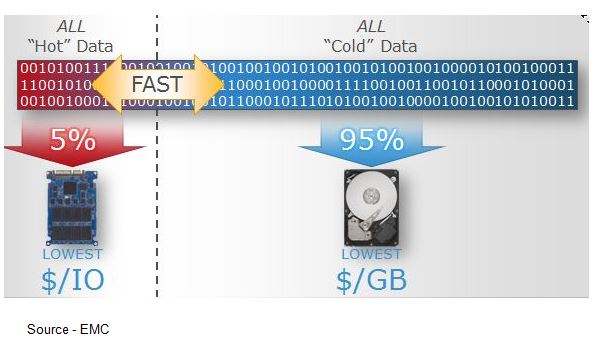 The 5 Percent – According to almost every IT study, only about 5 percent of the data/content stored is really "active" and accessed/used on a regular basis. The remaining 95 percent of information that is stored is seldom (and often never) accessed.

That works pretty well for the average data center because there are predictive analytics that let IT people do a good job of guessing what's hot and what's not so content can be shifted from high-performance (expensive) SSD (solid-state drive) to slower, high-capacity hard drives.

But Taylor told the solid-state people he wanted them to make his life easier and save his boss money by no longer focusing on higher and higher performance/endurance solutions and making the switch to low-endurance, poor-performance, cheap cold flash.

That would mean if you wanted some of that 95 percent data it might take a little longer to get but jeezz, Facebook could save a ton of money (power, space, time) and users would still be relatively certain their creations would be available to future users and data archeologists.

Data Archeology
Saving data, creations and content is always important to IT people because we've produced more digital stuff in the last few years than we did in the previous 5,000 years!

To preserve it requires more than solid state or hard drives. It requires a medium that's good for 50 plus years just sitting there, like optical.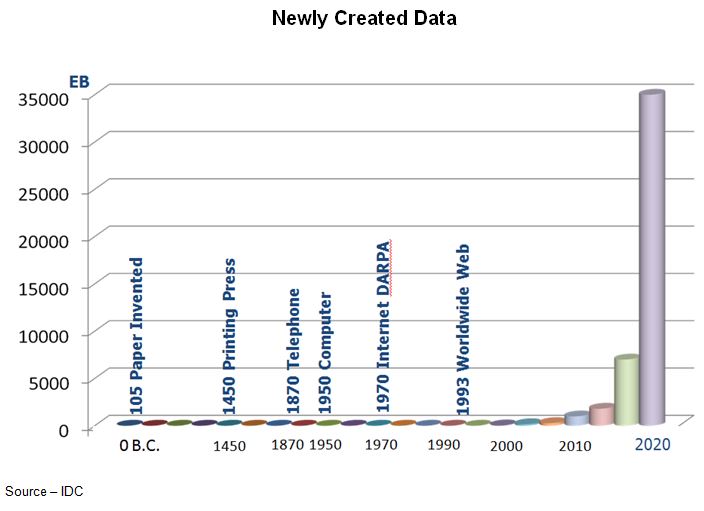 More than History – If it feels as though you're experiencing a data/information overload, you are. More content has been created in the past three years than was produced in the prior 5,000 years. The volume is going to double every two years and needs to be preserved. Source - Panasonic
And with all of those billions of smartphone, tablet and computer users going online, they're only accelerating the storage demand to the point that IDC projects storage demand will increase 50-fold to more than 40 zetabytes (it's huge).

Of course, to keep up with you, even people who make their living in the cloud have to keep their costs firmly planted on the ground.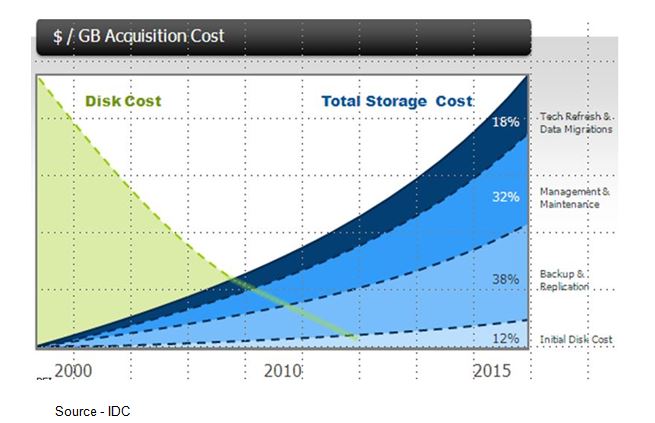 Why the Cloud – You may wonder why cloud storage – entrusting a company's mission-critical, private data to a third party – is so attractive to many finance officers. The reason is the cost, which is less about the storage device but also the need to backup, manage and preserve it.

That's probably why EMC is pushing the five HD companies (Seagate, WD, Toshiba, HGST and Samsung) to pack more data in smaller spaces on the spinning platters and even adding SSD on the front-end to deliver that cold data faster.

The question is whether Facebook can be a big enough customer for down-n-dirty/cheap cold flash or if it's something all the other cloud folks would embrace … someday?

According to most of the FMS attendees (lots of engineers), it's an interesting idea, but they are already having a tough time finding the engineers (55,000 are expected to graduate this year in the U.S.); and they know they're not going to have enough hands/minds to do it … right now.

So most of the speakers focused on the technology leaps they were making in delivering higher and higher write-endurance and performance for their fellow engineers in the PC, CE, auto, communications industries.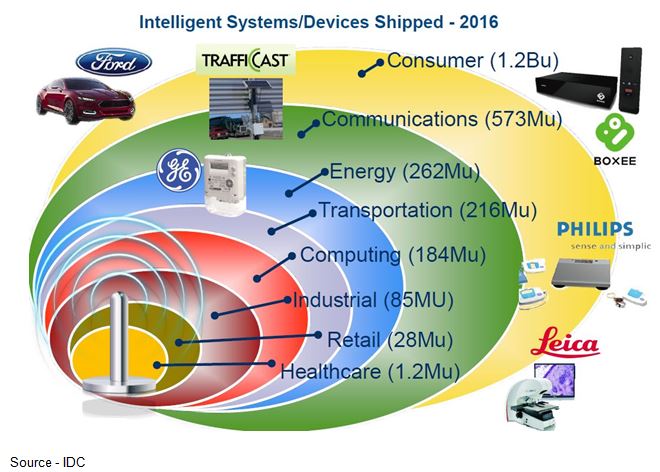 Growing Rugged Storage – Companies are automating many of their operations and new systems with computerized intelligence. In many of the new designs, the company needs high- speed read/write performance, low power consumption and the ability to operate in a wide range of environments. Solid-state storage is excellent for many – but not all - of these applications.

3D or No
The more interesting news for most of the Summit was about 3D and non-3D NAND (another Wikipedia acronym).

Samsung introduced their V-NAND technology that will let them pack more data on their small chips without having to retool or build a whole new production line (easily over $2B each).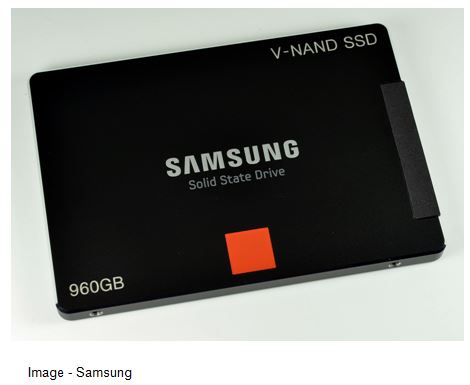 Up, not Out – To improve the use of the silicon real estate as well as reduce latency and power consumption, Samsung announced they would soon be shipping 3D V-NAND to customers as well as designing the chips into their upcoming products.

The technology would produce lower power, lower latency, and higher capacity chips by doing about the same thing city planners do – building up instead of spreading out or trying to pack storage cells more closely together.

More specifically, they say they can produce twice as many transistors per square millimeter, use half the power and store twice the data as today's chips while saving the content 10 times longer.

And they don't have to add new equipment to do it!

They see a big market for the devices in data centers but said they were also going to use the 3D flash in their computers and devices they seem to be selling so well. The folks at Toshiba, SanDisk and Micron are taking a different path with 2D memory and smaller silicon real estate. They're starting to ship SSD with 16-17 nm devices and figure they can be down to 10 nm (more capacity) in a couple of years. They didn't blow off Samsung's 3D now approach, but said the market wouldn't be ready for it until after 2015 (too expensive today for the performance/capacity/price). Ordinary folks can get by today with 32GB on their smartphone, 64GB on their tablet and 256GB of flash on their ultrabook as long as the cloud is handy.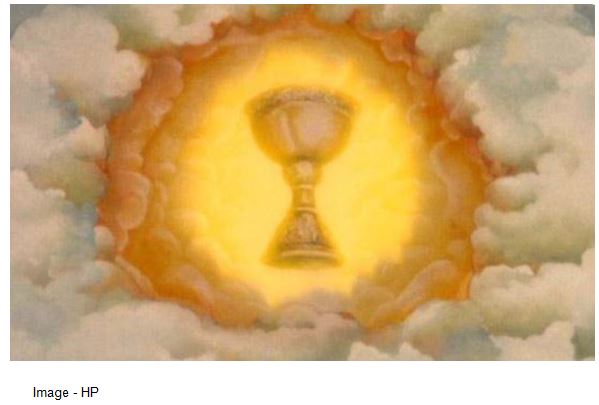 Eternal Hope – You can't do anything online today without touching the cloud, even if your content is just passing through. Those who only see the "Put Your Stuff Here – Free" sign in front of the social media and storage sites can only hope the vital information isn't stolen, corrupted or lost.

Facebook's Taylor will probably still be buying a ton of HDs to handle that 95 percent of the stuff that's never looked at and the five percent of data that is needed … now!

Then he needs to look at preserving that stuff for future generations.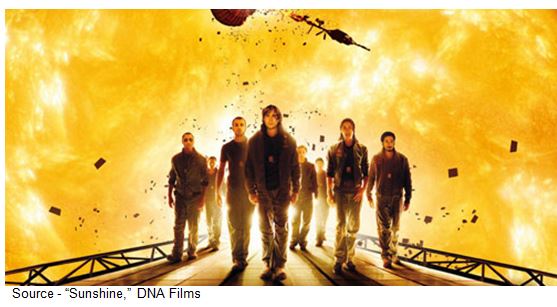 Whatever the decision, it's going to be a very interesting couple of years for the storage industry.

As Capa said, "I think it will be beautiful ... No, I'm not scared."

Tell us what you think in our Forum