At least that is according to the pre-order site on the game's website. The list of swag for the Call of Duty Advanced Warfare Atlas Pro Edition includes:
Call of Duty Advanced Warfare Season Pass
Atlas Gorge Bonus Multiplayer Map
Two Weapons (the BAL-27 AE Assault Rifle and the Atlas 45 AE Pistol)
Atlas Exoskeleton
Atlas Helment
Atlas Player Card
Five Bonus Supply Drops
Single Player Exoskeleton Upgrade Token
Welcome to Atlas: Advanced Soldier Manual
Collectable SteelBook
Official Call of Duty: Advanced Warfare Soundtrack
That is quite a list of gear you can grab for about $120…. But there is a small catch to all of this. Although the game will eventually be available for Xbox One, Xbox 360, PS4, PS3 and PC, you cannot pre-order for the PC at all and none of the cool kits exist for the PC gamer.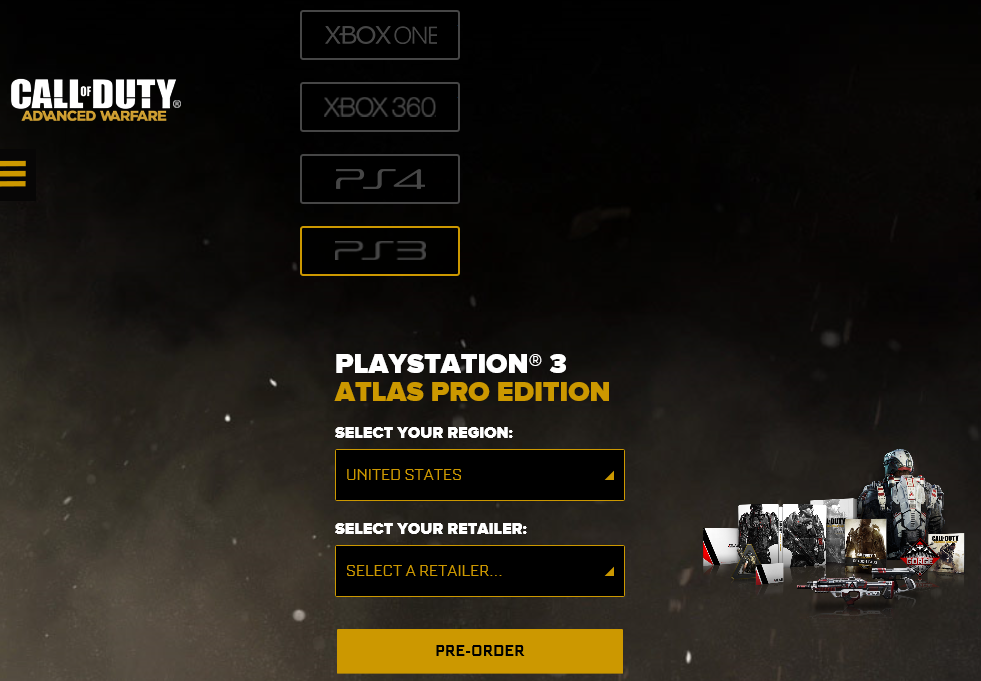 We are not sure if this is an oversight or if this is an attempt to push PC gamers to buy the game for the console. Either way it is something of a shitty move to exclude the PC crowd from having access to these expanded editions of the game. Even if the PC version will be dealyed there should be a note letting every one know that the PC edition will be available later, right now the launch date for all flavors of Call of Duty: Advanced Warfare is November 4th.
Tell us what you think in our Forum