Jen Hsun Huang started things off by telling us all about how the Tablet market is taking off rapidly. He told the crowd that the there are over 60 million tablets on the market. Those numbers are a little misleading though as only about 35-40% of the tablets currently in play are non-Apple devices.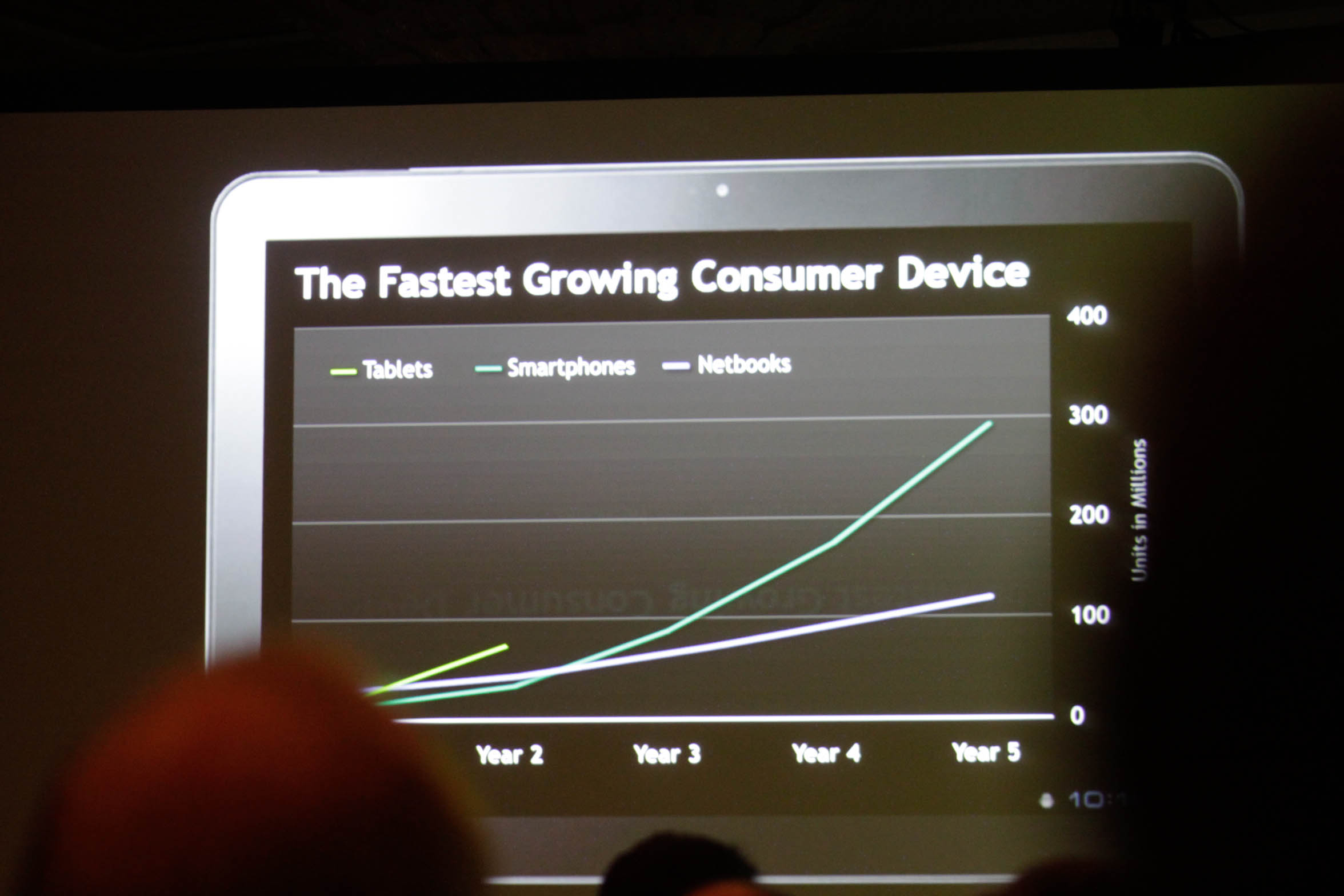 Huang went on to say that the market for non-Apple devices was increasing every day (which is true). He feels that with Tegra (3 and future models) combined with the return to a unified mobile platform (Google's Ice Cream Sandwich) the Apple market share will continue to shrink.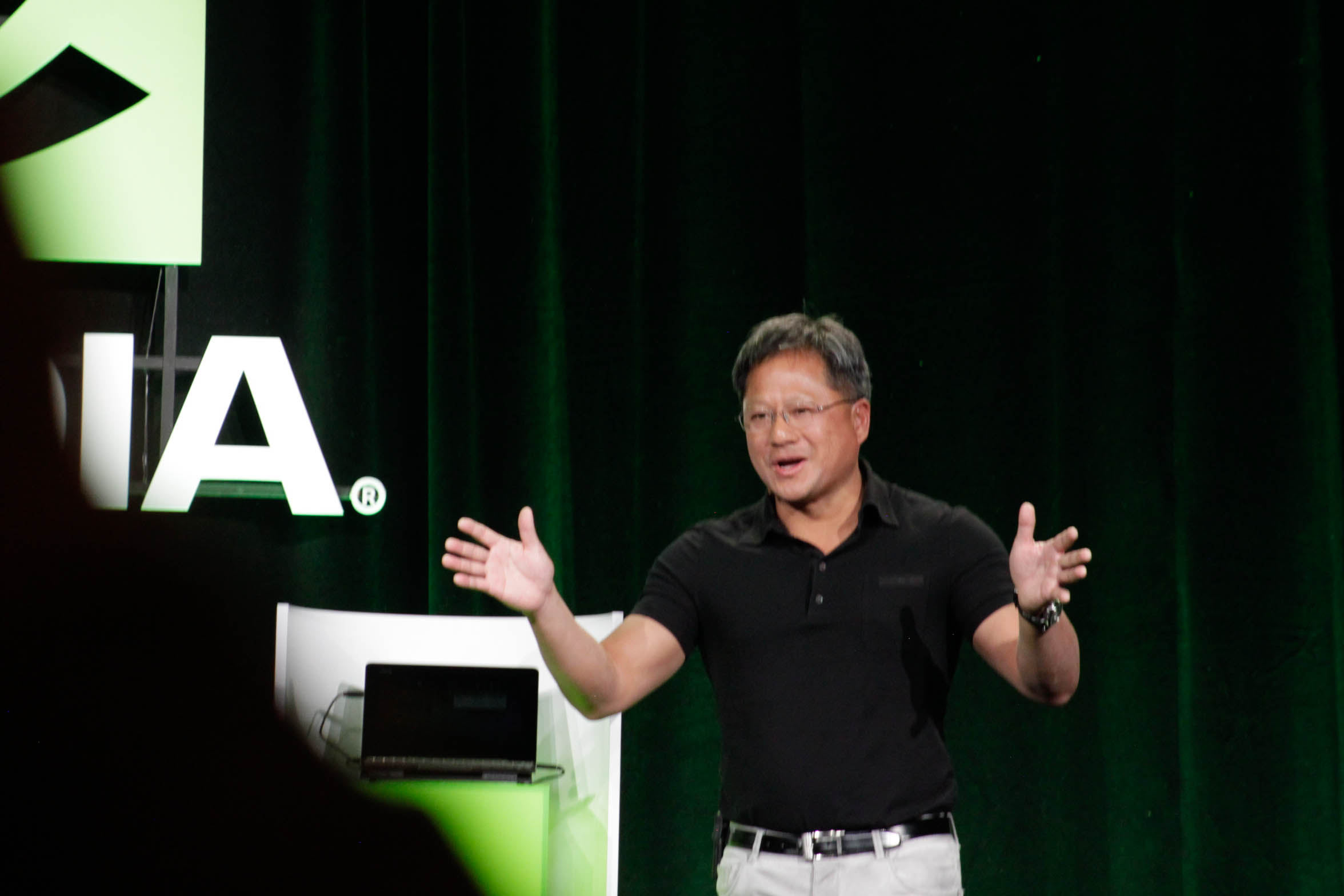 But there was more to today's press conference than just going over Tegra and what it brings to the market. We all know that Huang's vision of Tegra brining in 50% of nVidia's revenue is (or pretty much already has) come to fruition. No there is more to tablets than just the hardware underneath. One of the most important factors is the user experience. This is a lesson they learned from Apple and together with Google, Microsoft and their OEM partners nVidia is working to improve the user experience.
One thing that is going to be improved in ICS will be the locked frame rate. In Honycomb the frame rate is locked at 30FPS. This, while still full fluid motion, can cause the OS to feel like it is lagging (and again is something the they learned from Apple). By improving this and pushing this to 60FPS the whole OS appears to be more responsive.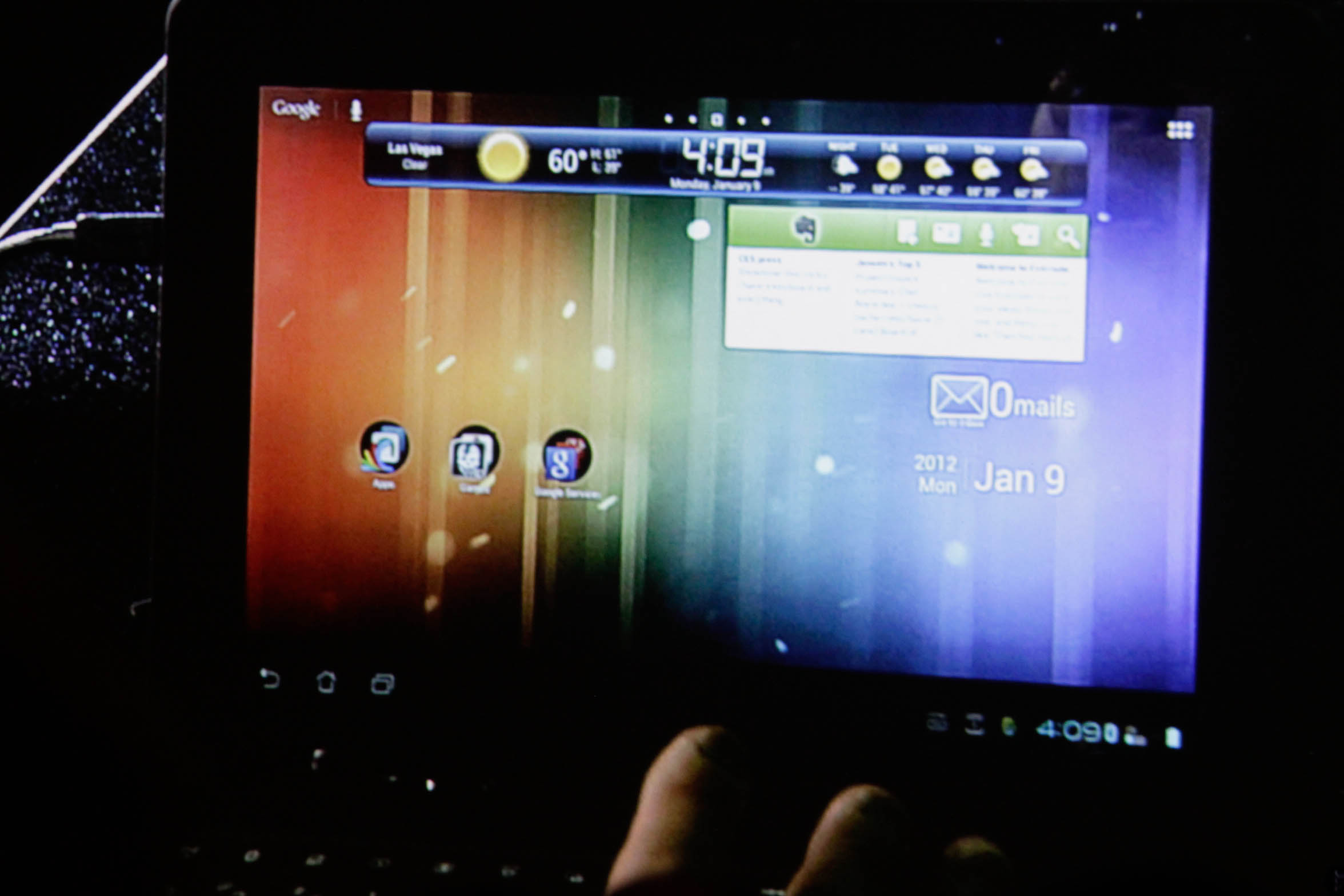 We watched as Haung brought Fatal1ty up onto the stage to show off just how much this will improve gaming on a tablet. They even showed off a new multi-player version of their Shadow Run game.

Haung did not stop there, but showed off new software that allows you to edit photographs in real-time. Then followed up with Splashtop THD, this is a new version of the popular Splashtop Remote conection application. Splashtop is a VNC-like application that streams input from your computer right to a remote system. Huang was able to play video, open iTunes, and then play Skyrim on a remote system directly on the Asus Transformer Prime. It was an impressive demo.

Huang also addressed the current popularity of the Kindle Fire and Nook., He brought out Asus and they showed off a new EEE Pad that will sell for $249. This tablet will have a Tegra 3 SoC 1280x800 resolution, Ice Cream Sandwich and an impressive camera. No word on when this will be launched, but we are pretty certain it will be soon.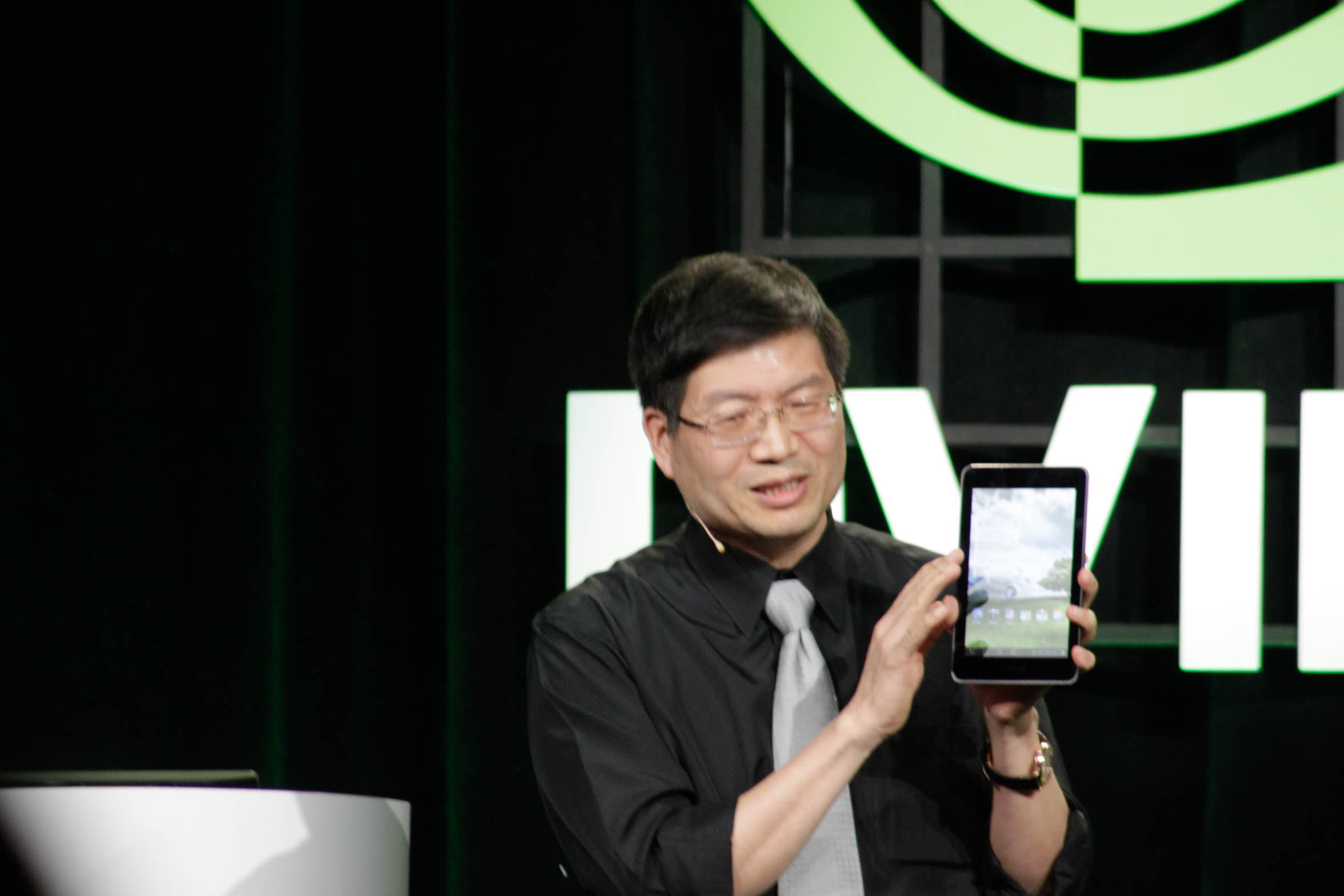 Finally nVidia rounded everything out with a demo of Windows 8 on an ARM based system. Although we did not get the specs of the one in question we could guess that this was also a Tegra3. The demo (like the others before) was very smooth with no lag in the way the tablet functioned. We were rather impressed (despite some misgivings about Windows 8). They also talked about a "new" feature of Tegra 3 and this is an improvement of the way touch input is handled by a tablet. Most tablets use a touch controller to interpret the input and then push that to the SoC. nVidia is now taking that piece of hardware out and allowing direct imput to the SoC. This will be handled by that fifth processor that is in the Tegra 3. It should more than double the responsivness of any tablet that is using it.
Lastly nVidia finally took the lid off something we had heard about a while ago. This is the Connected Car. We know that several European Manufacturers have been working with nVidia to build cars using a Tegra SoC that runs their in-car systems like GPS, Entertainment etc. (now call infotainment).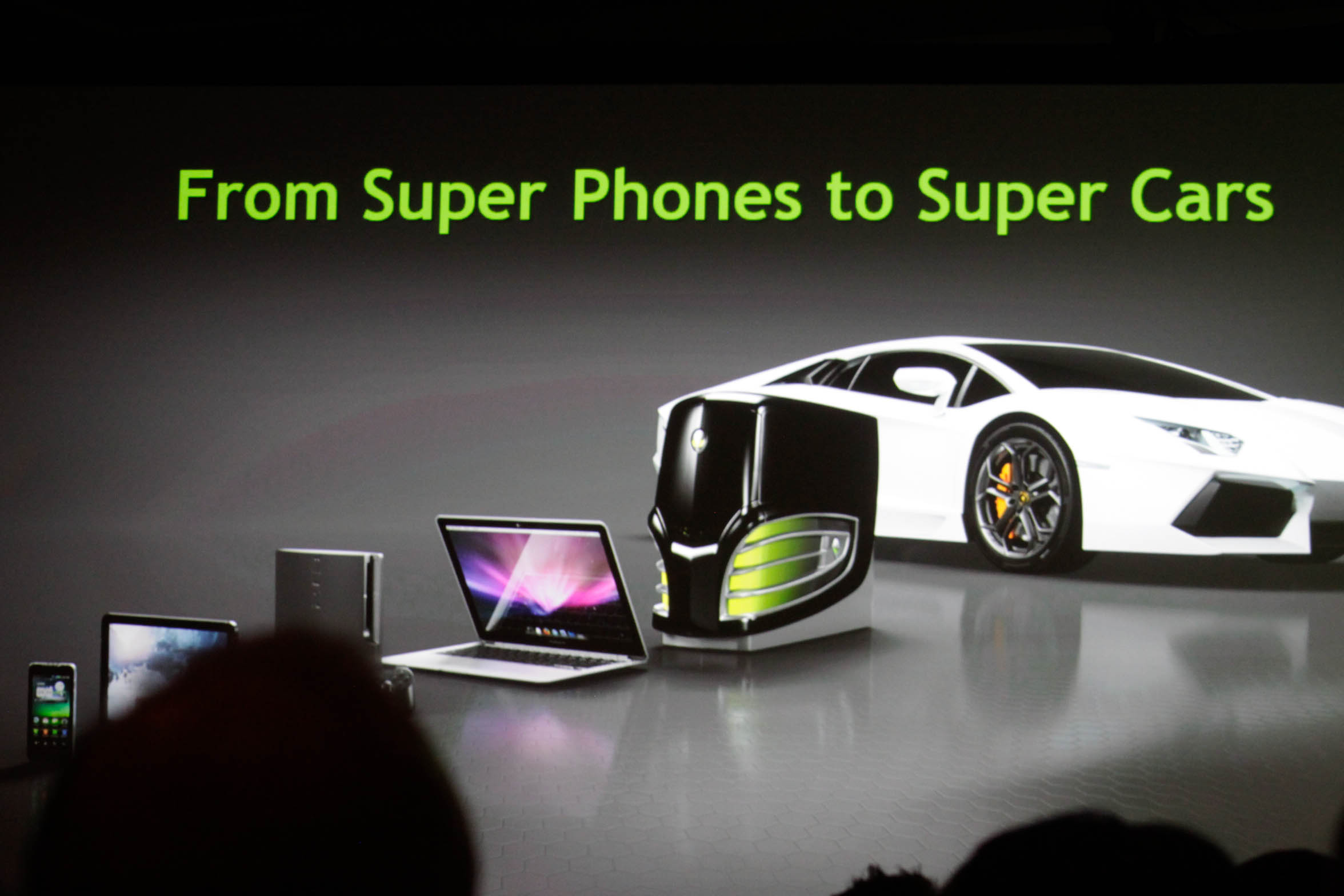 We will have video (without sound unfortunately) up shortly.
Discuss this in our Forum