Reading time is around minutes.
Anyone who's been involved with PC building and modding for any length of time has seen their share of oddities when it comes to PC cases.  These are the first thing people see after all, and as such they were some of the fist things to start taking different forms as the industry evolved.  It was and still is a dynamic market, and as the designers and PR people put out products that they think we the consumer will appreciate and spend our money on, there inevitably come along some examples that are… out of the ordinary.
There's nothing wrong with out of the ordinary in and of itself.  I'm a modder and believe that sentence wholeheartedly.  That said, there's a big difference between what I might make out of the ordinary for myself or for a client and what a company makes hoping to appeal to the masses and sell in the thousands.  Sometimes they come out great, like the Phantom from NZXT or the In Win D-Frame (In Win has been doing a lot of this sort of thing lately).  Sometimes they're not so great.  Either way I have to give credit to a company they tests the edges of the market like this, whether I like the product itself personally or not.  Today I'm taking a look at one such product from Deepcool, and it has a name as unusual as it's appearance: the Steam Castle.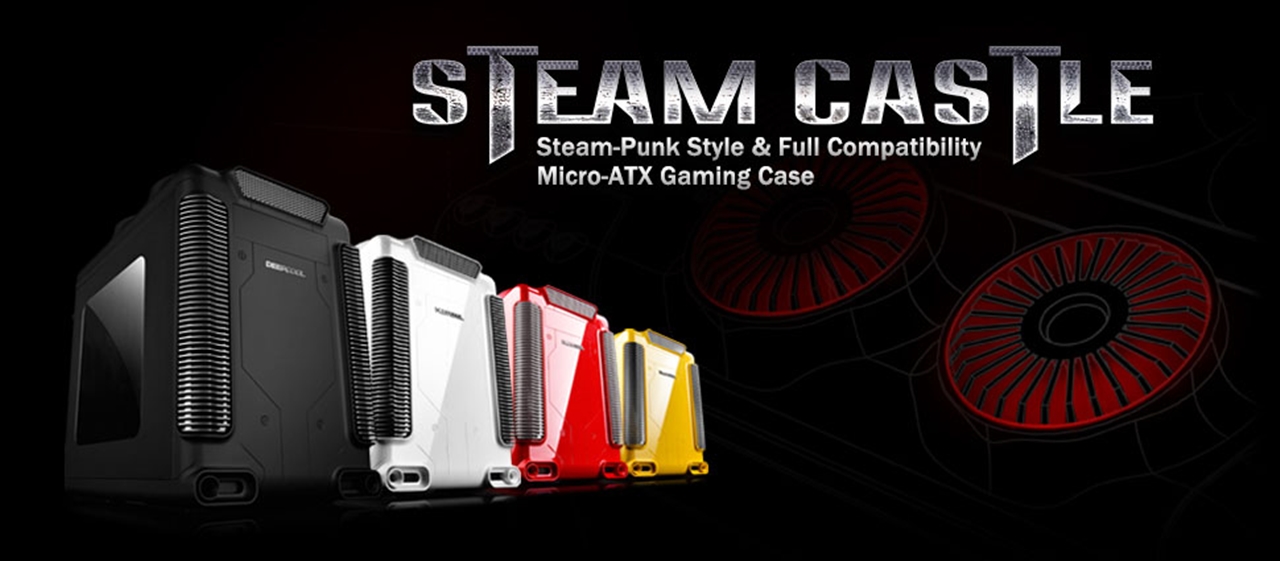 I'm a huge fan of the dieselpunk genre (and no, it's not the same as steampunk), and I have to say that I fell in love with the looks of the Steam Castle as soon as I saw it.  It was the black version that caught my attention at first, and I immediately sent an email to Deepcool and requested a review sample.  This was one of those products that I enjoyed seeing so much, a risk taken by a company that is still very new to the North American marketplace.  
Before I get started with the hands-on review on this case, here is what its creators have to say about it:
"Steam Castle is a dedicated high quality gaming computer case with great compatibility of up to 320mm graphic card installation.  Steam punk style bold presentation has made steam castle a unique computer case.  Its excellent ventilation performance is contributed by multiple air channels on front, rear, top and bottom panel equipped with a 200mm pre-installed fan provides maximum air flow for heat dissipation."
Technical Specifications:
Motherboards                Micro ATX/Mini-ITX
Materials                    SGCC+plastic (ABS) (panel thickness .95mm)
Dimensions                406x278x420mm
Net Weight                638Kg
5.25" Drive Bays            1
3.5" Drive Bays                3 (switchable to 2.5") (2 tool-free installation)
2.5" Drive Bays                2 (tool-free installation)
I/O Panel                    2 x USB 3.0/2 x USB 2.0/Audio x1/Mic x1
Expansion Slots                4
Cooling Fans                Rear 120mm
                        Front 200mm
Power Supply Type            ATX PS2 (max 160mm length)
CPU Cooler Compatibility        Max 200mm height
CVA Compatibility            Max 320mm length