The Box and Goodies -
Although Gigabyte has changed the color of their boxes they have not really changed the content or the layout of them. You get a sleek black box that has an artistic shot of the Z87X-UD3H right above the name of the board. Below this we have some of the highlights of the board.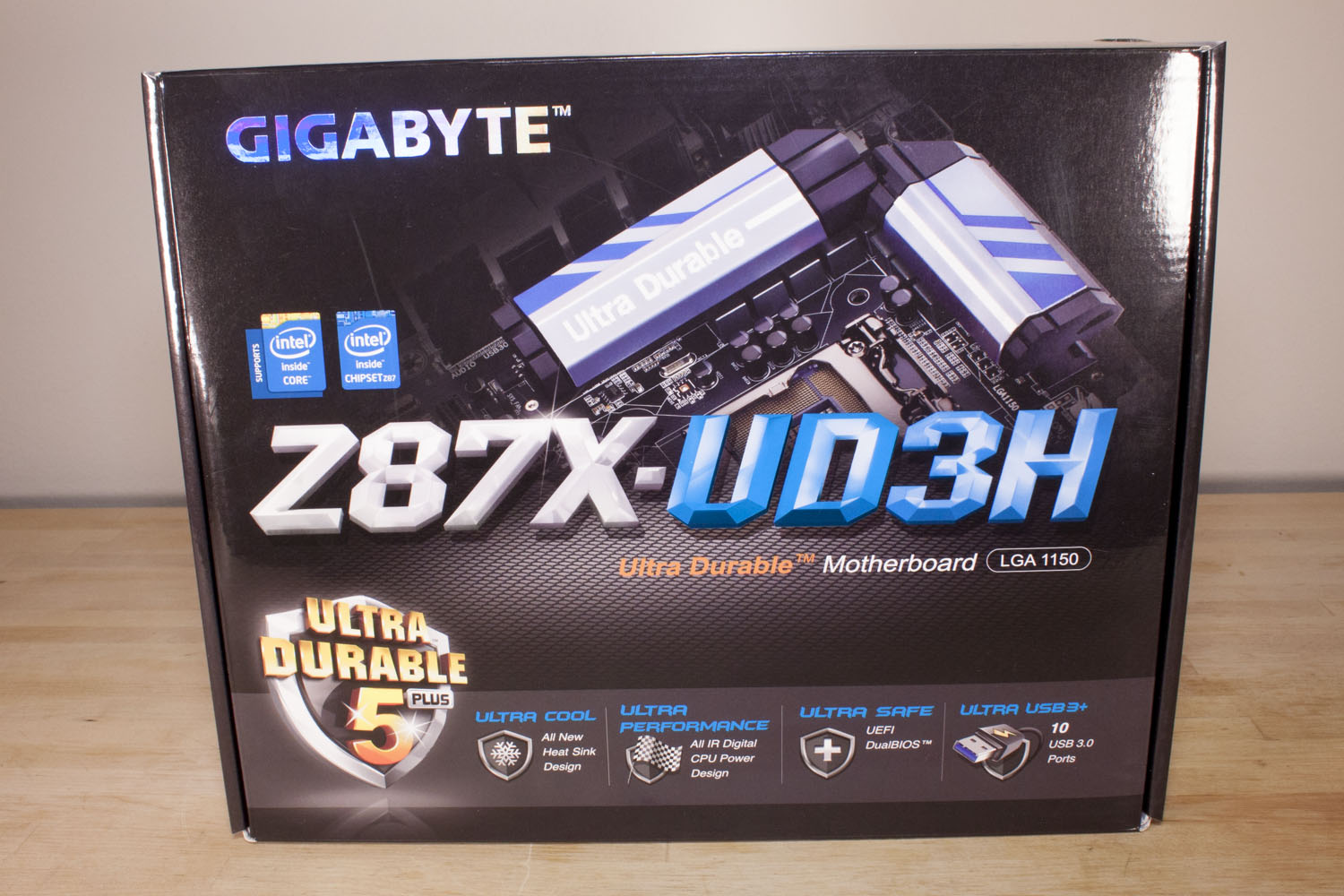 Flipping around to the back you get more marketing information along with a decent picture of the board with labels indicating what each part is and how it benefits you. There is also more marketing material on the back and in keeping with the new trend there is a QR code that you can use to get more information if you happen to see this board in a store.
Inside the box are the basics you need to get working. You get a couple of manuals, a driver/utilities DVD, four SATA cables and an SLI bridge.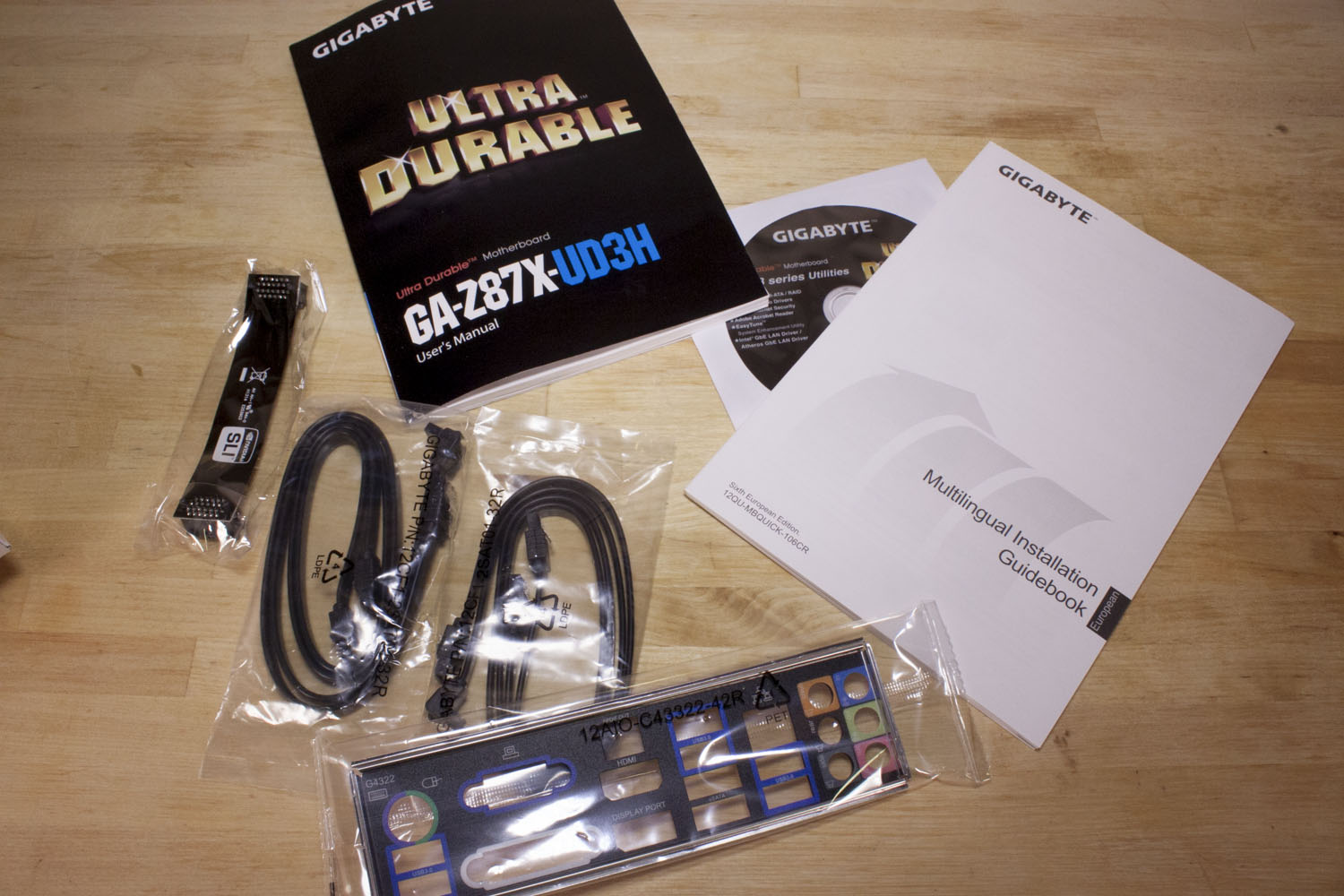 The Layout -
The layout of any motherboard is important. Even simple mistakes in component placement or the signal traces can cause major issued in performance and stability. With the ATX form factor we find that this is even truer; the devices we drop onto them demand more and cleaner power while the signal speeds push faster and faster. Another review, another ATX board with the same basic layout and design flaws. However these are not specific to any one manufacturer and while they are annoying, so far, they do not impact performance.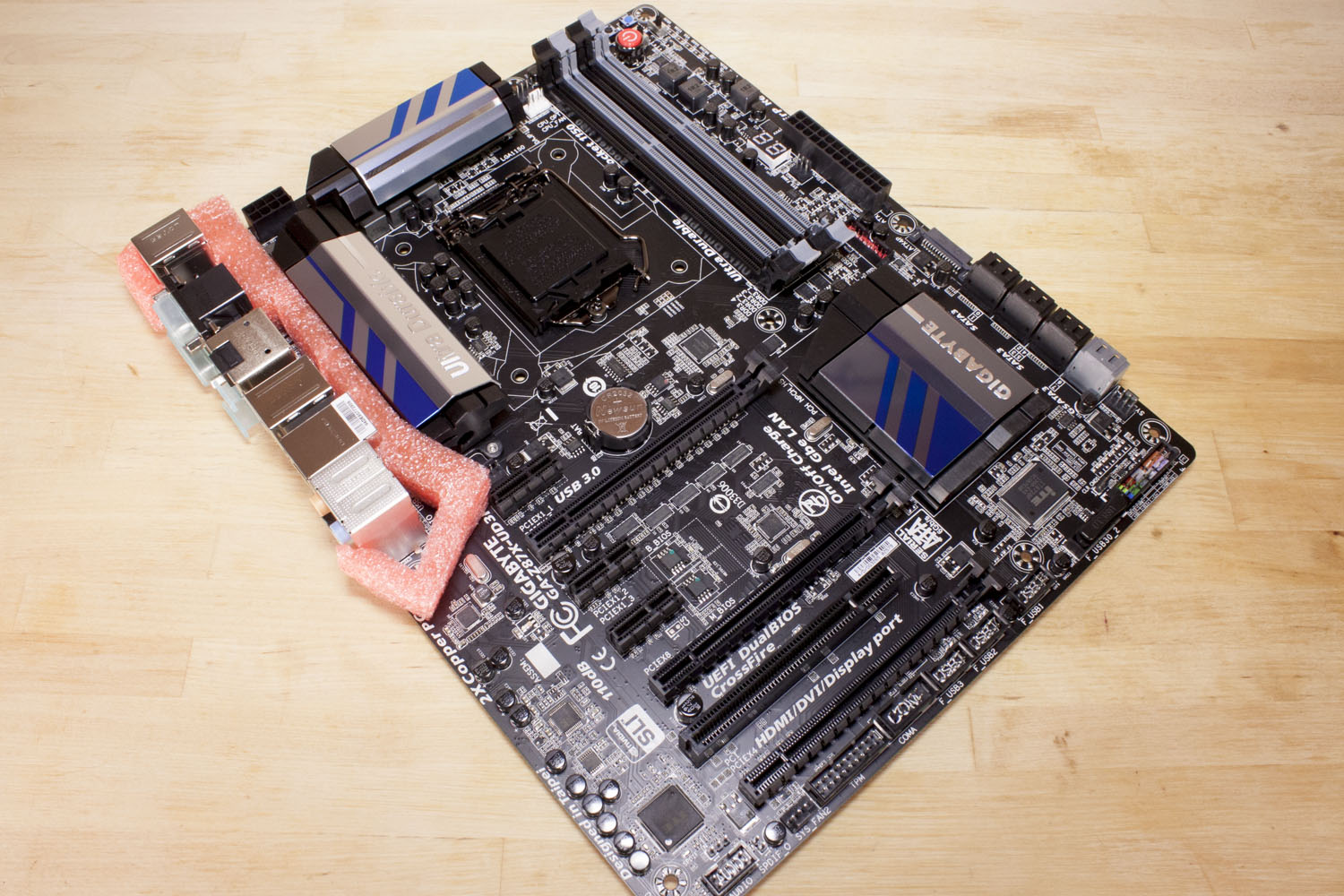 So let's start our walk around in the typical place. Looking at the upper half of the board we see a very familiar layout with a few minor exceptions. You get the 24-oin ATX power socket, a USB 3.0 header, four RAM slots and some power hardware for the memory. Gigabyte has added in a few things in this area, in addition to the normal items you also get a dual LED diagnostic display and a cluster of controls.
| | |
| --- | --- |
| | |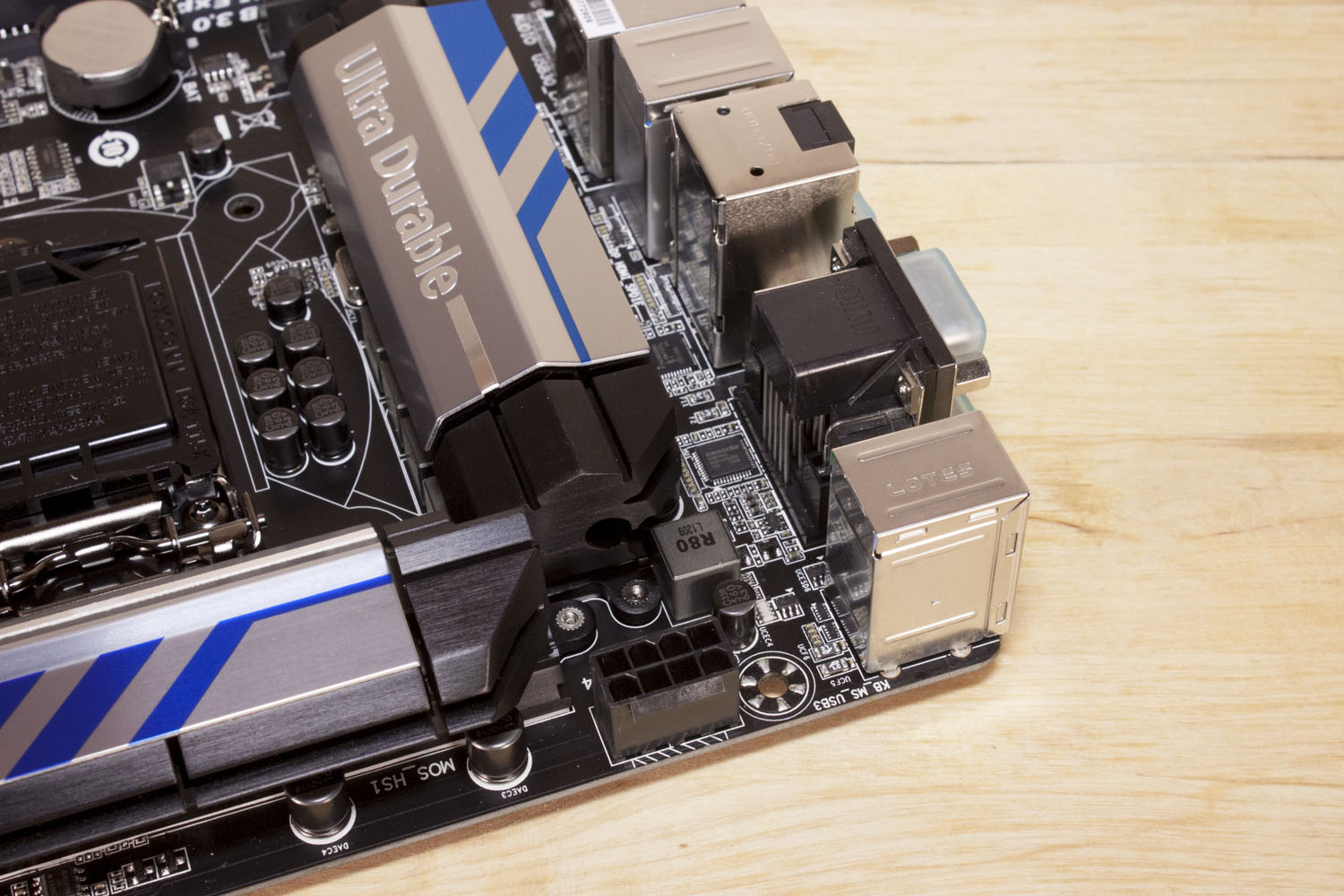 For controls you get a large hard mounted power button, a reset button (blue) a clear CMOS button and two switches. The switches are interesting because they allow you to set enable of disable the dual BIOS on the Z87X-UD3H and which BIOS you want to use. This is a hand little feature if you plan on doing a bunch of overclocking, or if you want to test a BIOS before you commit to it. In addition to these switches, Gigabyte is also giving you a string of voltage monitoring points. Again, this is a great addition to the board if you plan on using it for overclocking.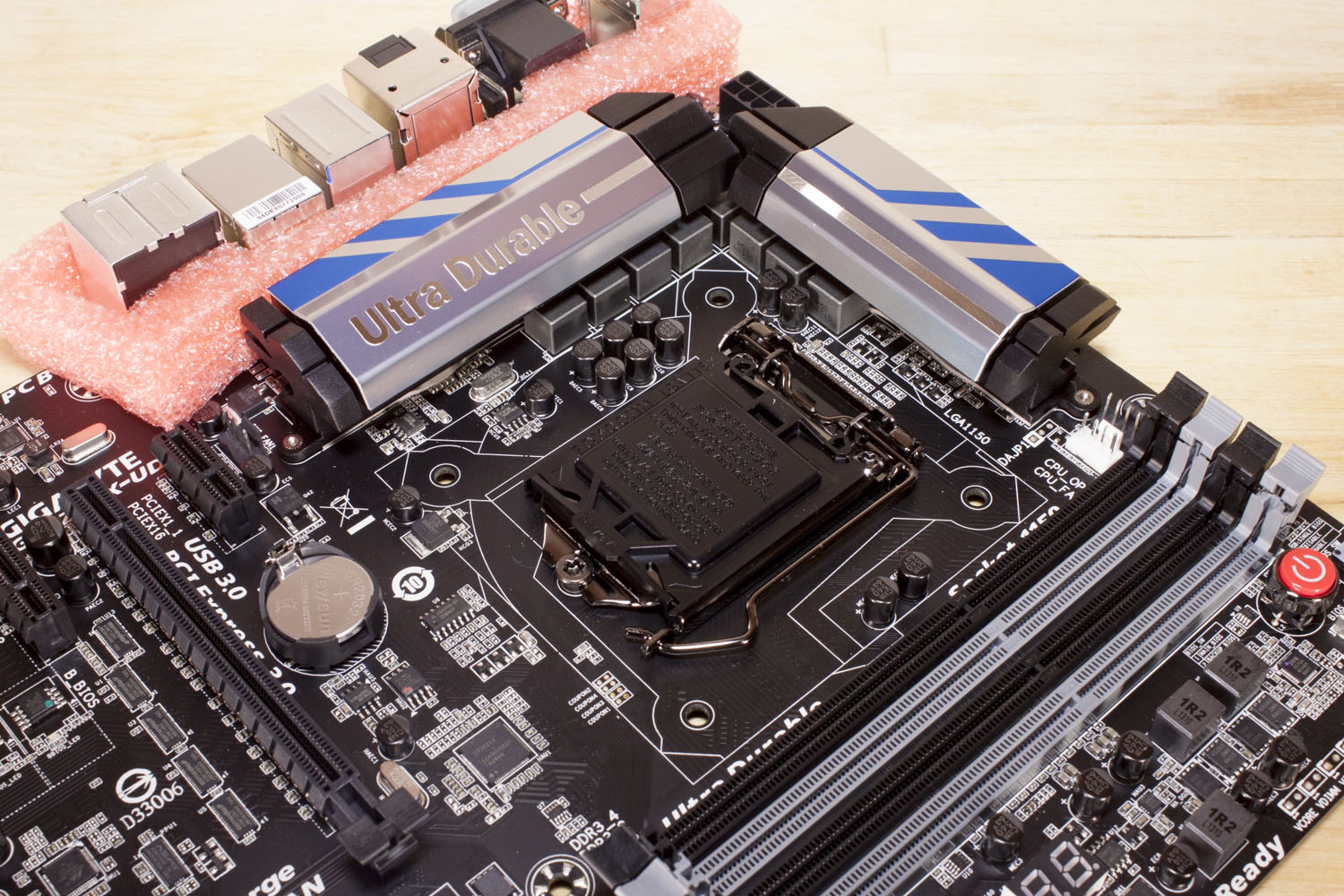 Looking around the CPU socket (LGA 1150) we find a pair of 4-pin fan headers that are intended for use by the CPU cooler you chose. We also find our favorite pet peeve. That is the 8-pin Aux power connector. This is a common annoyance with modern ATX boards and not anything specific with Gigabyte so let's keep moving.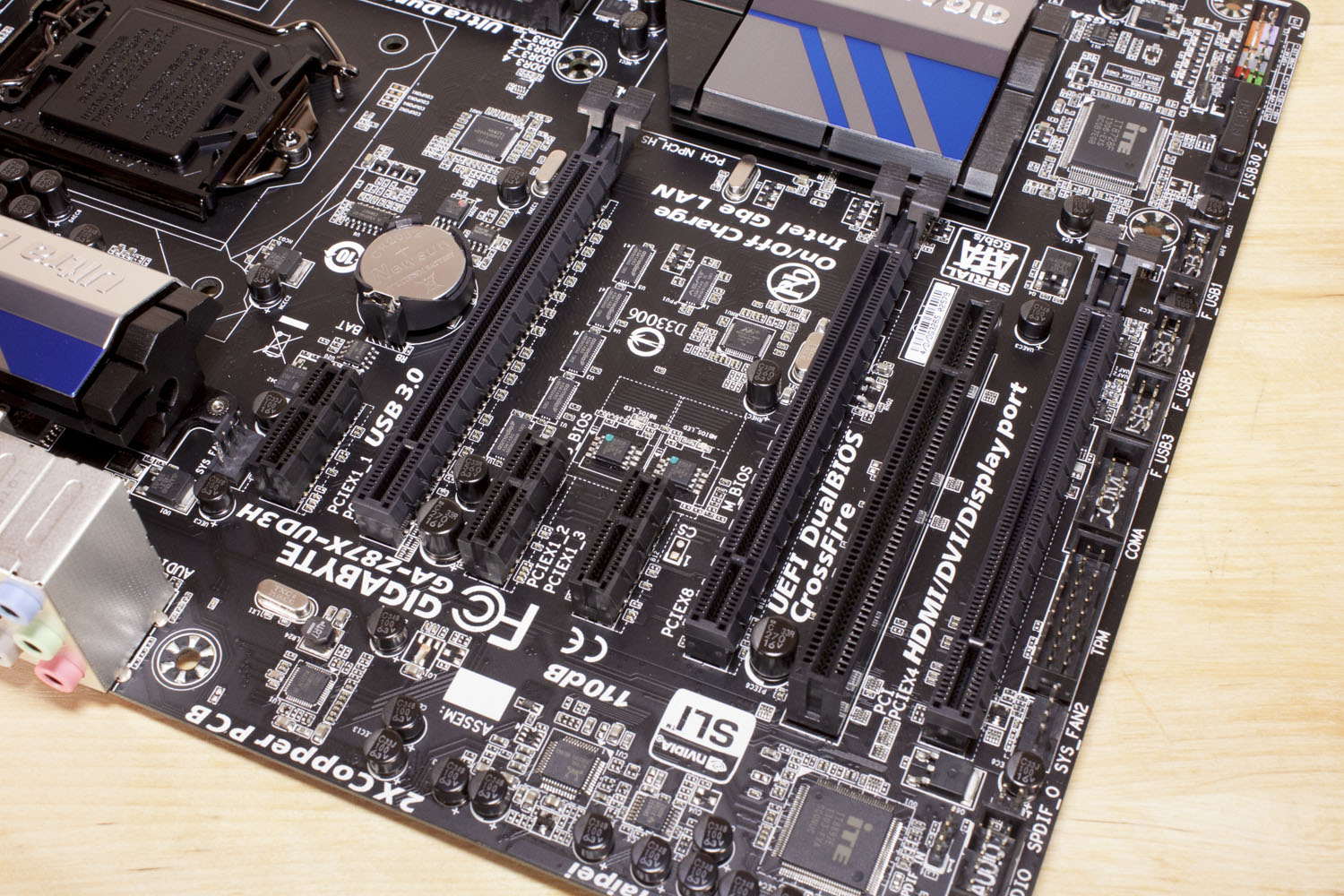 Our next leap is to the lower half of the board where we find three x16 mechanical slots, 3 x1 slots and a PCI 2.1 slot. Unfortunately there is only one slots that gives you x16 electrical, the others are x8 and x4. This means you will get standard SLI or Crossfire, but nothing more than a pair of cards.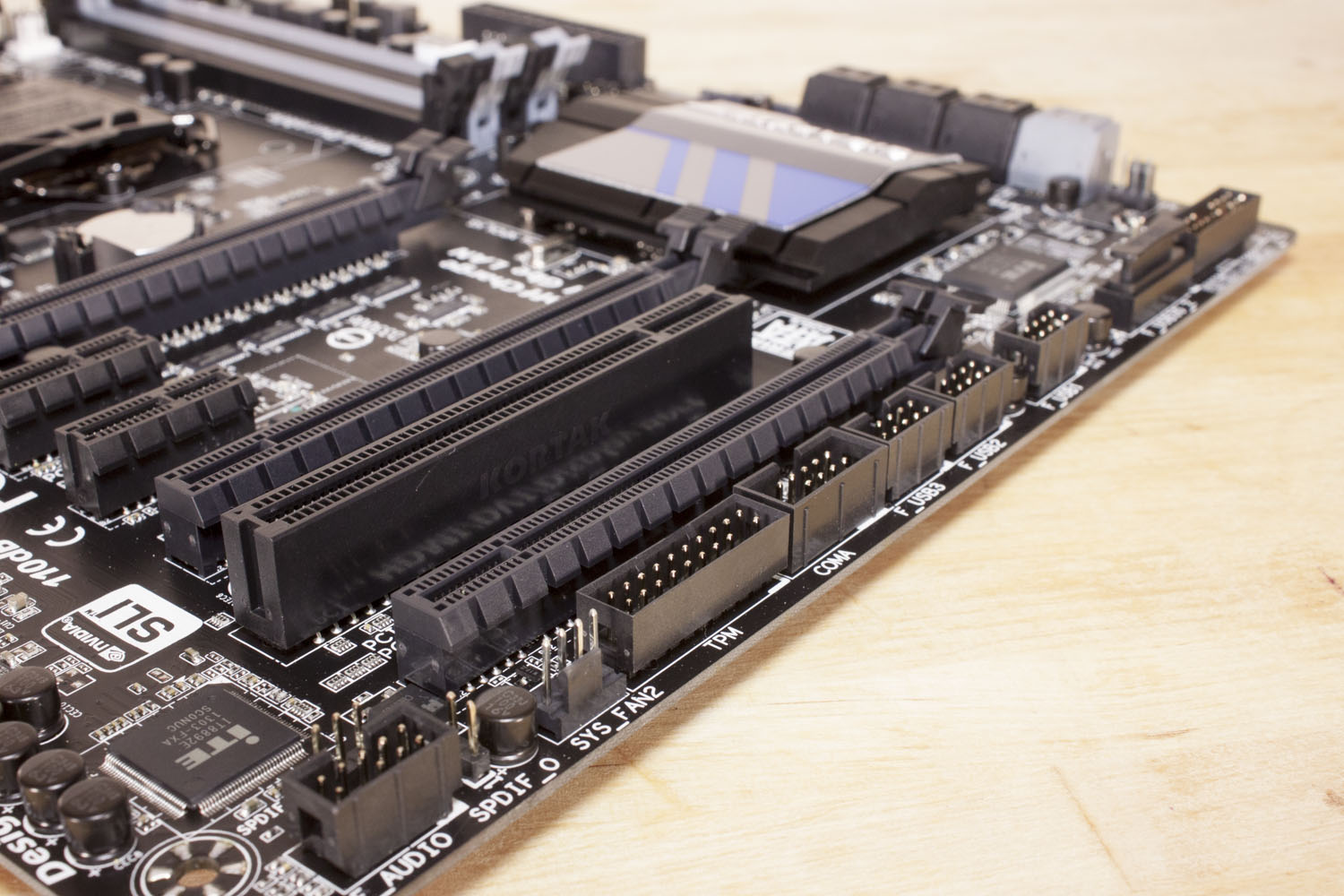 Looking along the lower edge we find the usual suspects, audio headers, USB headers, and the front panel pin-out. One nice extra along this line is a second USB 3.0 header that is on the board.
| | |
| --- | --- |
| | |
For SATA you have a six ports from the SATA Controller on the Z87 chipset and a pair from the Marvell 88SE9172. Speaking of the Z87 chipset, Gigabyte has decided to use a newer design with to protect this crucial part of the motherboard. It looks nice, but we will reserve judgment until later. Lastly in this area we find a SATA power connector that is designed to provide extra power to the board for your overclocking fun.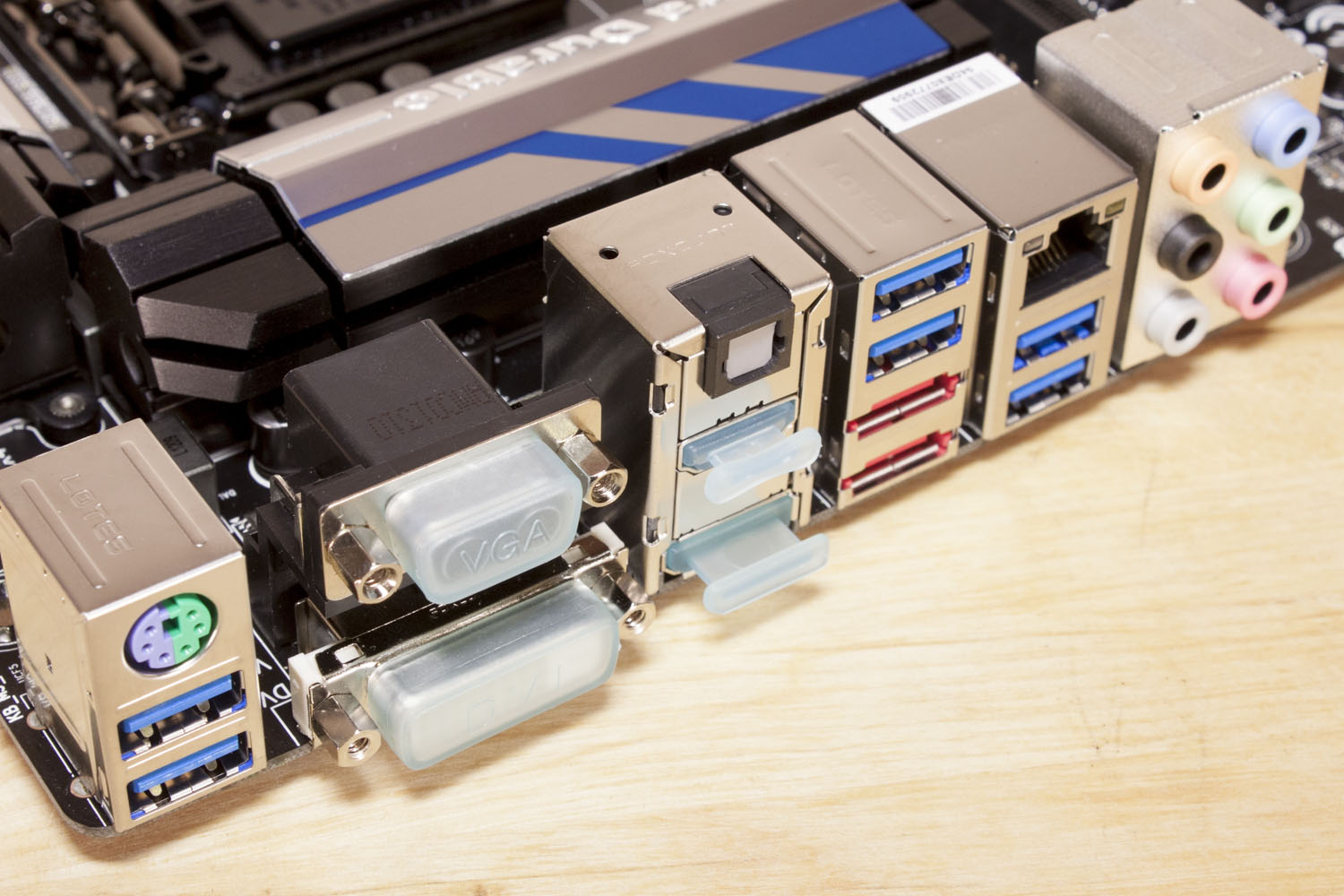 Moving around to the back we find a typical layout. You get a combo PS/2 port, several USB 3.0 ports, multiple video out ports, two eSATA ports, a LAN port and of course 8-channel audio. In all a nice design and layout. You can check out more of our comments in our walk through video.
Features -
In the current market motherboard (and indeed almost all component) performance is very close. The days of a large performance advantage between boards using the same chipset are long gone. That is unless someone makes a HUGE mistake (like runs traces completely wrong). Now, the thing that differentiates different products is the features. These are things like power management, extra slots, better audio CODECs etc. It is these items that R&D teams work so hard to drop into what are really identical pieces of hardware at their most basic level. There is a fine balance between having a good feature set and overkill and depending on the market you are selling to this line actually moves quite a bit. With the Gigabyte Z87X-UD3H it looks like it is much more of an overclocker or enthusiast board. This means that many common features might not be well accepted so with that in mind let's take a look some of the features found on the Z87X-UD3H
Excellent –
Dual BIOS with manual select
Voltage Monitor Points
Intel LAN
Hmmm it looks like Gigabyte is trying to play catch up with Asus and is dropping Intel LAN controllers on to their boards. This is a nice addition and brings the networking performance up a notch.
In the middle (sort of good) -
SLI
PCIe Gen 3.0
Gigabyte On/Off Charge
Gold Plated CPU Socket
These features are nice although a couple are probably much more gimmicky. The gold socket might get you a little better connectivity, but not really enough to make it a great option.
Floor Mats -
8-Channel Audio
USB 3.0
On-board buttons
Not much to say about these items. They are not really features anymore, but an expected part of any motherboard.
Conclusion –
So far things are looking good for the Gigabyte Z87X-UD3H. It has a clean layout and some very obviously changes components. Right now from the looks of the board we are guessing that Gigabyte intends this board to be used by enthusiasts looking for the best bang for their buck. You can get SLI out of the Z87-UD3H, but you are not wasting money or traces on extra PCI lanes so you should still be able to get dual GPU performance without stability issues that many multi-gpu setups have. As always we will reserve our judgment until we have the chance to put the Gigabyte Z87X-UD3H through the lab. Be sure to check back soon for part two of this review.
Discuss this in our Forum