One of the biggest comments I have heard about the iPad is that after a while it becomes less and less useful as a productivity tool. It is great for simple things, but not for "real work". This is what I saw as companies unveiled their new products and talked about their future ones. It was not just making a device to compete with Apple head to head; it was the development of an eco-system (and yes Apple is worried about it or they would not down play it…).
To give you an idea of what we are talking about let's take a look at some of the new toys that Asus is offering. You already know all about the Transformer line up. This is one of the more successful Android based tablets on the market and people buy it and the keyboard dock while only paying about $50 more than the same capacity iPad2 (and much less than the "New iPad"). Now Asus is diving into Windows RT and Windows 8 for their transformer lineup. They are showing off the Transformer 600 which is not much more than a Transformer Prime with Windows RT installed. This will be welcomed by many that are looking to bring more of their desktop with them in a small form factor. But the Transformer 600 is not the only new technology that Asus is dropping on the market.


ASUS Transformer Book
The ASUS Transformer Book is the world's first convertible notebook - allowing users to instantly switch between a notebook and a tablet by simply detaching the screen. It is aimed at users who prefer the portability of a multi-touch tablet computer for leisure, but still want access to a more traditional Windows-based notebook for productivity use. Thanks to 3rd generation Intel® Core™ processors and discrete graphics, along with SSD and HDD storage, 4GB DDR3 dual-channel RAM and USB 3.0, the Transformer Book delivers performance that rivals other notebooks on the market. It also features ASUS SonicMaster technology to deliver crystal-clear sound with deep rich bass through its integrated speakers.

ASUS Tablet 810 (Windows 8) ASUS Tablet 600 (Windows RT)
The ASUS Tablet 810 (Windows 8) features the Next Generation Intel® Atom™ processor and 2GB of RAM with a 64GB eMMC for user storage. The 11.6" display with 1366 x 768 resolution uses Super IPS+ technology to deliver superior visual clarity both indoors and out, while its 10-point multi-touch is complemented by Wacom digitizer stylus support.

The ASUS Tablet 600 (Windows RT) utilizes the NVIDIA® Tegra® 3 quad-core processor and 12-core GPU for outstanding mobile graphics performance; it also has 2GB RAM and a 32GB eMMC for user storage. The 600's 10.1" display with 1366 x 768 resolution features Super IPS+ technology for excellent readability both indoors and out.

Key to both the 810 and 600, however, is the supplied mobile dock that instantly transforms the tablets into compact clamshell ultraportables, complete with full QWERTY keyboards, a trackpad, additional USB expansion and a second battery for extended usage away from the power socket. Both tablets also include ASUS SonicMaster technology for supreme audio and built-in NFC sensors for easy syncing with other NFC-enabled devices.

They are showing off their Transformer AiO (All-in-One). This is an x86/64 based device that runs Windows 8, but can "transition" into Android at the press of a button. When running Android you can remove the 18.4-inch display and carry it around like a tablet (a very big tablet). The 18.4-inch display also works as a wireless display so you can have the screen where you want it and still use the full power of the system available. We are wondering what CPU Asus has stuff inside the 18.4-inch screen and, the base station here; on the one hand it is very possible that Asus has picked AMD and Trinity for this with its great graphics performance and also for Bluestacks (which AMD has partnered with). AMD also has some impressive wireless display technology (as we saw at CES this year). But we will have to wait and see what is really under the hood once we can get more information from Asus. These are features that people want to use with their systems. I cannot tell you the number of times I have heard someone complain that they would love to be able to pop the display off of their system to "show" something to someone. The multiple functionality as an All-in-One, Wireless Display, and Tablet should make this one a winner in the market regardless of what Tim Cook says…


ASUS Transformer AiO
Part tablet, part All-in-One PC, the Transformer AiO is an innovative device that can seamlessly switch between both, and features dual operating systems to give users the option of switching between Windows and Android to suit their needs. Engineered to work with Windows 8, the Transformer AiO features an extended 18.4" 10-point multi-touch LED-backlit display which can be easily removed from its base station to become a wireless display for the AiO PC, extending the range of the PC and allowing users to continue with their work anywhere in the home. The display can also be converted into an Android-based tablet for the home with the press of a button.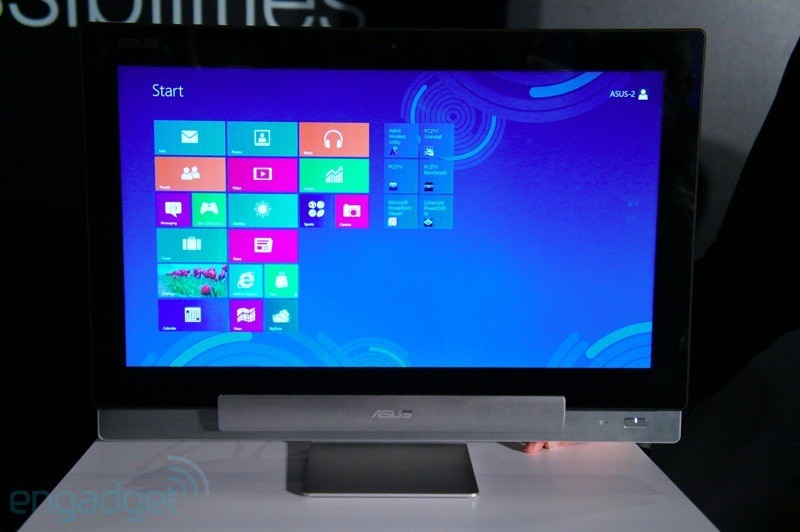 We are also expecting to see a considerable number of releases from Acer, Lenovo, HP, Dell and more during Computex and in the months leading up to the official Windows 8/Windows RT launch. We will be keeping an eye on these developments and bring you the news as we get it.

Photo Credit Engadget

Discuss this in our Forum