The Box and Goodies -
The box that the Sport Pulse arrived in was pretty cool looking as far as packaging goes. As this is a fitness related product you have the required attractive girl wearing the product along with a much smaller image of the actual headphones.
The back is much more informative and also includes a QRC image that you can get even more information from. Jabra has provided a very short list of apps that the Sport Pulse are compatible with outside their own (which we will talk about later).  
Inside the box Jabra gives you the Sport Pulse headset, four ear gels (the piece at the end), four EarWings (these are the pieces that allow the headphones to fit inside your ear comfortably), Four "fit clips", a zipper case, a USB cable for charging, and a quick start guide.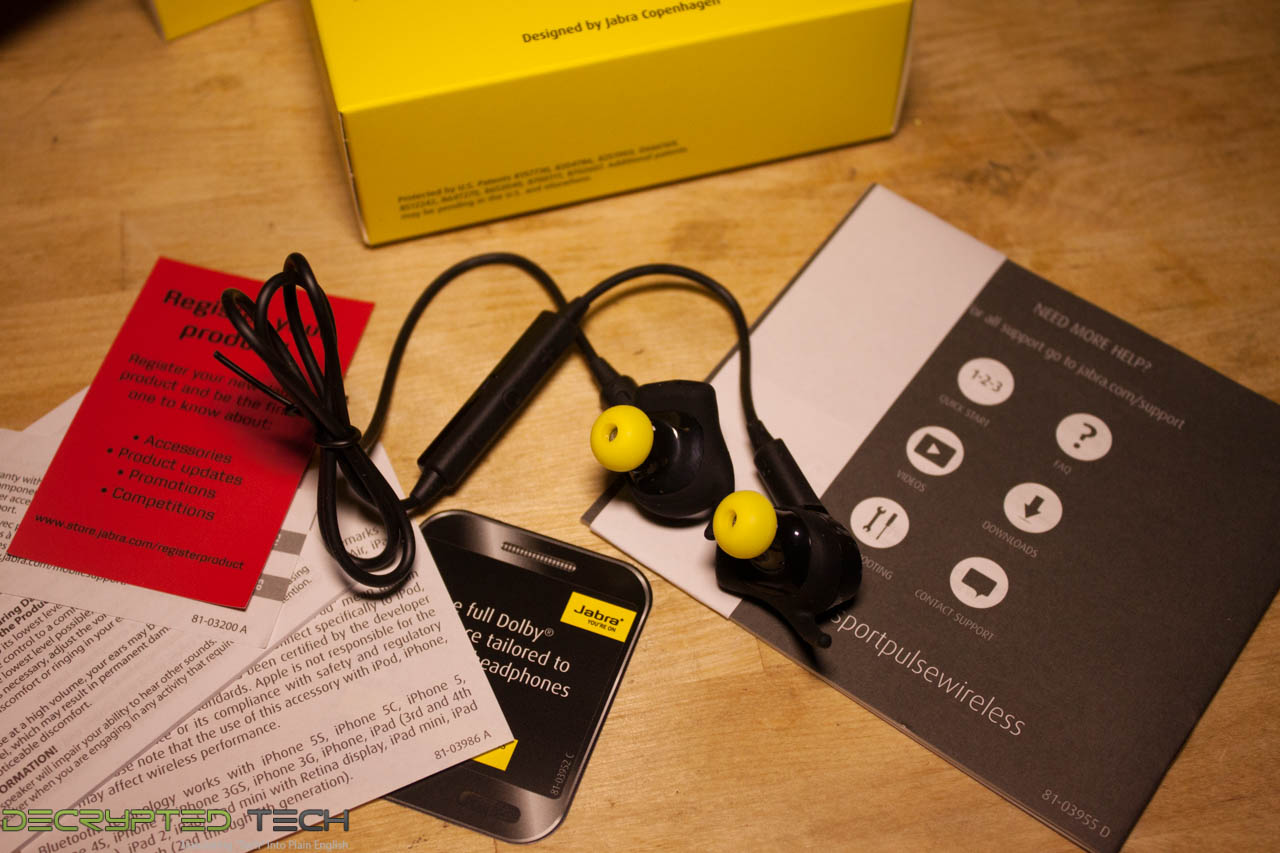 The Jabra Sport Pulse -
The Jabra Sport Pulse headset is a Bluetooth headset that has a built-in heart rate sensor. It ties to your phone through a small number of apps that you can use to track your fitness. Jabra also gives you an option to register your headphones and activate a premium sound function. It is a nice touch, but it does tie you to their app if you want to use it. You are not going to get the extra audio quality from your standard media apps.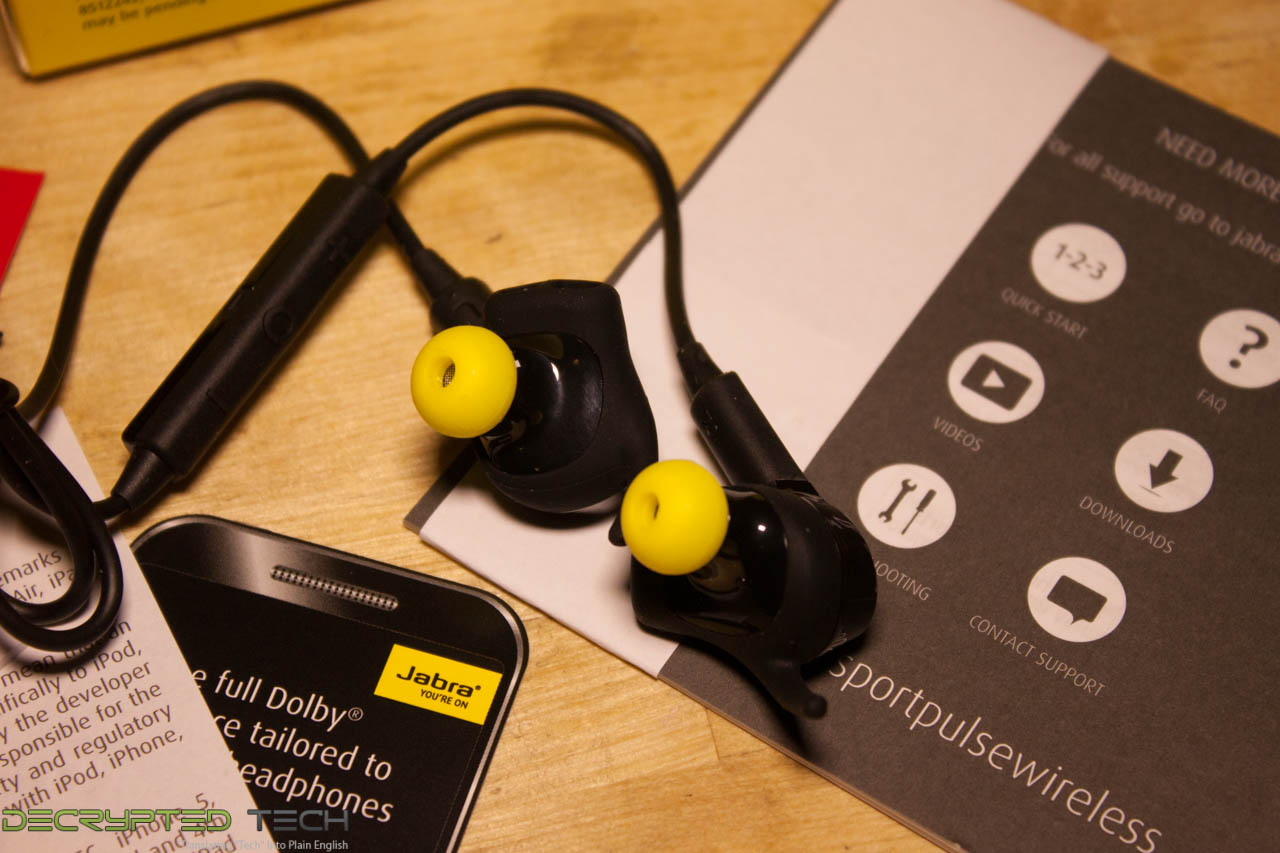 On the technical side of things the Sport Pulse weigh in at .56 ounces and have a play/talk time of five hours. For standby the Sport Pulse come in at 240 hours before you need to plug them back in to charge the Lithium Ion battery. Jabra lists the charging time as two hours, which if it holds up is really good. It connects to your device using Bluetooth 4.0 (and features low power Bluetooth support), but can be paired using NFC if you so desire. As with most Jabra products you get voice queues for certain items (connected, heartbeat detected etc.).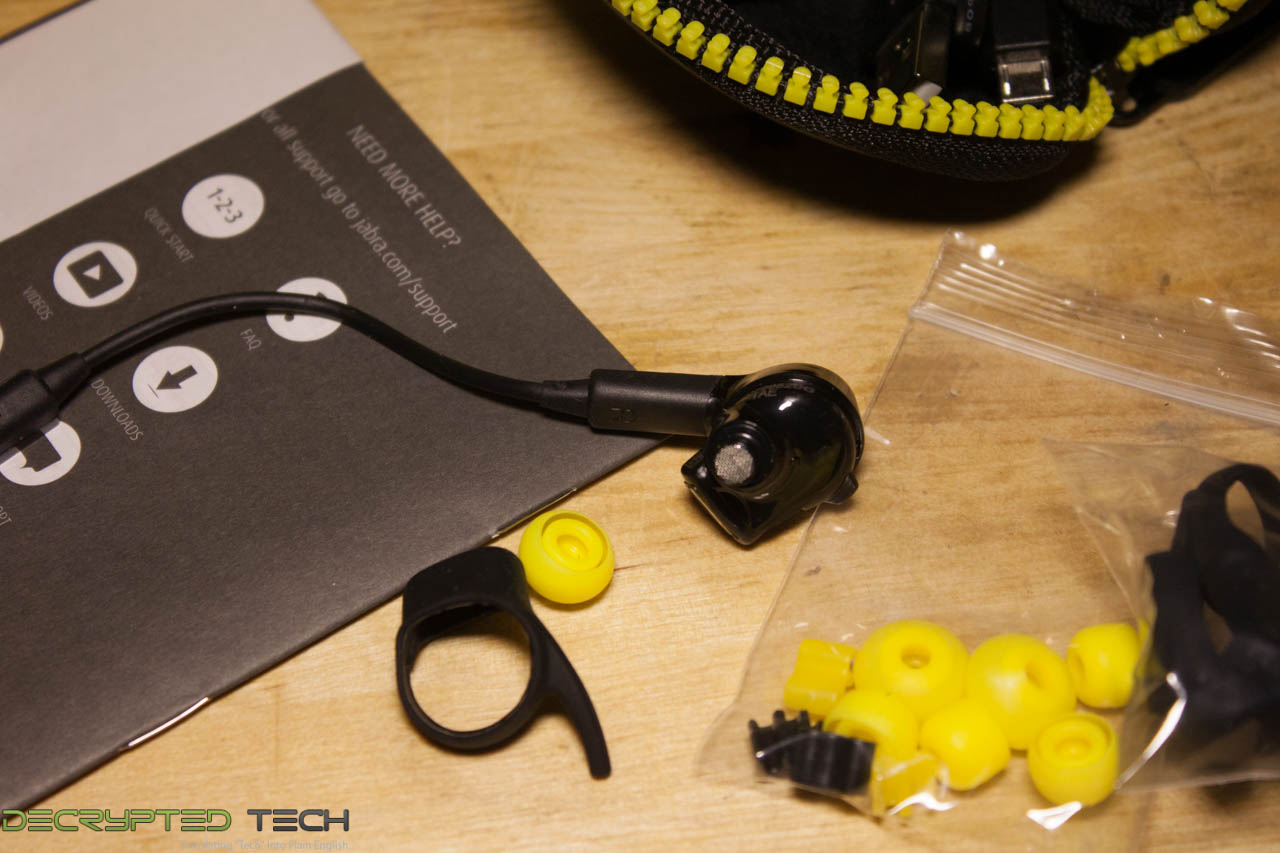 The drivers are just under 6mm in diameter and are housed in a beefy end piece that houses the main components of the headphones.  You get a dynamic range of 20 Hz to 20 kHz, for a small speaker this is a pretty good range. You get 94 dB at 1mW/ 1 kHz and they are 16 ohm speakers pushing a thumping 5mWs in total power. These are not going to rattle your teeth, but they certainly will be able to push some decent sound your way. The microphone is pretty solid as well. It range is right in the middle or what most would consider the human voice (100 Hz to 8 kHz) and has a sensitivity of around 14 dB.
A little less than three inches down from right hand ear piece we find the volume/connection controls. There are volume up and down buttons and a multi-function button that lets you turn the headset on/off, connect them to a device, answer phone calls and more. You get DSP (Digital Signal Processing) built right in as well which is not that much out of the ordinary for headphones these days.
On the left ear piece there is another push button that Jabra calls the Sports Button. This is a multi-function button as well. Some of the features include starting the Sports app, Starting/pausing a workout, listening for on-the-go updates and even allows you to control the heart rate sensor.
The Sport Pulse is compatible with Android and Apple devices and can control either of them using built in features (Apple MFI etc.). To pick up your heartbeat the Sport Pulse uses an optical sensor in the left earpiece similar to the ones used in hospitals. You can turn this on an off by pressing the Sports button and holding it for 10 seconds. You have noise reduction for the microphone and earphones. On paper it seems that the Jabra Sport Pulse are a high-end product. We will have to see if the specs can hold up under our testing.  
Jabra Sports and Sound Apps -
One of the apps that "comes" with the Sport Pulse is the Jabra Sport app. This app is a fitness and workout tracking app that is compatible with Android and Apple. It is a pretty nice one at that and allows you to track different styles of workouts, your heart rate, and also lets you add audio directly into your workout. It uses a background application called JabraService. It combines the functions of the Sport Pulse and makes them available to your phone.
Diving into the Jabra Sport app we find that you can customize it quite a bit. You can set it to just track what you are doing or you can actually set goals and progress. One of the nicer features is that you can set a target for your workout including pace, heartrate and number of calories burned. Each of these individual targets can also be customized to the specific workout you want to perform.
Outside of the fitness aspect you can also customize the type of audio you are listening to and the view you see when you are working out. There are three default views including a map view that tracks your workout through GPS. These views also have customizable areas so you can change them to suit your needs. The level of customization is very impressive.
Jabra also gives you some additional features including a couple of fitness tests and a way to track your progress and goals. As far as a fitness app goes, this is one of the better ones that we have used it. If Jabra included a way to track weight and food intake it would be even better.
Jabra Sound -
The Jabra Sound app is something that is an extra with the Sport Pulse and you have to use an included code to enable it. The sound app is another music player, but it also features some optimizations specific to the Sport. Dolby is the technology behind the optimizations that include a custom EQ setting and other digital enhancements. Sadly the player does not feature any type of streaming support so you will need to have the music you want to listen to local on your device. You can build playlists, but they are not the easiest to build or get to when you first run the app. The YouTube and Jukebox option also require that you build out something separate. For YouTube it is Bookmarks and JukeBox needs you to setup a partylist (just like a playlist). You can also share your Partylists if you wanted to.
Overall I feel that the Jabra Sound app is a decent add-on, but it lacks a few features that would make it more attractive to use everyday.
Performance -
With audio gear it is hard to be objective. After all different people like different music and even people that like the same music might like to listen to it in different ways. To make sure that I cover the audio products that we get here at DecryptedTech I like to have more than one opinion. Usually I gather 5 other people to listen to different audio types (gaming, movies, MP3 and CD-Audio). I then ask for a rating of one to five with one being the worst and 5 being the best for each category. As an added item I also ask for a single word to describe the audio quality. I then follow up with my personal feelings and observations. The HOM Redemption Song headphones are meant more for music reproduction. We also wanted to try them out in our other environments so we will cover them hear, but will focus on their performance with music and in particular digital music.
Music (MP3 and CD-Audio) -
For Music I have a few favorite tracks that I like to use. These are not always other people's favorites but they serve as a baseline and have some impressive audio features to them that can distinguish between good audio and bad. One of them is Stevie Ray Vaughn's rendition of Jimi Hendrix's Little Wing. It is an amazing track. Others are A Day in the Life by the Beetles, Are you Experienced by Jimi Hendrix, and Cage the Elephant's Ain't no Rest for the Wicked. To this listing we added some jazz, funk, and of course Reggae (Bob Marley's Stir it Up of course).The numbers for this along with their corresponding one word comments are below.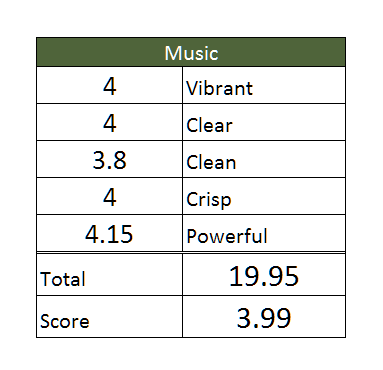 For our music testing we had a couple if different ways we had to run the Jabra Sport Pulse. We had to get a baseline using normal music (default player), then we played the same songs using the Jabra Sound app and finally with the Extended Dolby audio profiles. What we found was something rather interesting, when running the Jabra Sound app without the Dolby enhancements the audio was thin and reedy; it was not very enjoyable and had no real life. By contrast with the Dolby enhancements on the audio was heavy on the base, but still had life behind it. When played the audio using either one of the default options for music on our Note 4 we found that the audio was vibrant and crisp, it was not muddy or too brassy. This was a little unusual, but not a bad thing at all. It means that you can run just about any audio you want and still get a lot out of the Jabra Sport Pulse headphones. For the audio we selected the Jabra Sport Pulse did very well.
Gaming -
So for this test we did something a little different. As we have mentioned (and you can see from the box) these are meant for portable personal media players like the iPhone, iPad iPod and even other tablets. We decided that in addition to our normal gaming tests with a few choice PC games we would also throw in a couple of games on our Note 4 just to see how good the audio reproduction is there.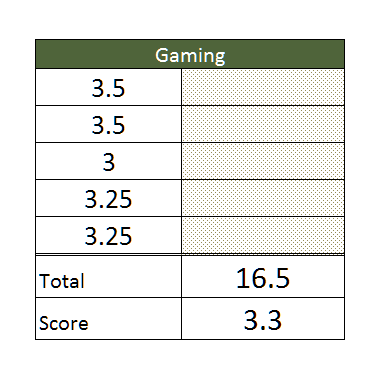 For gamin we did not have the option of running the Jabra Sound app so our time was just with the raw headphones and the games in question. We found them to be more than adequate for most games. You are not going to get the same type of sound that you will from a larger set of gamers' headphones, but they will do.
Movies/Video -
Movies was an easy one also, I have several Blu-ray titles that are great for this including Pirates of the Caribbean. So I loaded up this title and then dropped in a couple of other movies that have good surround effects.  The numbers and words are shown below.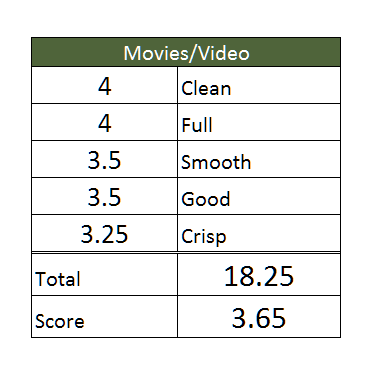 Movies were pretty much the same as we saw with gaming. You get solid experience, but the Jabra Sport Pulse are not going to win any awards. Here things are clean and crisp, but there was a little lacking in some of the lower end audio.
Comfort -
The Jabra Sport Pulse are comfortable to a point. Thanks to the multiple EarWings and Gels you can find a combination that works for you, the problem is that the pressure from the EarWing and Gel can become uncomfortable after about 2 hours. At least this is what we found after a few sessions. You can get through a movie and more than a work out without any problems which is a good thing.
Value -
Value is another very subjective topic. What is expensive to some might be a deal to others. You can look at this topic in multiple ways. One is raw price and the other is what you get for the money. Each is accurate and both are correct ways to look at price/value. We tend to look at features, performance and real-property when we discuss value. However, we also take into account the raw cash cost of the item.
The Jabra Sport Pulse Wireless headphones will put a $200 dent in your wallet. This would be a big deal if the Sport Pulse were just headphones. Fortunately they are not and include the heart rate monitor and software to help you track your workout and fitness. Some of the other features only add value to the Sport Pulse.
Conclusion -
We found the Jabra Sport Pulse to be a great fitness tool. When you look at the most successful fitness applications you will see that they are ones that provide goals, tracking and also encouragement. This is exactly what you get from the Sport Pulse. You can track your pace, distance, heart rate, time calories… you get the picture. There are some things that I would like to see Jabra add into their sport app like food intake, but that is not a deal breaker. The Jabra Sound app was not as good as we had hoped and really takes a little more work than we normally like to get anything out of it. Still since the headphones sound very good without that app there is not much lost here. The Jabra Sport Pulse is a great fitness accessory for anyone that is interested in getting back into or to stay in shape. We certainly recommend it and will be adding it into our fitness routine.
For the combination of quality, features and performance we are awarding the Jabra Sport Pulse our Silver Key Award.
Tell us what you think