Raijintek has the following to say about this cooler:
"NEMESIS, angle of Revenge, a Dual-tower heat-sink with extremely performing 14025 fans, top high-end CPU cooler for people who are seeking the best cooling partner for super over-clocking.  NEMESIS, designed in Germany and provides users an awesome performance.  The gorgeous combination design for Dual-towers, 2x14025 fans pre-installed, patented copper base.  NEMESIS can dissipate over 350W easily.  With multiple mounting kits, giant dissipating fin area and 1000% heat-sink nickel, NEMESIS - your awesome cooler for your CPU and extreme over-clocking."
Tech specs:
Heat sink:
Dimensions [WxDxH]: 140 x 130 x 166.5mm
Weight:  (heat sink only) 1050g
Base material: Nickel copper
Fin material: Aluminum alloy, soldered
Heat pipes: Five @ 8mm each
Fans:
Dimensions [WxDxH]: 140 x 150 x 25mm
Voltage rating: 12V (.13A)
Starting voltage: 10V
Speed (Fan 1): 600 - 1000 RPM (PWM controlled)
           (Fan 2): 1000 RPM (No PWM)
Bearing type: Sleeve bearing
Air flow: 70.2 CFM (max, 1 fan)
Air pressure: .9mm H2O (max, 1 fan)
Noise level: 23 dBA [Max]
Connector (Fan 1): 4 pin with PWM
                   (Fan 2): 3 pin without PWM
Life expectancy: Not given
Packaging and initial impressions:
As with the rest of the lineup from Raijintek, the packaging on the Nemesis is colorful and informative.  It's clear once again that Raijintek intends these to be on shelves in brick-and-mortar stores where potential customers can see them and know more about what they're getting with a purchase.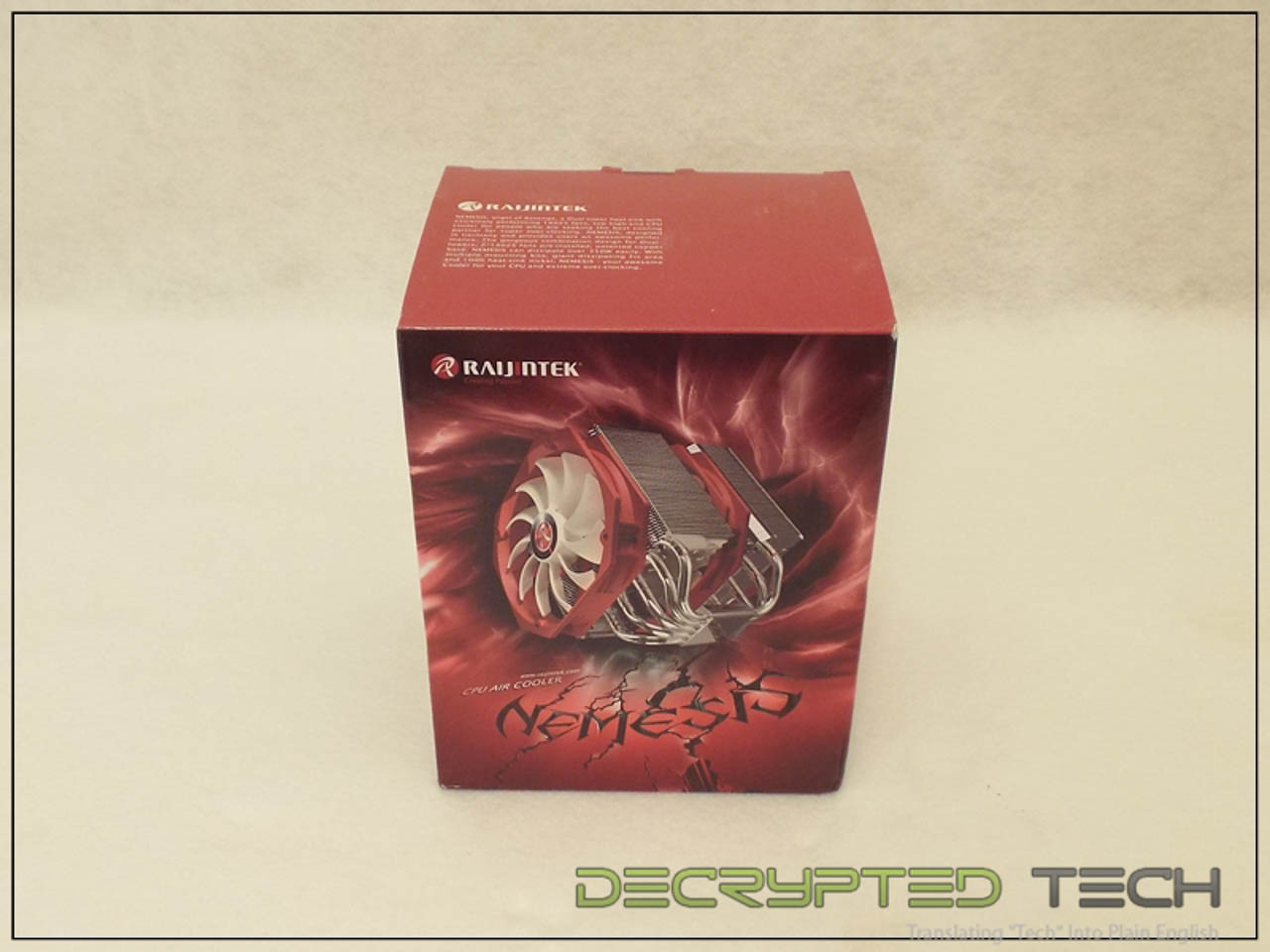 Opening the box seems familiar by now from previous Raijintek reviews.  Their packaging is very consistent, and their mounting hardware is absolutely identical for every single cooler we've tested.  This means this mounting system is either vast overkill for the small Pallas cooler or not really enough for this massive Nemesis.  Having mounted four different sizes of coolers with this same setup, I have to lean toward the former.  At no time have any of these coolers seemed anything but perfectly mounted and secure.  
With the Nemesis we get the usual contents: one-page instruction set, mounting hardware including nine of the rubber fan connectors we saw with the Themis Evo and the Ereboss, the massive heat sink itself and two 140mm fans, though these are much thicker than the Aeolus fans that came with the Ereboss and Pallas coolers.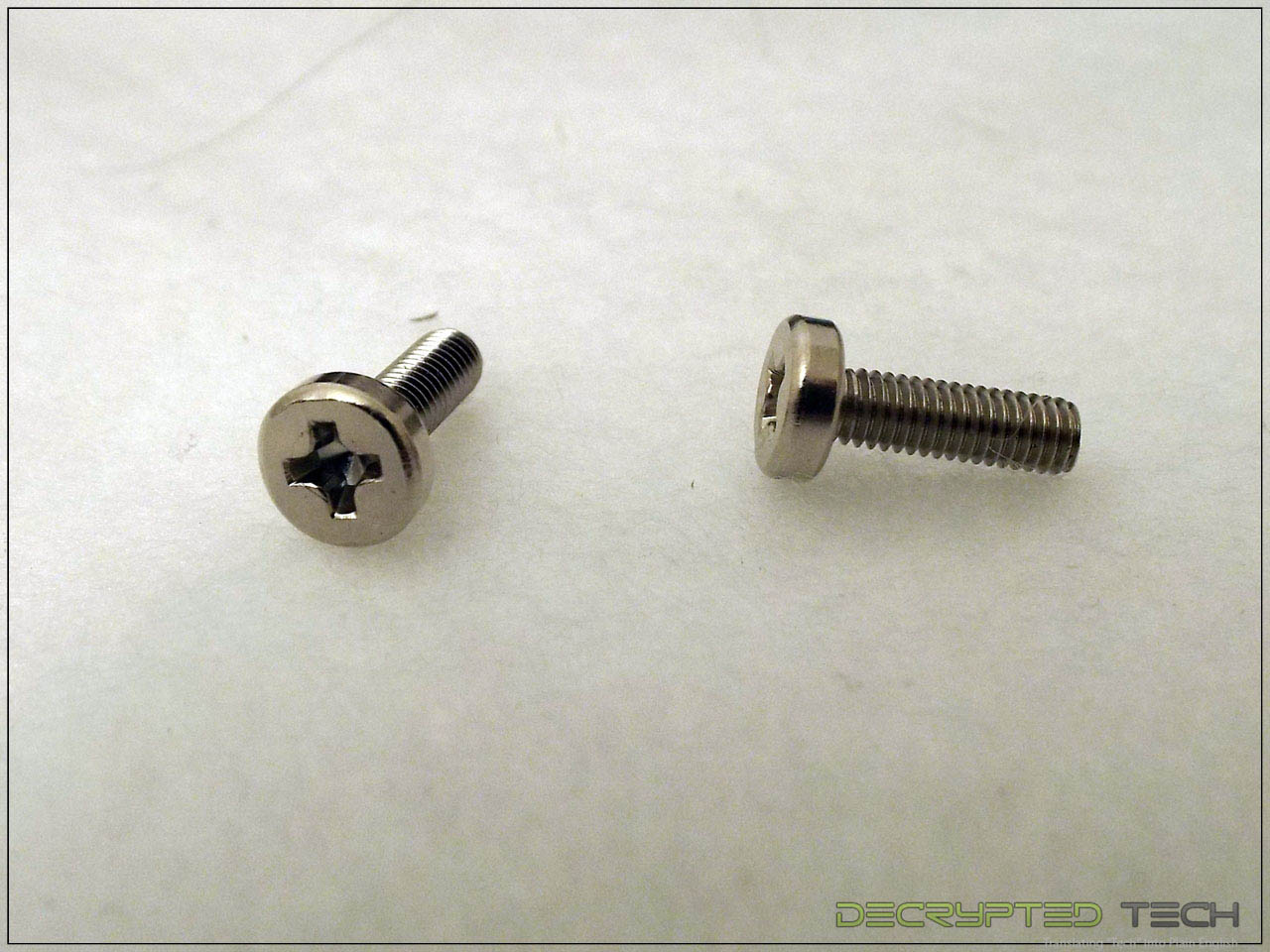 I mentioned previously that the Nemesis is large.  When I think of large air coolers the first one that comes to mind is the NH-D14 from Noctua.  The Nemesis is slightly larger than that behemoth, though slightly smaller than the new NH-D15.  Regardless, it is a huge piece of metal.  This is to be expected from a twin-tower design, and true performance air cooling will always be large.  The laws of thermodynamics demand it.  I was happy to see the polished appearance from the Pallas and the Themis Evo returned with the Nemesis.  All that surface area really does look good with the much shine.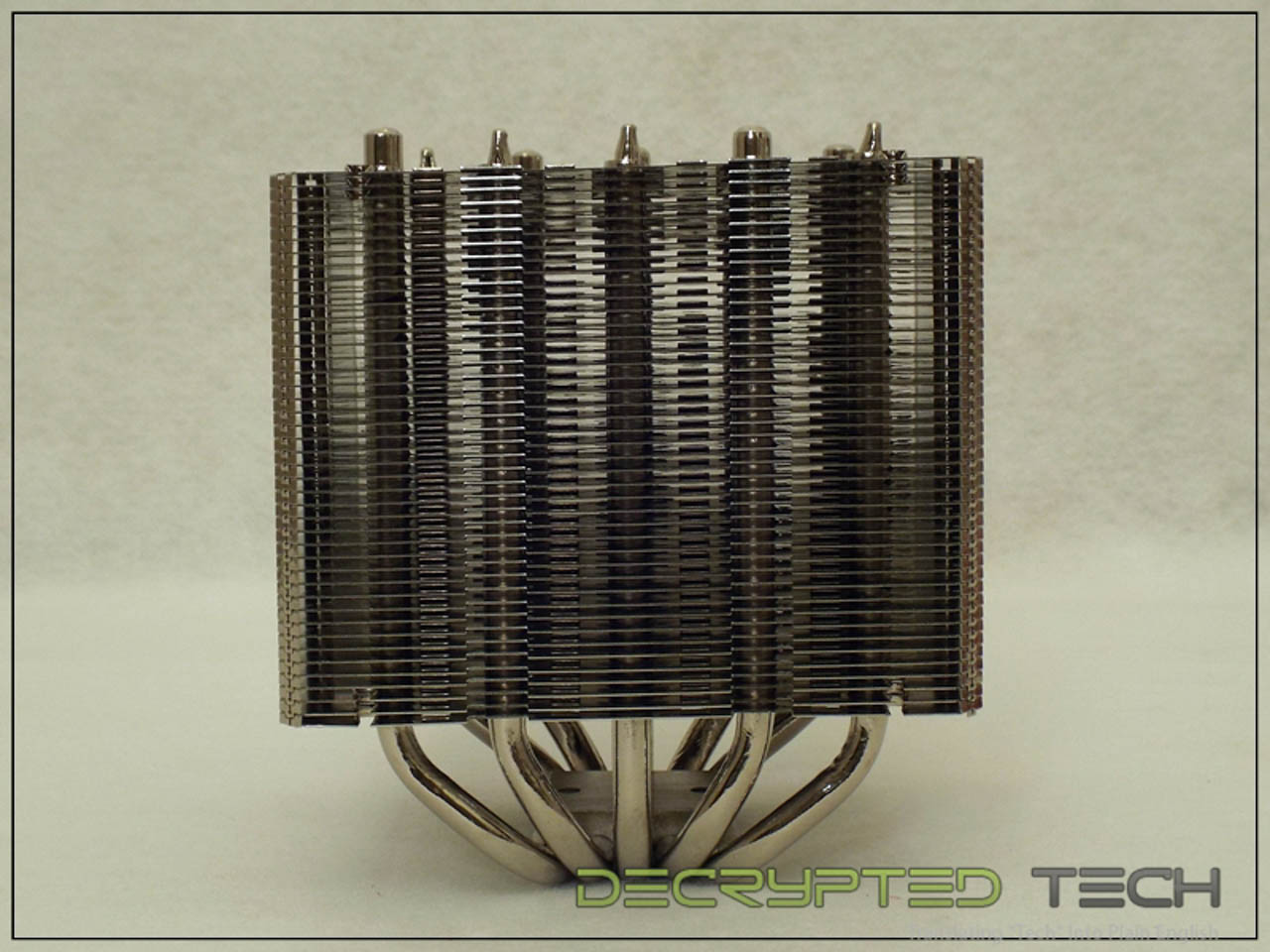 The mirror-finished base seen in earlier coolers is here also.  I'm still curious as to the design team's decision to use direct-touch heatpipes in the Themis Evo but not in the other three coolers we've tested.  Still, a solid base does have advantages and it doesn't seemed to have hurt the performance of the other products in the lineup.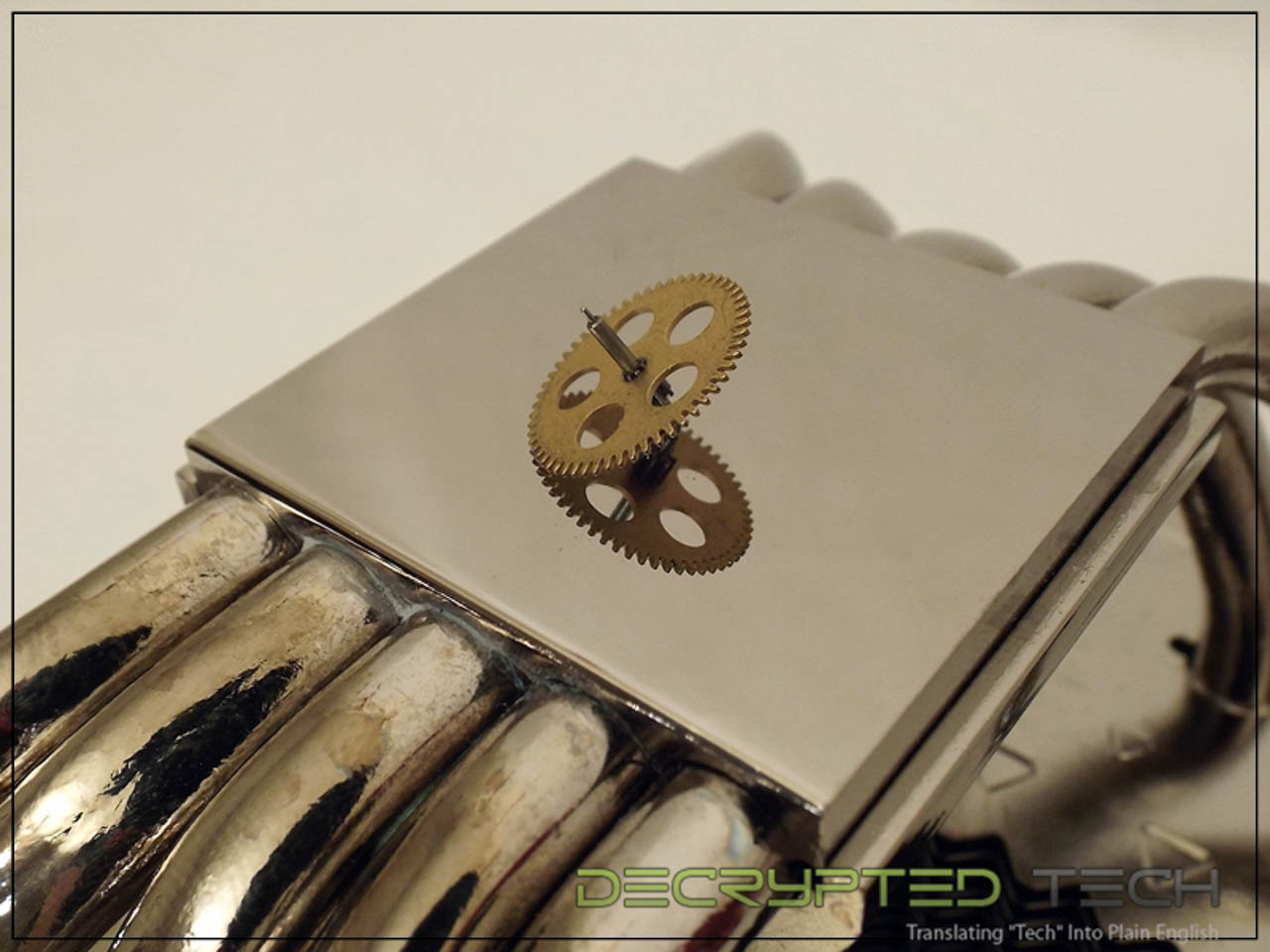 The Nemesis comes with two 25mm thick 140mm fans.  They have the standard red and white color scheme of the other Raijintek coolers, but they have a new feature not seen before: the blades have notches in the trailing edge remarkably similar to the vortex control notches on certain models of Noctua fans.  I know from experience that these Noctua fans are very quiet, so it will be interesting to see if the Raijintek fans are as well.
As similar as these two fans look, they are different.  While the frame and blades are identical, one is PWM controlled while the other is a standard 3-pin non-PWM fan.  As listed in the tech specs above, this 3-pin fan spins at 1000 RPM, the maximum speed reached by the other PWM fan.  This seemed odd to me, so I reached out to the Raijintek representative and asked about it.  It seems that during the design phase in Europe, most of the customer feedback indicated a desire for simple 3-pin fans only, as most buyers in this market would be planning to purchase a separate fan controller anyway.  It was also indicated to me that if demand proved to be different here in the US market, they would provide the cooler with two PWM fans.  Raijintek is a new presence in the US and it's great to hear that they recognize that the needs of their customers may well be different in a different market.  I would think that the current fan content with this cooler would change one way or the other, shipping with two identical fans regardless of which type.  The inclusion of both is a mystery to me.
Installation:
Our test system uses the Asus M5A99FX Pro motherboard coupled with a Phenom II 1100T processor and 4GB of Corsair Dominator RAM.  The combination of heatsinks on the this board and on the memory serve to test clearance issues on most coolers.  If it will fit in this setup, chances are it will fit in yours but as always, your own research is strongly recommended.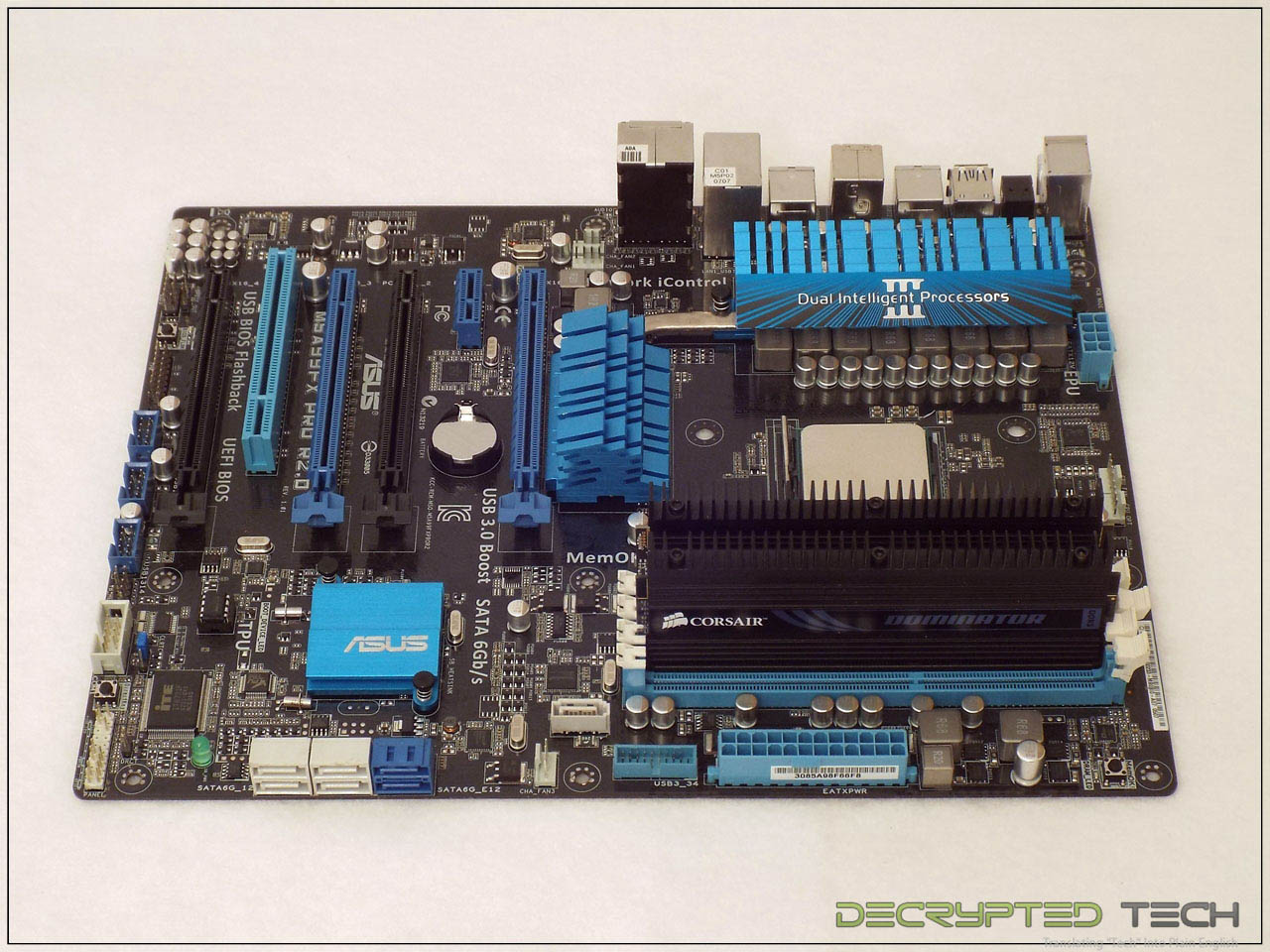 As mentioned, mounting for the Nemesis is again exactly the same as all three of the other Raijintek coolers we've tested.  
In every cooler from Raijintek that we've tested, access to the mounting screws has been well thought out and executed.  The Nemesis was likely the easiest to engineer, given its split tower design.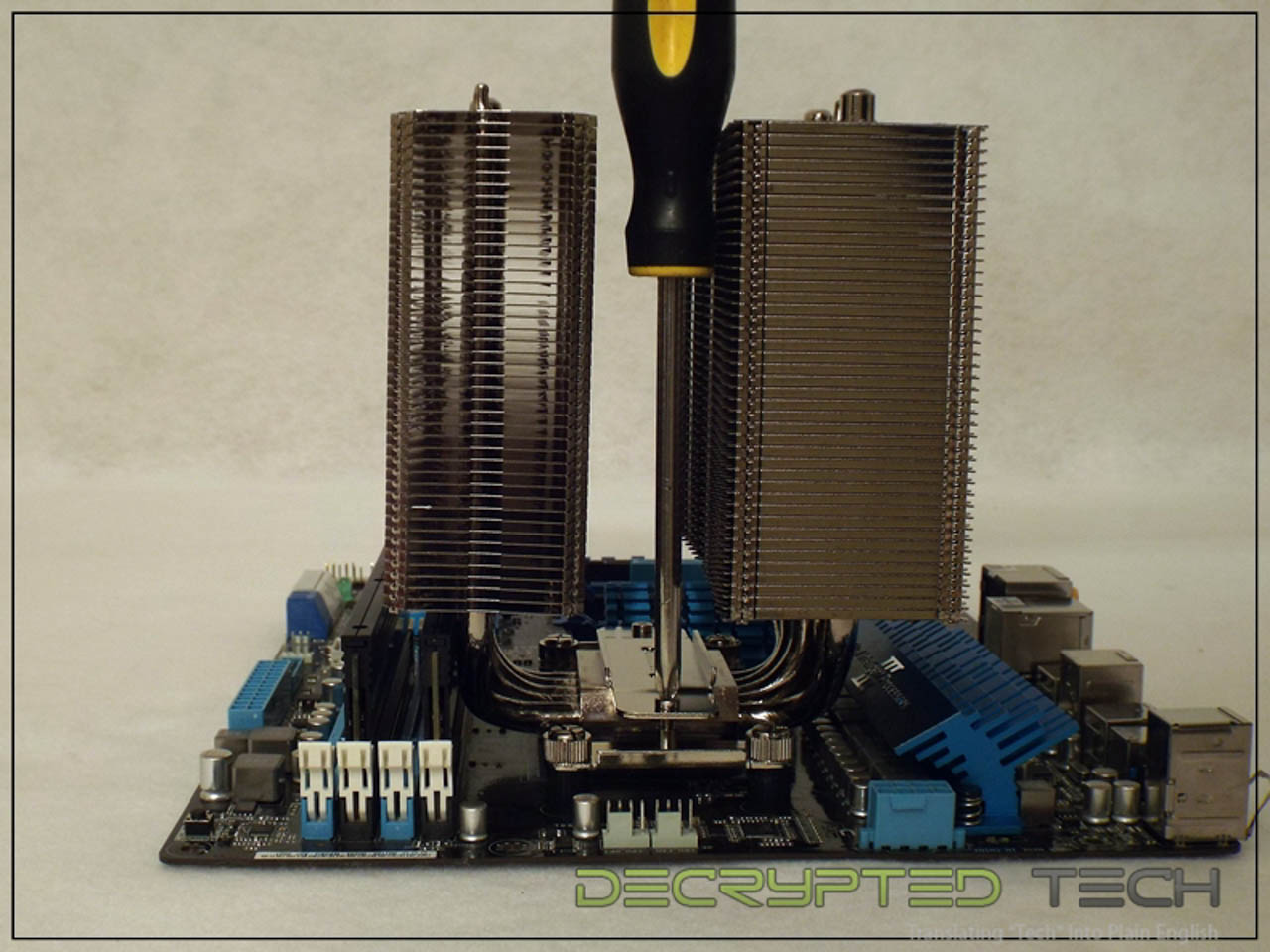 Our test system uses Corsair Dominator memory with the tall heat sinks installed to thoroughly test cooling systems for clearance issues.  Unfortunately, when the Nemesis is installed in either of the two orientations possible out of the box, the bottom fins of the Nemesis come squarely down on top of the heat sinks.  Once these heat sinks were removed, making the memory modules more in line with their standard-height cousins, the problem was alleviated.  While this seems to be a theme with the coolers we've mentioned, it is more understandable on a cooler the size of the Nemesis.  Even on a full ATX motherboard like this one there is only so much room to work with.
As mentioned in previous reviews, Raijintek does have a 90-degree adapter available for AMD users that works with all of their tower coolers, allowing the user to mount the cooler in any of four orientations.  While this adapter is not included with the cooler it is available free of charge for AMD users simply by contacting Raijintek customer service.  The Raijintek representative that I've been working with advised me that the current mounting system is being redesigned and that this 90-degree adapter or one like it will be included with future revisions.  We have not received a sample of this adapter bracket to show with the coolers we are testing but Raijintek did supply of with images of the bracket itself.  It seems perfect for the application
Once installed and viewed on a fill ATX motherboard the sheer size of the Nemesis becomes clear.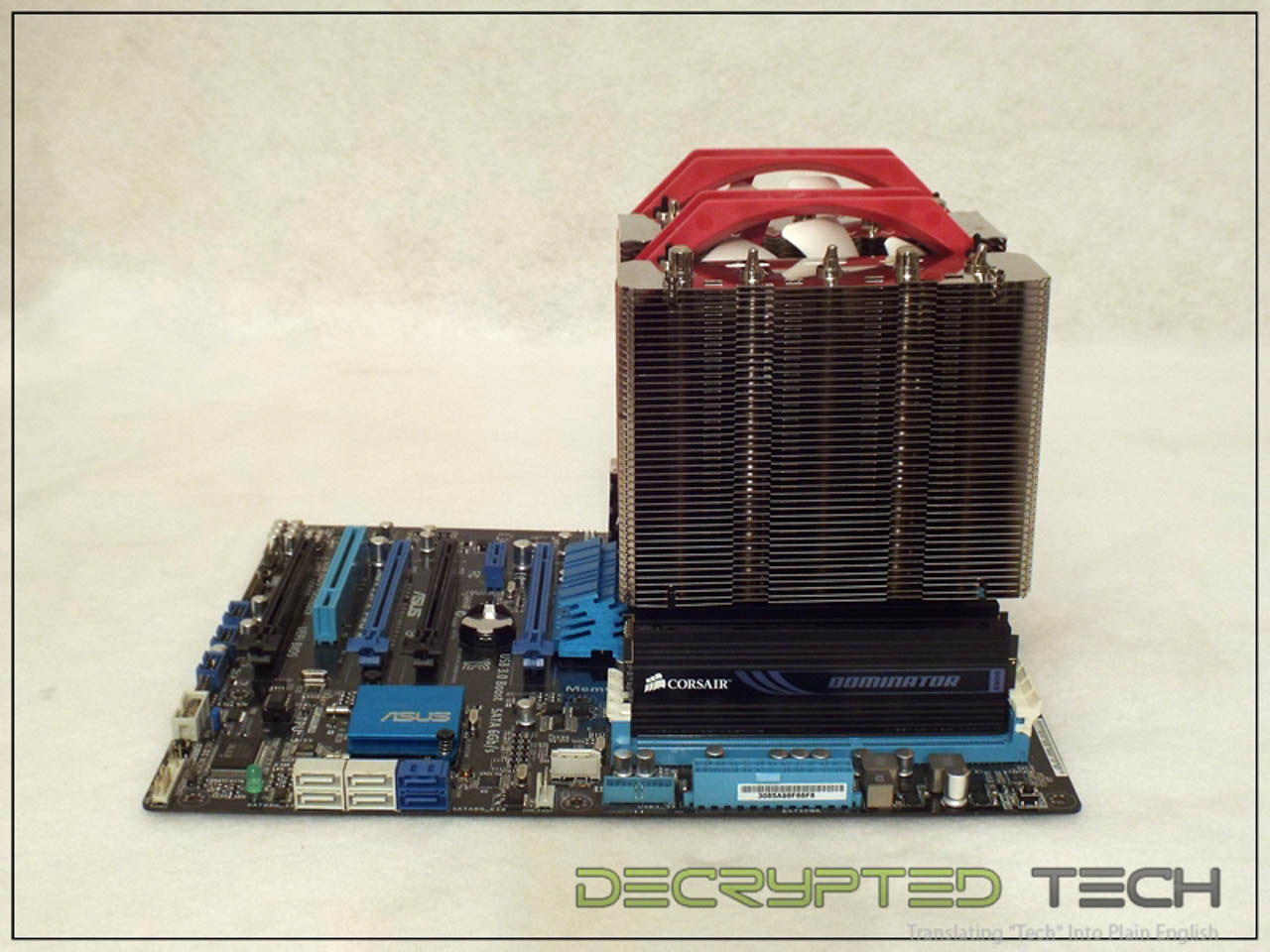 Testing:
In order to keep test results equal across the board, all cooling testing is done with the following setup, conditions and methods:
Test System:
AMD Phenom II 1100T at stock 3.3GHz (125-watt TDP)
Asus M5A99FX Pro mainboard
4GB Corsair Dominator DDR3 RAM
Windows 7 Ultimate 64-bit
Radeon HD4870 video
Thermaltake Toughpower Grand 850-watt PSU
Thermaltake Spedo Advance full-tower case
120mm intake case fan (x2)
120mm exhaust case fan
Ambient temp in the testing environment is brought as close to previous testing levels as possible and recorded at the beginning of the test.  For this test ambient was 24.9C and remained stable within .3 degrees for the duration of the testing.
Before testing begins, BIOS power/performance settings are set to "balanced" mode and the system is allowed to idle for 30 minutes to get a stable idle temp.
 
Stress testing is done with OCCT 4.4.0, running 30 minutes on each set, with large data set and a 1-minute idle time recorded at the beginning and end of each test.  If a cooler has multiple modes (high and low fan speeds, for instance), the test is run for each mode and all results recorded.
 
Tests are performed using Noctua NT-H1 thermal interface material for equal comparison with other cooling solutions.
For acoustic testing all case fans are connected to a Sunbeam rheobus fan controller and their speed is lowered to the point that they are inaudible.
So how did the flagship cooler from Raijintek perform?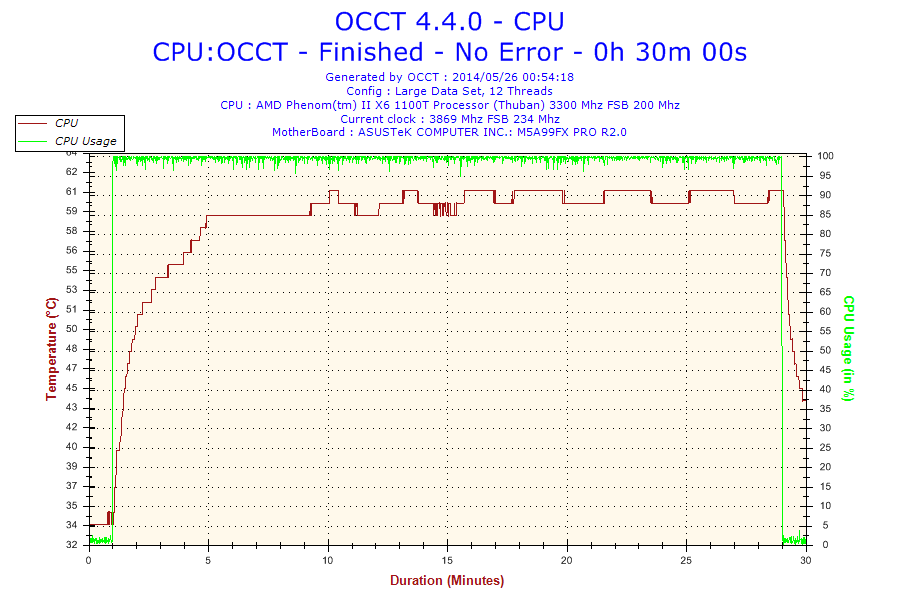 The best performance from Raijintek so far, as is to be expected.  Even with the slightly higher ambient temp it outperformed the Ereboss and Themis Evo coolers by 3 degrees.  While this is very good performance, keeping this 125-watt CPU even below AMD's recommended thermal threshold of 62 degrees during this torture test, I am again left scratching my head.  I had expected the Ereboss to outperform the Themis Evo due to its increased surface area, but the test results were nearly identical.  Likewise, I had expected the Nemesis so beat both of these smaller coolers soundly, only to see a 3-degree difference.  With the Ereboss I was able to explain some of the test results with the difference in the base, as the Themis Evo enjoys the benefits of direct-touch heatpipes while the Ereboss does not.  This variable has been eliminated here however, as the Ereboss and Nemesis coolers seem to share an identical base.  As odd as it sounds, perhaps this 6-core CPU isn't hot enough.  Might we see a more marked difference between them with a hotter overclocked CPU?  That may be a test to run in the future, simply to satisfy my own curiosity.  As it stands, the Nemesis definitely does outperform all of the other Raijintek coolers.
Noise levels:
As with the Ereboss before it, it wasn't the cooling performance that really set this cooler apart so much as the noise level.  Where the Ereboss performed equally as well as the Themis Evo, it did so much more quietly.  In this case, the Nemesis actually managed to best the Ereboss in both areas.  The Nemesis is among the quietest coolers I've had the pleasure of using.  Even at the peak of the test it was quiet.  I'm certain that with a manual fan controller the fans could be slowed to totally inaudible level and the cooler would still perform very well in everyday tasks.
Conclusion:
The Nemesis CPU cooler from Raijintek is a silent behemoth, capable of keeping the hottest processor we have below the manufacture's thermal threshold, even at 99% load for half an hour.  That is no small feat.  While it carries a steep price tag at $75, this is actually lower than many other large twin-tower offerings from their competitors.  It takes up a lot of room in a case, but that won't come as news to anyone looking to buy it.  It is huge, shiny, quiet and effective.  As with any large cooler, check the clearances in your case, but if you have room the Nemesis from Raijintek is a fine choice.
Tell is what you think in our Forum