When I saw the Studio C Tech line at Office Max I actually dismissed it on the first pass. The entire line is too cute to be taken seriously at first glance. I believe I perused the end cap where the line resides three or four times in passing before my husband pressed me to consider one. Once I gave them some time, I got a little more excited. They are definitely girly, each exterior choice equally. But they're not all out with it, like mini jewels or embroidered catch phrases. I've been secretly hoping the whole quilted purses thing would run its course and die, but it's just not happening. So when I really considered them, I found myself thinking the Twilight Garden quilted design was actually very pretty, in a subdued way, and as quilted accessories go.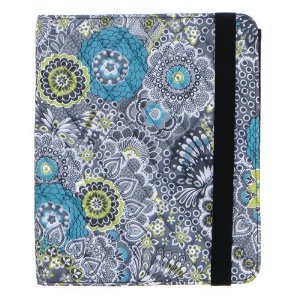 My smart husband tolerated my usual indecision by returning for it and presenting it as a Christmas gift, and I'm so glad he did. I've really fallen in love with it, and Sean appreciates that I no longer make the incessant clicking noise with the last panel of the magnetic smart cover.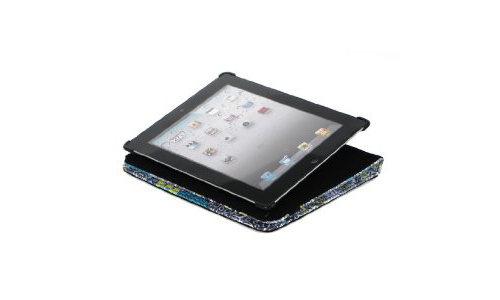 For function and actual use, the case has a built-in rotating case for the iPad itself, and it's enclosed within two firm exterior book-like covers. There are notches spaced appropriately for standing the iPad up, and because the rotator moves independently, it can stand up in portrait mode easily as well. Behind the rotator is also a small adjustable stand to set the iPad at a good tilt for typing, which I'm using as I type now. I'm grateful for the stability I never got from the smart cover.
It includes a couple of elastic bands, one is small and apparently for a stylus and the other more substantial band is meant to secure the front cover closed. Unfortunately, the only stylus I have is so slight, it slides right out of the elastic. The band meant to hold the cover is functional, but I did wonder why the cute look wasn't continued with a little button or fastener of some sort.
| | |
| --- | --- |
| | |

Elastic is a small price to pay for this case though. I love it, every bit. I finally get a perfectly sweet and functional case for my still-newish and possibly delicate iPad.

Discuss in our Forum