Axeda is a solution that is installed by OEMs which allows remote management of the device after delivery and deployment. According to researchers from Forescout and CyberMDX there are at least 7 vulnerabilities in the 3rd party Axeda software that could allow attackers to compromise devices remotely. The compromises include remote code execution, leaking of sensitive data, stopping/disrupting services. This covers as many as 150 devices from 100 different manufacturers across multiple verticals including healthcare, financial services and manufacturing industries. With more than half of the affected devices in the healthcare industry. The list of devices affected is impressive.

The vulnerabilities exist in all versions of Axeda Agent below 6.9.3. organizations that using Axeda should patch immediately to Agent versions 6.9.1 Build 1046, 6.9.2 Build 1049, or 6.9.3 Build 1051 to remediate the vulnerabilities disclosed.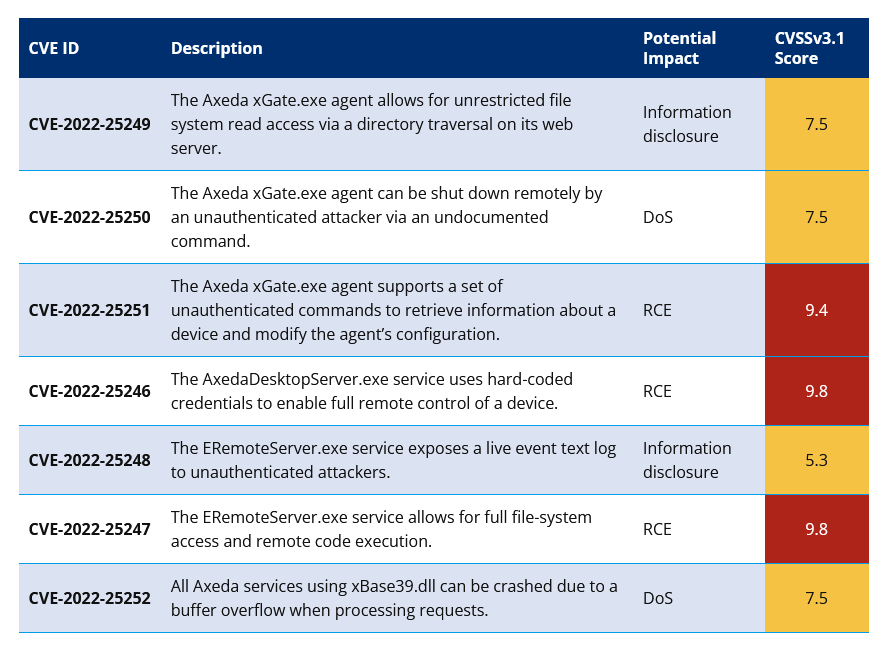 The Access 7 disclosure is significant in many ways and highlights issues that exist in how devices are not only manufactured but supported. The existence of a third-party agent that is installed and maintained by the OEM is another entry point for an attacker. If the devices are put into an environment without the proper controls (which is likely and may be a condition of support for the devices) the flaws would allow an attacker to get around existing security tools. This is a known issue in many environments where OT (operational technology) devices are in play, yet this type of behavior continues.

Organizations are highly recommended to segment these devices and monitor any and all traffic into and out of them.  While these steps do not prevent an attack from happening, they do allow for early detection of compromise and limit an attacker's lateral movement ability.