Thermaltake America wants to Share Success

Reading time is around minutes.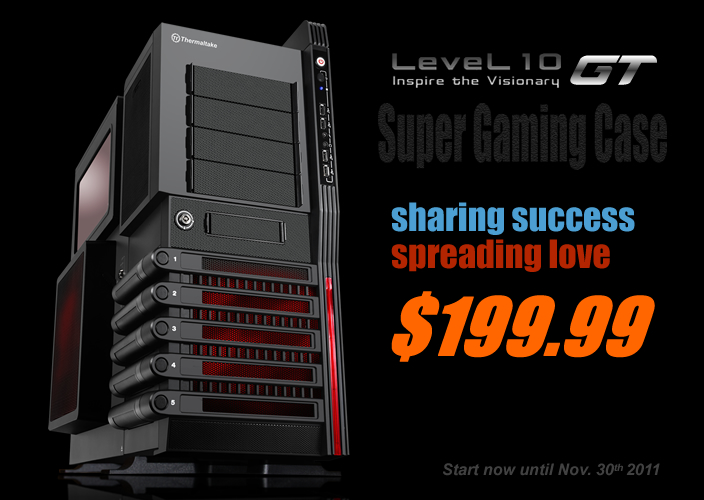 Thermaltake America wants to share some of their sucess with the people that have helped them get where they are. To do this they are going to cut the price on the original Level 10 GT. This is the original Black Model and not the Snow Edition like we reviewed recently. This offer will only run until November 30th so if you have been looking at this case but not overly happy about the price now is the time to save some cash on it.

We have the full PR Below so we will let Thermatake tell it in their own way.


Thermaltake America – Sharing success, spreading LOVE with the original Level 10 GT
City of Industry, CA – October 19, 2011 – Thermaltake America today announces the recommended retail price of the popular Level 10 GT full-featured gaming chassis, will be reduced from $269.99 to $199.99 for a limited time until November 30, 2011. The Level 10 GT chassis has made a major mark in the performance gaming community with its unique design inspired by working with BMW DesignworksUSA to create a chassis that not only catches the eye but has unique lines that cannot be mistaken for any other. The inclusion of Multiple Colorshift fans enhances the chassis ability to dissipate enough heat to handle even the most monstrous gaming rigs. Add to this the inclusion of dual front panel USB 3.0 connections that connect via an internal 20 pin header means that users have the ability to use the newest technology with ease.

"Since the launch of the Level 10 GT gaming chassis, [Thermaltake] has received tremendous amount of positive feedbacks from the PC enthusiasts communities," stated Weller Chen, Director of Product Management at Thermaltake America, "and to show our appreciation and more importantly, to make this great product more accessible to everyone by offering this limited time price drop."

The price drop is channel wide and consumers can expect to purchase the Level 10 GT gaming chassis through major retailers and e-tailers at the discounted pricing immediately until the end of November.

"sharing another of Thermaltake's success of the Level 10 GT series gaming chassis, we want to do something that is rarely done by companies these days by sacrificing our bottom line in order to reinstate our enthusiasm for the promise of delivering the ultimate user experience both from purchase decision to the process of putting together a high-performance PC," commented President of Thermaltake America, "today, we are putting our words into action."

Product Link:
Buy now links:
Amazon -
Newegg -
Microcenter -
Tigerdirect -
Memory express -
Frys -

Discuss this in our Forum
Leave a comment
Make sure you enter all the required information, indicated by an asterisk (*). HTML code is not allowed.