The Box and Goodies -
The box for the ROG Rampage IV Formula looks like the rest of the lineup. It is ROG red with the same starburst on the front. One new addition is the PCIe 3.0 Ready banner. It is a nice touch that not only brings a good performance bonus now and will also have more headroom later if the going rumors about Ivy Bridge E compatibility are correct.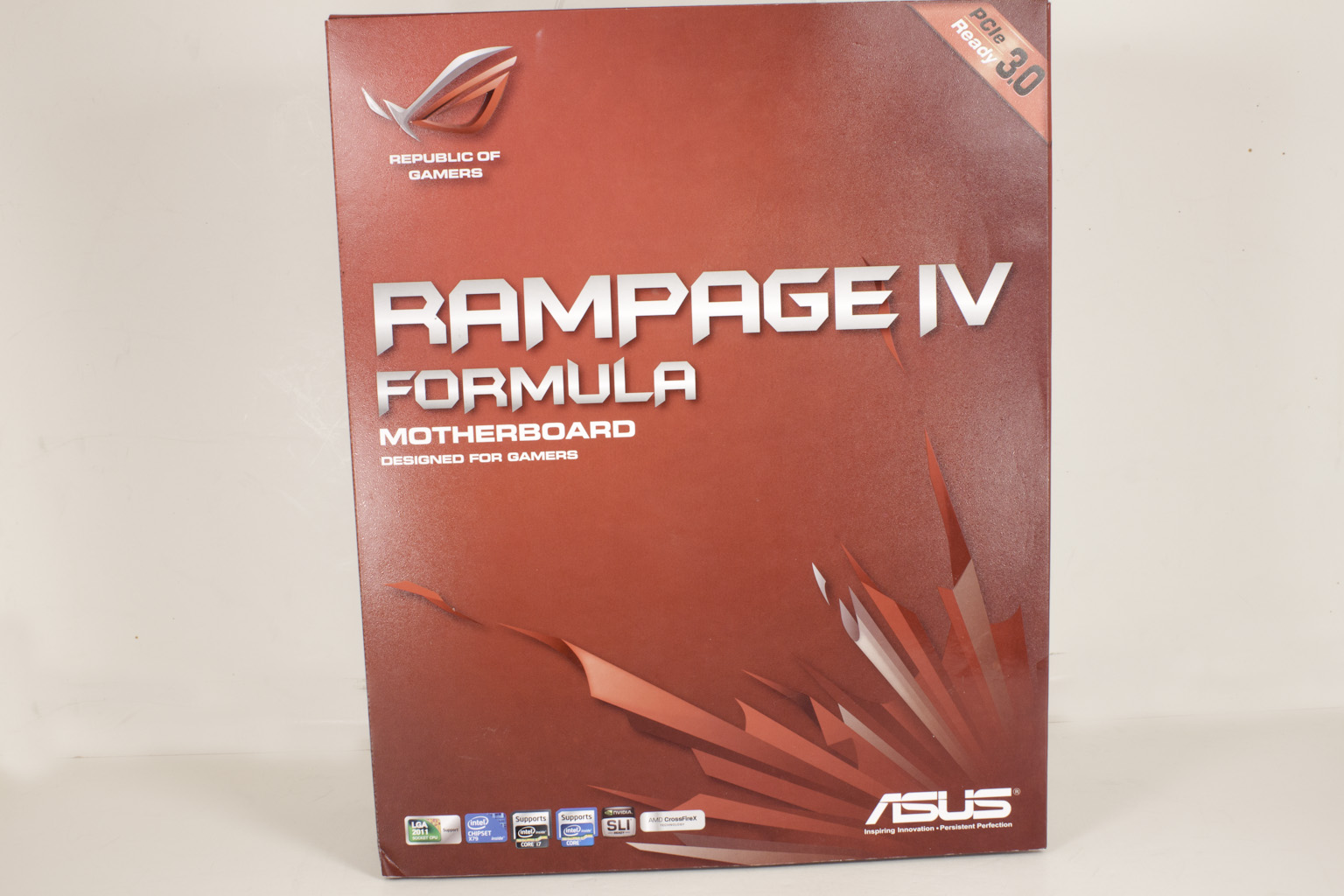 Under the very red front cover we find not only more information, but also a view of the Rampage IV Formula. It is a nice touch in reality and if you were to pick this up in a shop (more likely overseas than in the US, but still possible) it would be a good way to see what you are getting. The features detailed on the front flap are also nice and show off what makes the Formula and the ROG line as a whole stand out.
The back follows the same layout as the other ROG boards we have tested. You get a recap of important features, a spec list, and also a diagram of the I/O panel.

You are not buying a box though; you are interested in what is inside the box. After opening it you find two boxes; one with the Rampage IV Formula and the other with all of the accessories that Asus throws into their ROG boards. You get eight SATA cables; four SATA 3.0 and four SATA 2.0. There are two dual card bridges one SLI and One Crossfire also a three-way SLI bridge for any extreme gaming.
Other items include an additional back for the CPU socket (we will cover that later) a door hanger, a USB cable for the ROG connect feature, manuals, Drive DVDs, Cable Labels and Q-Connect blocks. It is a nice little haul.
The Layout -
The layout of any motherboard is important. Even simple mistakes in component placement or the signal traces can cause major issued in performance and stability. With the ATX form factor we find that this is even truer; the devices we drop onto them demand more and cleaner power while the signal speeds push faster and faster. The Rampage IV Formula (we will call it the RIVF moving forward) is a standard sized ATX motherboard. It follows the same basic layout component placement, but other than that the RIVF is anything but a typical ATX motherboard.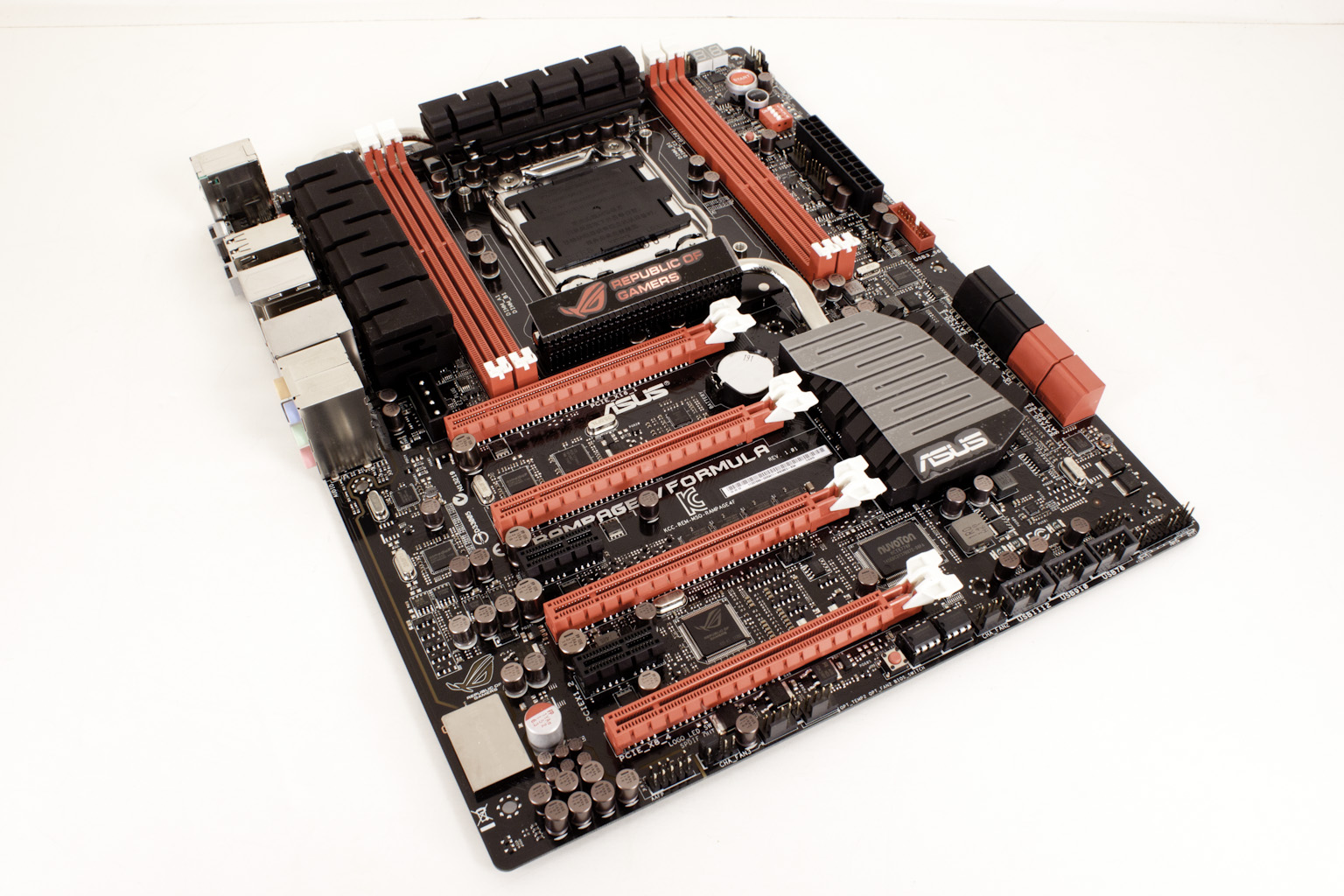 Starting off at our normal launching point we find some of the typical items. The 24-pin ATX power connector, a USB 3.0 header, a pair of diagnostic LEDs, Power and reset controls and... well that is about it. From there things get a little more interesting and we start to see some of the interesting design choices that Asus has made. The line of voltage read points is very well laid out and labeled more clearly than just about any of the other boards we have tinkered with recently. Asus has also thrown in a four switch block that allows you to turn PCIe slots off to help maintain stability during higher overclocks; this is on top of the four 4-pin PWM fan headers that are visible in this image alone.
| | |
| --- | --- |
| | |
Moving on we get a closer look at the CPU socket and also the cooling on the board. This CPU socket has two modes that you can run it in. As we show in the video you can actually remove the back plate from the socket and replace it with the one that Asus includes in the box. This is great if you are using custom cooling (like and LN2 Pot) as you can use a proper mount and insulation. One item we do want to highlight here are the Nichicon Black Capacitors. Asus has been putting these on their ROG boards lately and the choice shows. These are not your typical solid caps, but offer significantly more headroom and performance than want we are seeing on other boards in this range. Then again Asus has always pushed to get better capacitors on their boards going back to the use of FPCAPS on some of their past ROG products. When we talked with Asus about this they let us know that this move was a big step in differentiating ROG products from any other product on the market.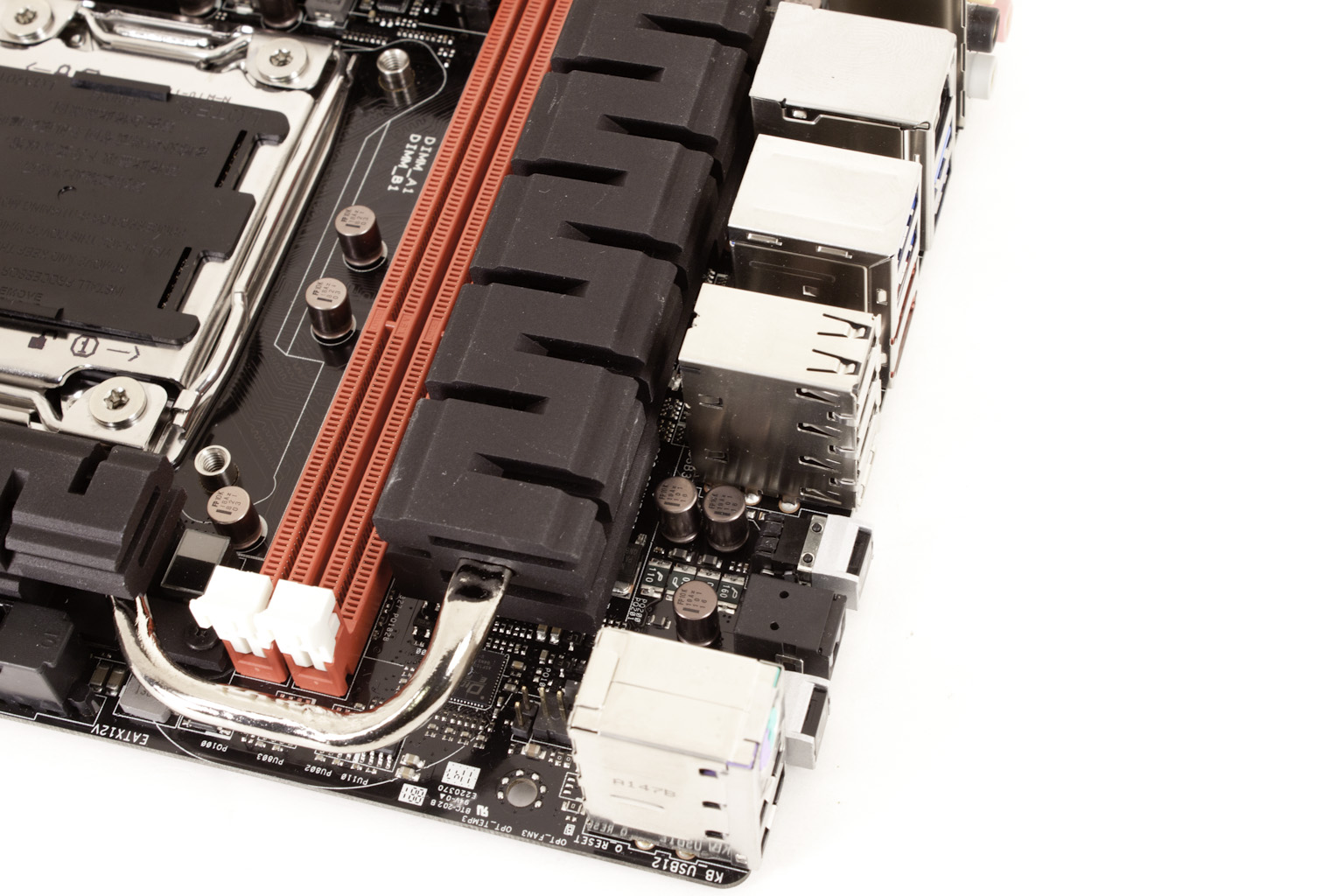 Another item that we talked with Asus about was the cooling on the ROG boards. We have previously mentioned that it has the same look and feel as the cooling on the Sabertooth boards. Although it does look similar it is not the same material nor does it have the same thermal properties. It is still a good system, but it is not the same as what is found on the Sabertooth line. Moving around we can see another 4-pin PWM fan header peeking out as well as get a good view of how awkward the placement of the 8-pin AUX power connector is. Again get an extension or a fully modular PSU for this board as you will have a rough time getting this one connected in many cases.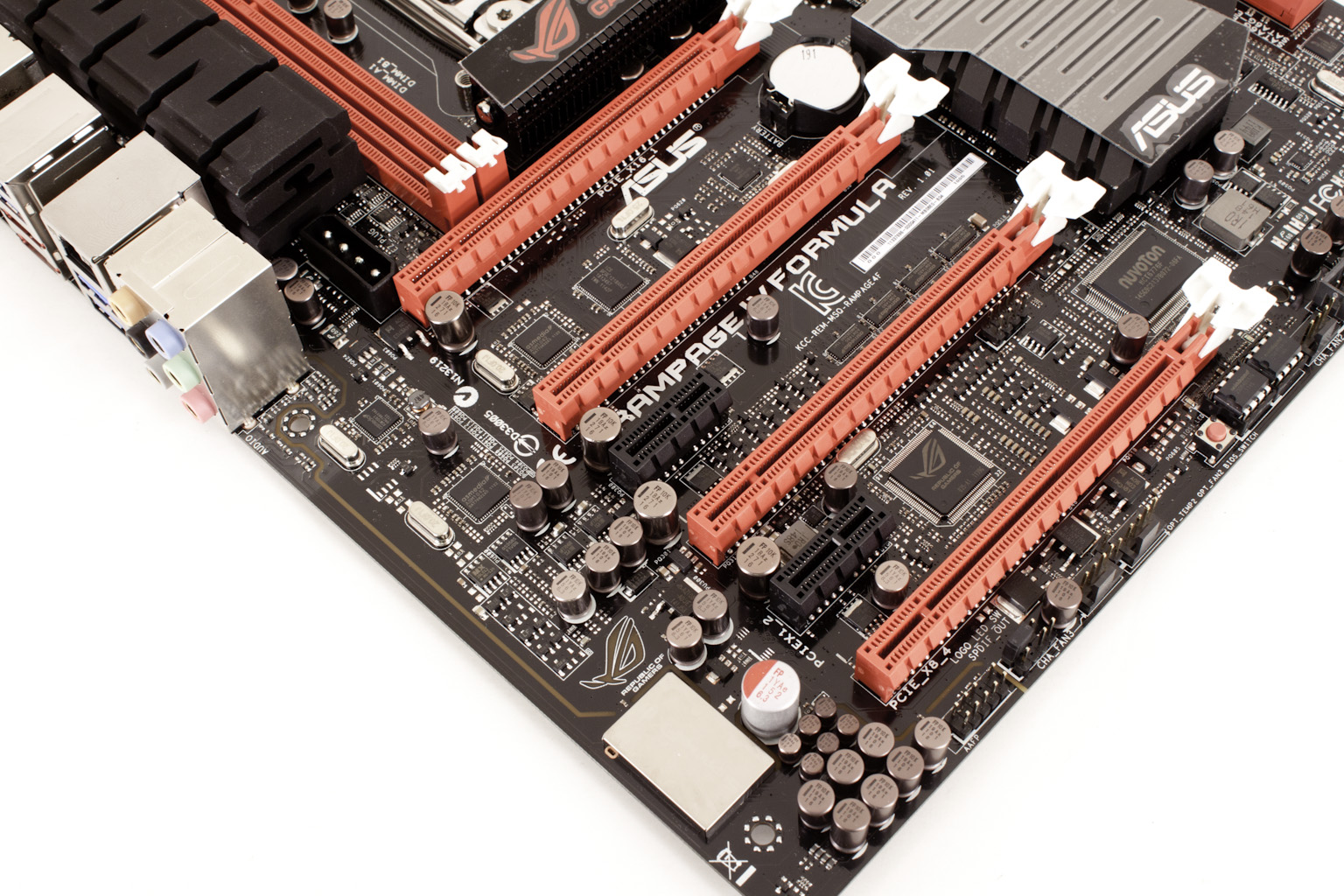 Dropping down to the lower half of the board we first notice a 4-pin Molex power connector. This is to provide additional power to the PCIe slots especially if you are going to try pushing three-way SLI. You can also see the four PCIe x16 mechanical slots (and the PCIe Gen 3.0 components). Not all of these slots are x16 electrical though. Here you have slots 1 and 3 at x16 and slots 2 and 4 x8. Interestingly enough slot one will always run at x16 regardless of any other configuration while slot 3 will run at x16 or x8 depending on if you have slot 4 populated or not. All four of the x16 mechanical slots can operate at Gen 3.0 if you have the right GPU.
There is more to this picture than just the slots though as you can see in the video below. You have the segregated SupremeFX III audio card that Asus has thrown in. This concept of a physical separation in the board although gimmicky at first actually does have a real world benefit. It helps to improve audio performance and also to prevent audio signals from hindering performance of the board or overclocking. The separation lights up red, but can be turned off in the BIOS if you do not want that showing.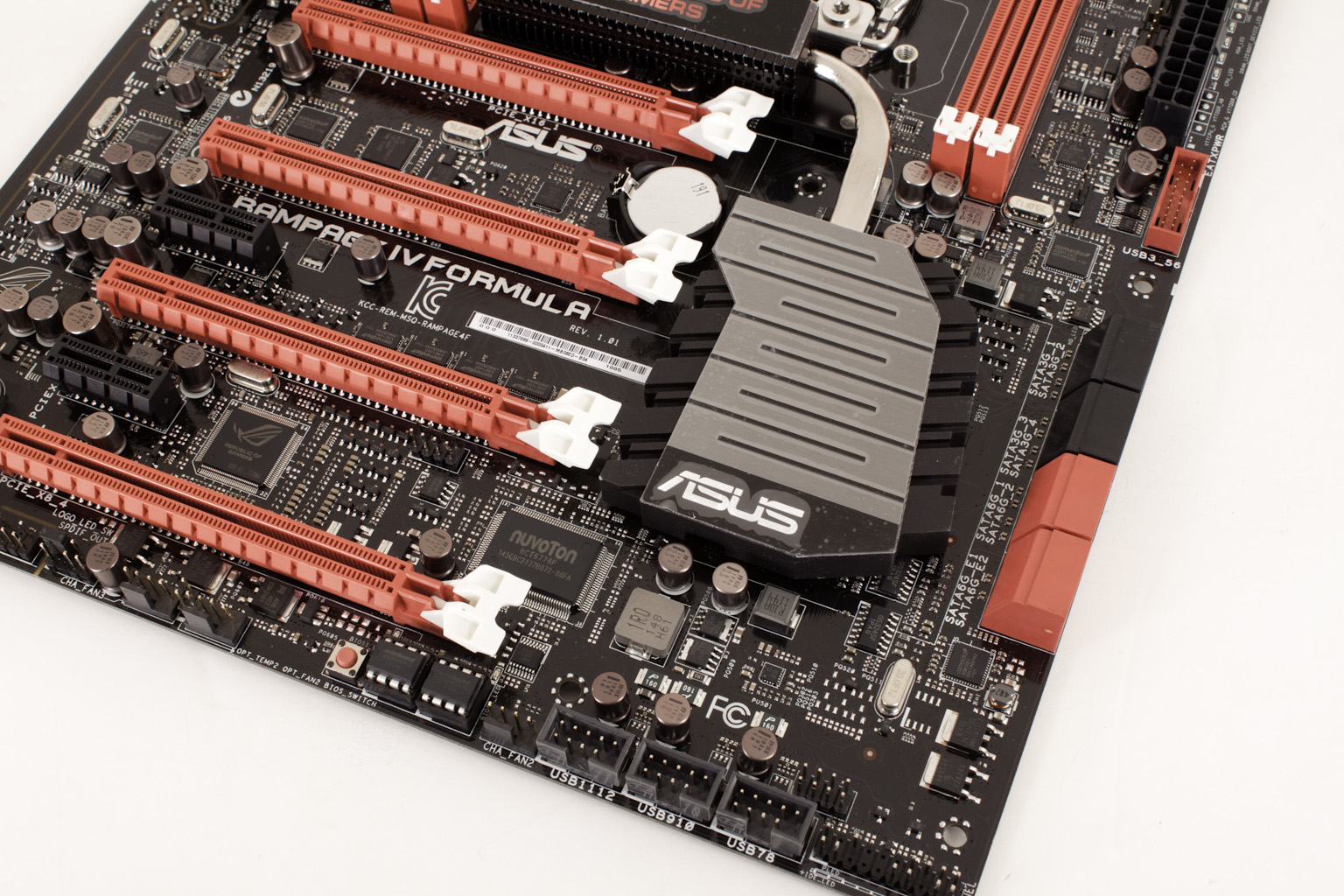 Along the bottom of the RIVF Asus continues to give you extra options for cooling with the addition of three more 4-pin PWM fan headers, which brings the total up to 8 for the Formula. You can also see the BIOS switch right next to the dual BIOS chips three USB 2.0 headers and the more typical front panel header. The stylized PCH cooling is also prominent in this image we will be checking to make sure that it is up to the job of keeping the X79 chipset cool in part II of our coverage.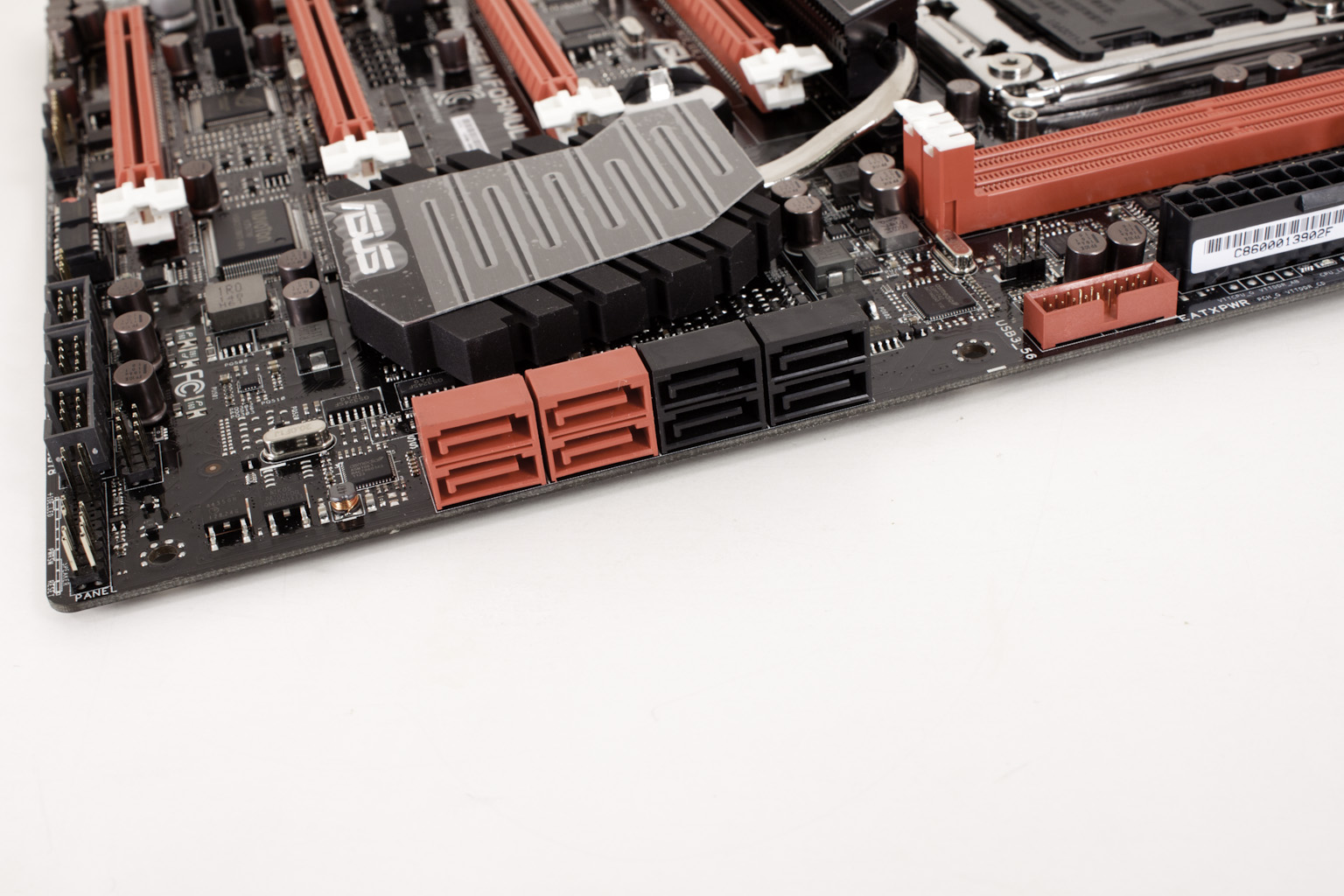 The Formula has 8 90-degree SATA ports the four red ports are SATA 3.0 and the four black are SATA 2.0. Two of the SATA 3.0 ports are labeled SATA6G_E1 and E2. These are controlled by the ASMedia SATA controller on the board. The other two are controlled by the SATA 3.0 controller in the X79 PCH. The ASMedia controller is going to be a little bit slower than the Intel controller so it is important to remember that when connecting your drives if you want the best performance from them.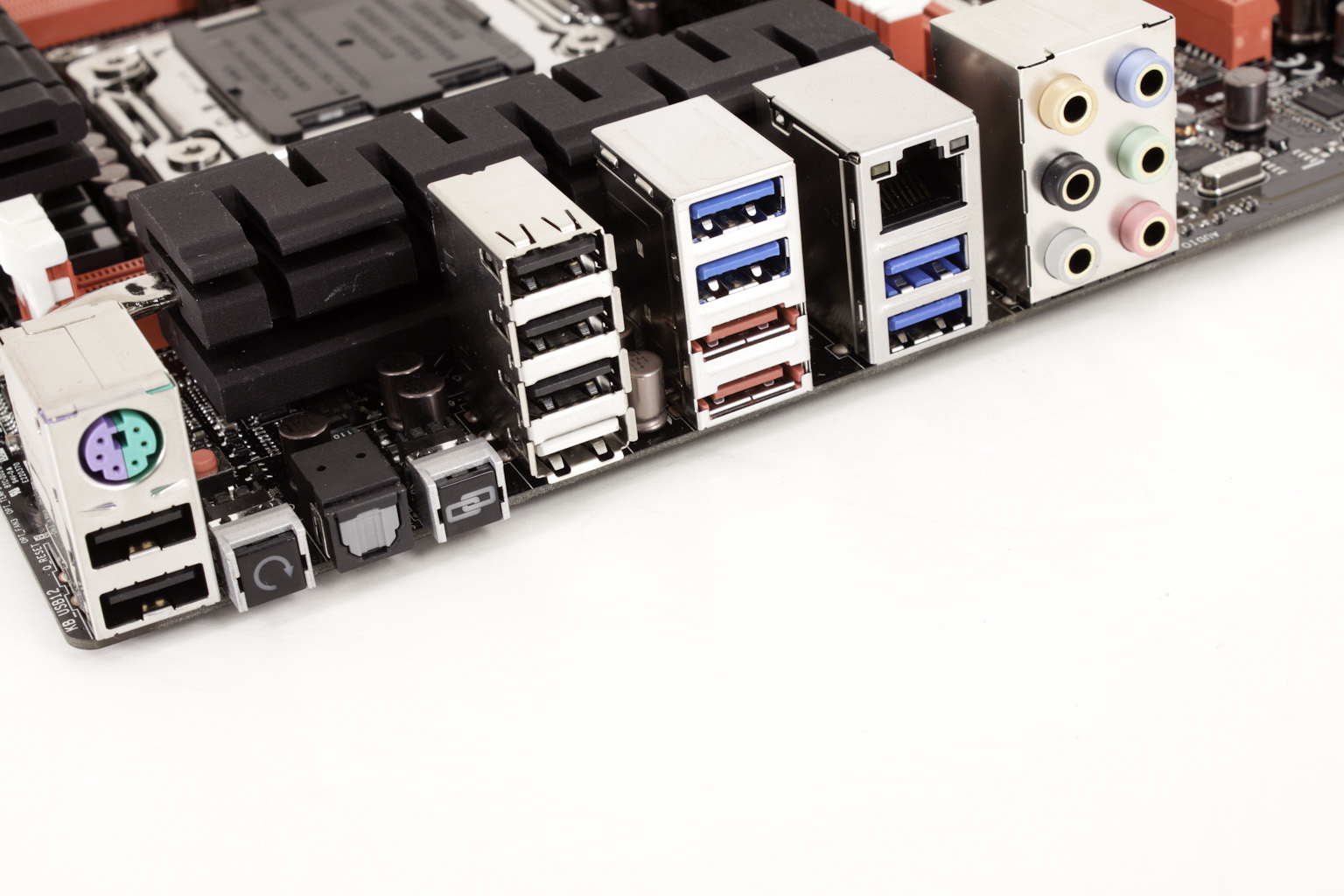 Swinging around to the I/O panel we find a pretty decent layout. You have five normal USB 2.0 ports, four USB 3.0 ports, two eSATA 3.0 ports (from the ASMedia controller), an Intel Gigabit LAN port, and the normal array of audio out ports. Asus also gives you an external BIOS reset button and a button to turn on or off the ROG connect feature. The combo PS/2 port is a nice feature in a high-end motherboard as when pushing your board to high-clocks you can sometimes lose your USB ports so having a PS/2 port is a good idea.
Overall you can see the time and effort that Asus put into the Rampage IV Formula and not just in flashy features or gimmicks. We are talking about trace tuning, PCB construction, the use of Nichicon caps, and more.


Features -
In the current market motherboard (and indeed almost all component) performance is very close. The days of a large performance advantage between boards using the same chipset are long gone. That is unless someone makes a HUGE mistake (like runs traces completely wrong). Now, the thing that differentiates different products is the features. These are things like power management, extra slots, better audio CODECs etc. It is these items that R&D teams work so hard to drop into what are really identical pieces of hardware at their most basic level.
With Asus (as we have told you many times) there is a push to put features that "make sense" into each board. We saw this during our recent coverage of their Z77 line up. They are working hard to differentiate between the different boards that have identical chipsets (Z77, X79 etc.) and will have similar performance windows by not only their selection of components, but also what you get when you buy each board. Looking at the Rampage IV Formula we can see this as well. The board is first and foremost an enthusiast product as you will see in the features listed below.
Excellent -
PCIe Gen 3.0 at full x16 for Crossfire and SLI
PCB Separation for Audio
Three-way SLI and Crossfire X
SupremeFX III Audio
Mem Tweakit
USB BIOS Flashback
Nichicon Black Caps
T-Trace layout
USB 3.0 Boost (USB Attached SCSI Protocol)
This list is full of items that enthusiasts and even mainstream users have been waiting for. USB BIOS Flashback is something that honestly should not have taken this long to happen. Other items like x16/x16 SLI running at Gen 3 speeds are simply going to set this board apart from many of its competitors on that alone. Really you can easily see how well stacked the feature set is and this is just the gateway into the ROG line.
In the middle (good) -
THX Audio
EAX 5.0
Game First
ROG Connect
Eight 4-pin PWM fan headers
Here we find features that are still solid, but are ones Asus has had out for a while you expect them when you pick up an Asus ROG motherboard. If they were not there then something would be wrong.
Floor Mats -
ASUS Q-Shield
ASUS O.C. Profile
ASUS CrashFree BIOS 3
ASUS EZ Flash 2
ASUS MyLogo 2 - ASUS Q-LED (CPU, DRAM, VGA, Boot Device LED)
ASUS Q-Slot
ASUS Q-DIMM
ASUS Q-Connector
These features are good, but again they are common on Asus motherboards and now on many other motherboards out on the market. Do not get me wrong, they do round out the package but, they are not going to be the reason you buy the Rampage IV Formula.
Conclusion –
So far the Asus Republic of Gamers Rampage IV Formula is looking very good on paper. The features, component choices and design all lend to the enthusiasts experience. Asus has done a very good job of detailing the features that separate the ROG line and the Rampage IV Formula from the rest of the pack starting with the packaging. You can also tell that although this board is clearly aimed at the overclocking crowd it can be easily adapted to high-end gaming or even workstation use with many of the options that you get here. We are certainly looking forward to testing the Rampage IV Formula and seeing how features like the T-Trace layout, USB 3.0 Boost (with a device that supports UASP), and of course we want to see how well this board overclocks considering how much of a focus that is for Asus. We will have part two of our review of the Rampage IV Formula up pretty soon, but we can certainly say that even looking over the board on paper we are pretty impressed.

Discuss this in our Forum