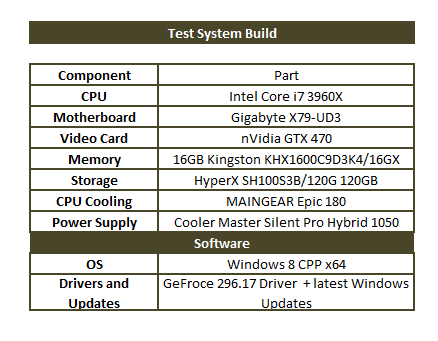 As we have told you already Windows 8 does not look like it will have some of the same issues that other OS changes have had. This is good news for the gamers out there, but I would not get too excited just yet. We have only run seven games on our Windows 8 rig and out of those 2 would not run properly. Still that is better odds than I would give people moving from Windows 95 to XP (or Windows 2000) or even the move from XP to Vista/Windows 7 without a few updates. Now things have smoothed over quite nicely with those operating systems, but we are in the early stages of Windows 8 so things are not all there.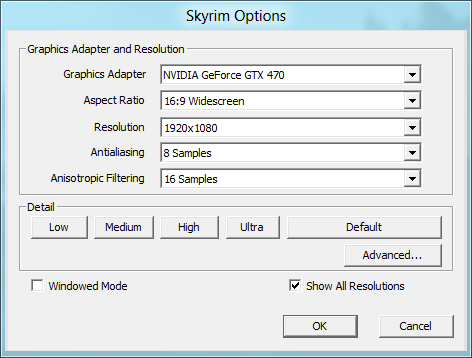 The same two games that did not work with the AMD GPU are also not working with the nVidia one. This is not a shock at all as the problems with those two games (Bioshock 2 and The Darknees II) had nothing to do with the GPU anyway.
| | |
| --- | --- |
| | |
Overall Windows 8 looks like it could be a good gaming platform. The problem is that many gamers are not going to want to waste time with the Metro UI. This (as it always has been) is going to be a major issue for Microsoft. They have to understand that for a touch screen Metro UI might work (I would not say it is good, but it works), but on the desktop it is clumsy and awkward.

We will have more to show you about Windows 8 and where it stands with the Consumer Preview Program. There are only 8 months left for Microsoft to work the bugs out and I hope they use them wisely. Maybe they will find a better way to implement the Metro UI on the desktop and leave it as is for tablets, but I really doubt it. It honestly looks like Microsoft is going to fall victim to the every-other-OS curse that has been around since Windows 98.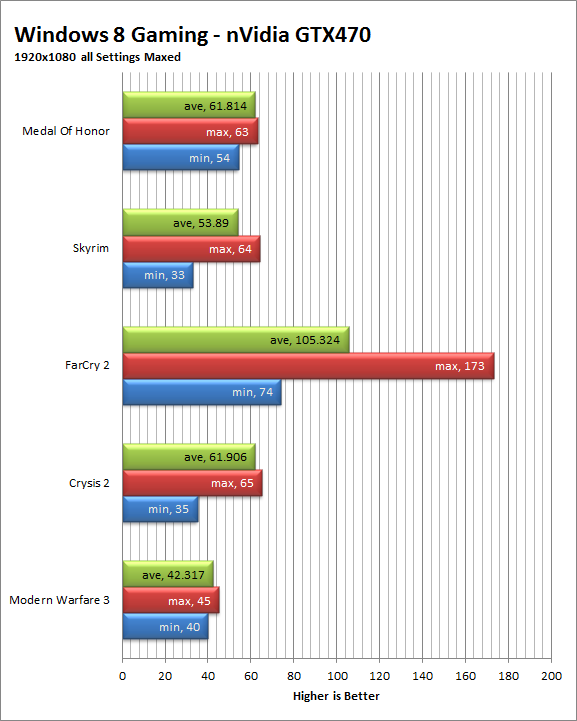 Check back for our next Windows 8 article when we cover the differences between the Metro UI on a tablet and on a desktop with an emphasis on the twin versions of Internet Explorer 10 that Microsoft is pushing.We will be compiling a list of applications and games that work out of the box on Windows 8 as well as solutions for those that do not on our Forum.
Discuss this in our Forum