The slide would also appear to show that Intel could be scrapping their plans for a desktop flavor of the 14nm Broadwell CPU and instead leaving this as a new product for the mobile world only. This is not an unexpected move as Intel looks to split their chip business into more verticals than desktop and server. From what things look like a new vertical will emerge that will be based on the mobile world. If Intel is indeed doing this it is a smart move on their part. Although Haswell is a solid CPU, many were not all that happy with the level of performance that it brought to the table compared to other CPU launches.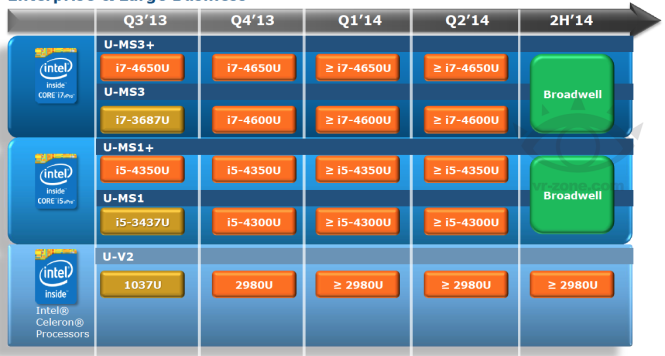 Intel will not be abandoning the desktop and enthusiasts though. As indicated the road map shows a refresh of Haswell in Q2 2014 which could bring better performance improvements instead of just the efficiency increased we saw with the current CPU. Again this could be a very good thing to keep Intel's existing enthusiast and main stream customers happy. At the same time we expect an Ivy Bridge-E CPU later this year followed by a Haswell-E in 2014 for the upper end of the desktop segment.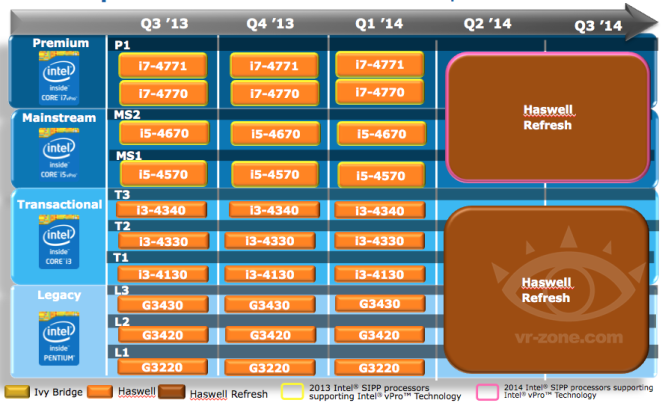 These moves should keep everyone happy until the 14nm Skylake hits the playing field. Skylake is expected to bring DDR4, PCI-Express 4 and SATA Express. It should be one nice improvement to the desktop market. Again we have to caution that this is a leaked document and one that could be inaccurate. We do not think that it is simply based on some of the indicators from Intel about their plans for the mobile market and breaking off the desktop from that space. 2014 could actually be a very good year for the "PC" if everything happens like this leaked road map shows.
Tell us what you think in our Forum
Roadmap courtesy of VR-Zone