First let's take a look at some basic and verifiable facts. According to 2011 surveys Microsoft currently owns between 74.67 and 87.1% of the market. This puts Windows in the lead in a rather big way, but how does that break down inside the Windows family? Again according to reports for 2011 we have the following (based on web client agents);
Windows XP 25.86 – 40.93%
Windows Vista 6.28 – 14.7%
Windows 7 33 – 43.02%

So we can see that although Windows 7 is gaining Windows XP is still holding in there as a popular operating system. Windows Vista, which included a few items that Microsoft thought users would love (like always on High-Definition Content Protection) was and still remains a bust. I had no issues with Windows Vista and used the 32-bit and 64-bit versions until Windows 7 came out, but it was a commercial disaster for Microsoft as most sales of Vista included a downgrade option to get Windows XP.

For Windows Phone (Version 7.x) Microsoft has about 5-6% of the market depending on whose numbers you use. It is still a very small share although it has seen some movement recently where it jumped up from 2-3% to its current high.

On the other hand the Xbox 360 has begun to lose some of its market lead. In the console market (based on sales) the Wii enjoys a healthy lead over both the Xbox 360 and the PS 3. The Wii is in the lead with 42.9% of global sales while the Xbox 360 only managed to take in 29.4%.

So we have the desktop operating system Windows with the largest market share of any two operating systems combined, a phone OS with a single digit impact on global sales, and a console that is losing ground. It is obvious that Microsoft did not look at these numbers when making the Xbox the center of their connected home.

What they did do was look at another number and made a rather foolish conclusion from an assumption. They assumed that becasue by 2009 over 20% of the traffic to Netflix was from game consoles and that Xbox 360 users were adding Netflix at an increasing rate (over one million in 2009) that users were moving to the console as the center of the home entertainment. What Microsoft did not account for was the drop in popularity of the Xbox which now sits at 24.94% of Netflix traffic compared to 30.57 for the PS3 (based on 2011 numbers).

Still Microsoft dug further into these numbers to see what was going on. They saw something startling and which worried them greatly. The stats guys began dropping the iPhone and iPad into their gaming console numbers. They saw that the iPhone had a staggering 26.4% of the market in 2011 and even the iPad eclipsed the Xbox with 9.6% (the Xbox 360 had a meager 8%). This is where Microsoft made its mistake.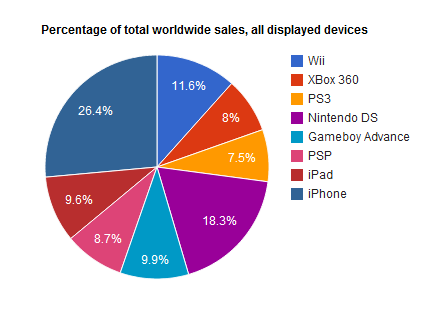 They assumed that users wanted a tablet or phone for their gaming interface because of these numbers. But what they did not account for was the fact that these are raw sales numbers. They do not break down the data beyond the number of units sold. So we do not know that the people that bought an iPad or iPhone are going to use it for gaming. Microsoft also made the assumption from the data provided by Netflix that people want to use their gaming console as a media center. We have two assumptions made that ignore the raw data and assume what consumers want.

Because of this data and the trends at the time (they would have originally used 2009-2010 data and updated it to support the original push) Microsoft assumed that users would want an interface that combined the elements of a phone, tablet, a console game station and a desktop. From this assumption Windows 8 and Smart Glass was born all because they concluded that users wanted a combination of a phone, tablet, gaming console and desktop in one package and based on assumptions from data that they handpicked. They ignored raw market share data but did assume that because of their dominant position people would buy the next version of Windows and by-proxy buy Windows Phone and the Xbox.
Windows 8 does have a lot of improvments in it, but Microsoft will be their own worst enemy as they have been many times in the past. It is too bad as the OS (once Metro is removed) has great potential.

Looks like Microsoft is going to get a D- here. As my high school science teacher (and my statistical analysis instructor) would have said; they ignored the obvious facts in place and chose to conclude their own assumptions without real support for the hypothesis (like their reasoning behind killing the start button).

Discuss this in our Forum