First up was Alex Chang who primarily handles MSI's GPU marketing (in addition to having a life-long goal of invading Siberia...). Alex explained to us that MSI is working on their own non-reference AMD 7970 cards, but they did not have a projection on when they would hit the market. He also let us know that there is still something of a shortage of the 7970 GPU so production across the board could be affected.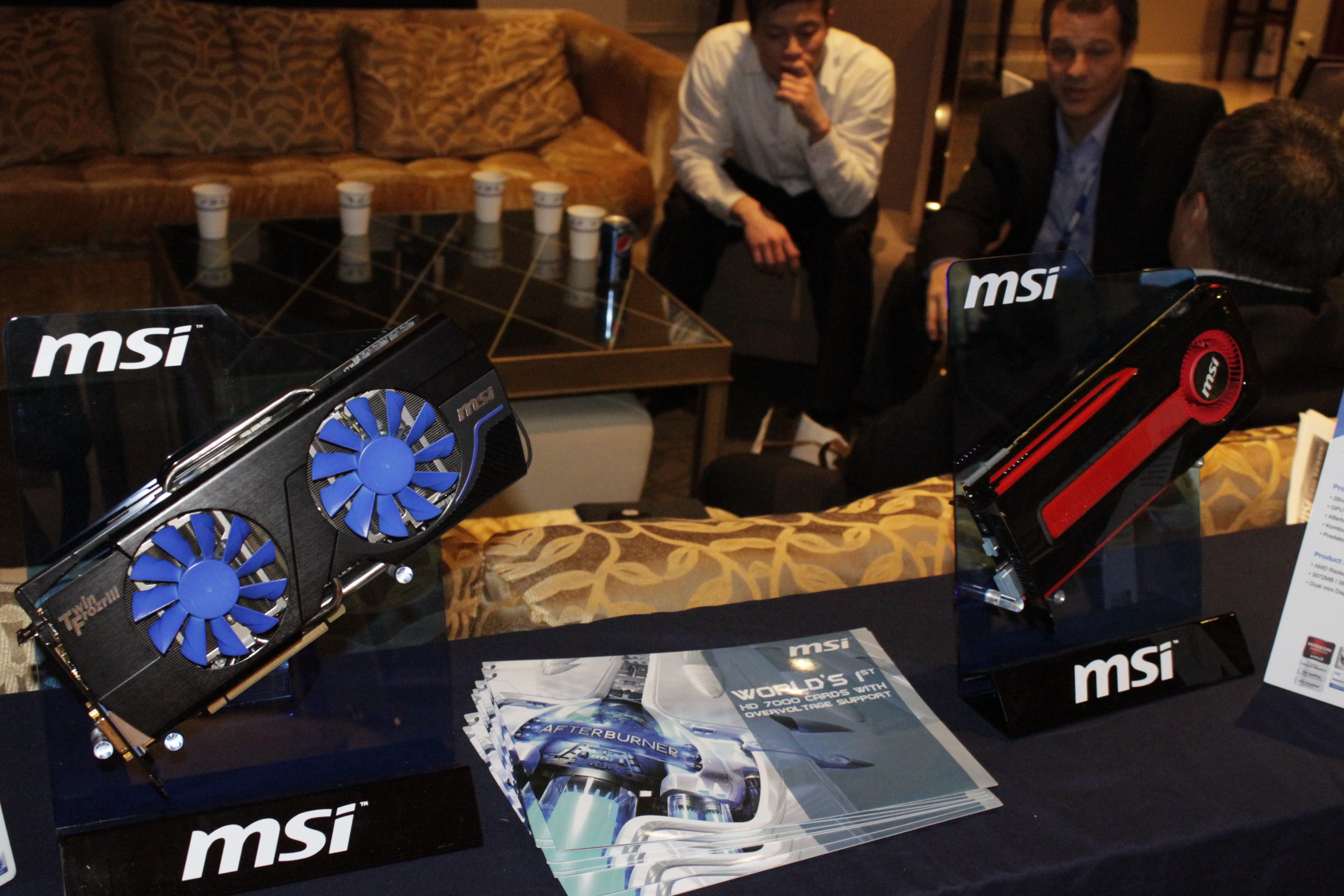 After the very brief talk about the GPU market, we moved on to talk about MSI's new Big Bang XPower II. The Big Bang XPower is MSI's top end X79 motherboard and follows a familiar trend of having a military look to it. Both Gigabyte and MSI claim to have come up with this theme first, but to tell the truth it does not matter; the theme might be the same, but the components and designs theories are different.

The display was not just about the Xpower II though. Alex also showed off MSI's new Voice Genie. This is an attachment that allows you to control the system using voice commands. Although it took a couple of tries Alex was able to get the system to restart with nothing more than the command restart system. We imagine that there will be something of a learning curve with some accents and dialects, but this still could be a very cool feature. Also attached to this demo was MSI's MultiConnect Panel. This is exactly what it says; a panel that allows you to connect multiple devices to it. You also get the ability to charge a phone (yes even an iPhone 4s or iPad 2). Now once again this is nothing new, but it is something of a new twist as it gives you these options on the front of the case instead of the back.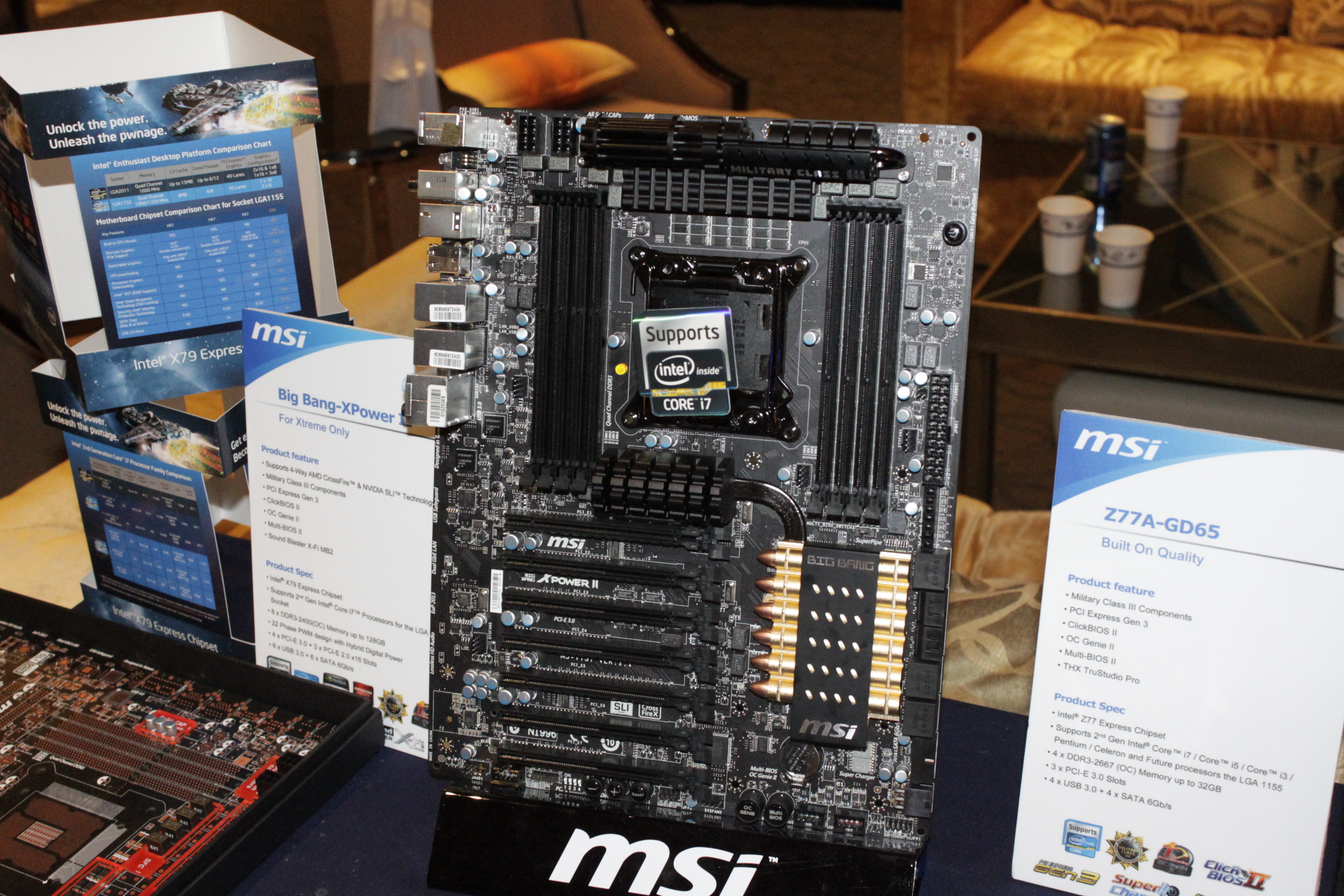 | | |
| --- | --- |
| | |
From the X79 of the Big Bang XPower we moved on to take a look at MSI's Z77 lineup. As with what we saw in other suites the boards on display were not the final products. We were told that the final board should have Thunderbolt on them which will change the design a little. From the Z77 line up we moved on to an interesting device that as of this writing is only going to work with MAC Books that already have Thunderbolt. This is an external GPU product called GUS II that can bring much better graphical power than is typically built into a notebook. The concept is that this type of device will allow notebook makers to build more power efficient systems with lower power graphics cards and if the user wants more power they can buy something like the GUSII to fill that need.
There is a problem though; this has been tried before and has never really caught on. Both AMD and nVidia tried their hands at external graphics and going even further back there were PCMCIA add-in GPUs for portable devices. Only time will tell if this concept will make in moving forward.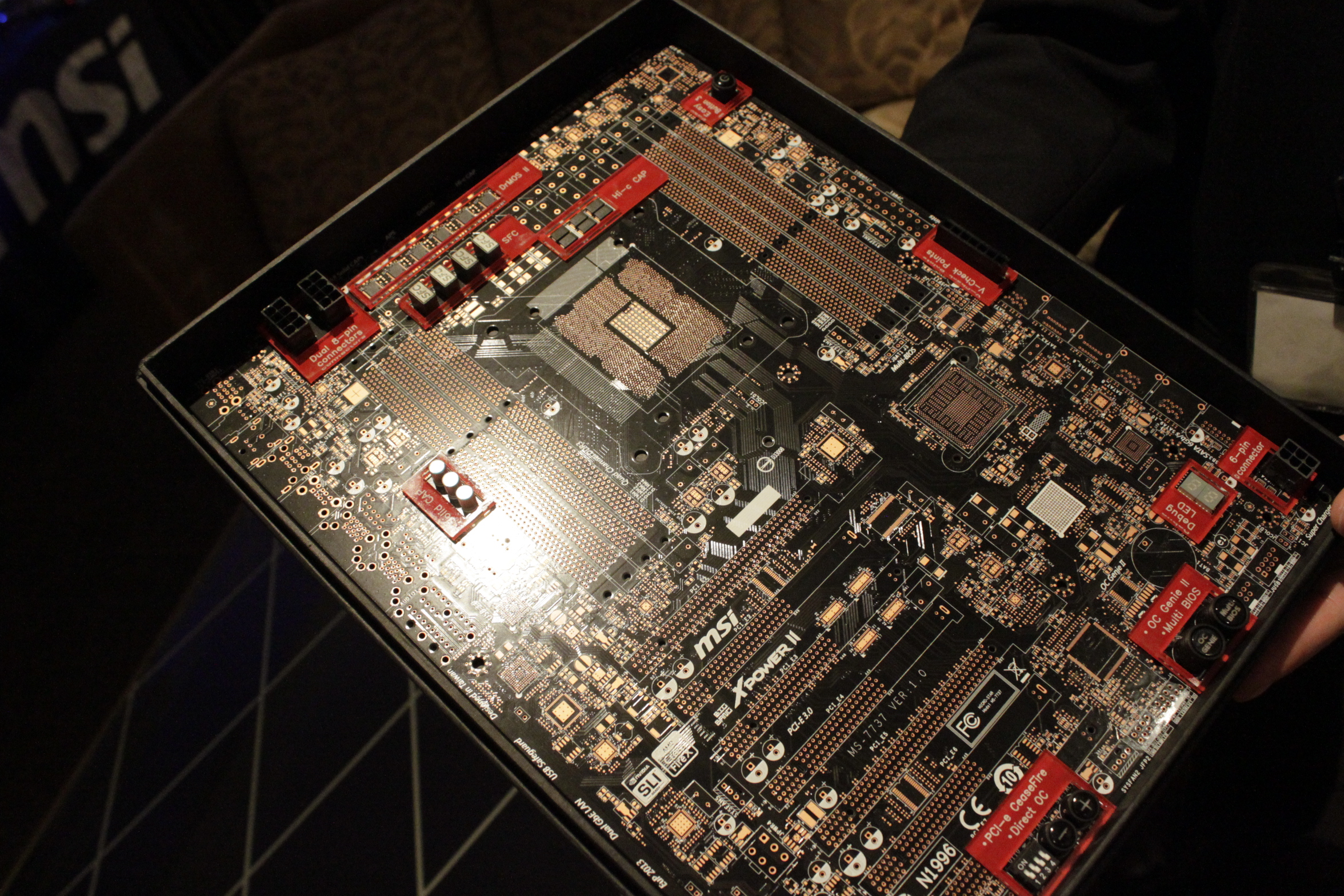 The last thing that MSI wanted to show us was why their boards are different and what makes them better than the competition. The display was a PCB that only had certain components on it. This was used to highlight design and component choices that MSI has made. Of special interest were the driver MOSFets, the Super Ferrite Chokes and… well you get the picture. It was an interesting display as component choice is one of the things that differentiate products in the market. This is even more true when the boards are so close in base specification.

Discuss this in our Forum